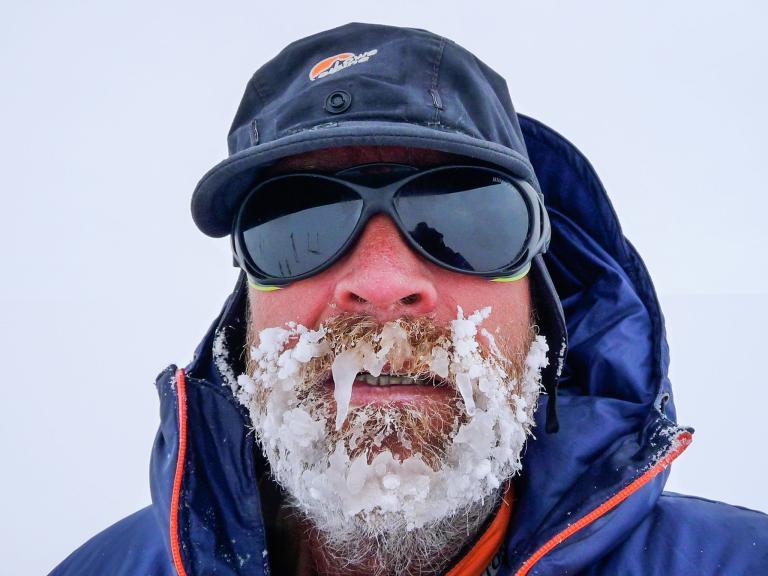 British explorer, Henry Worsley has died just 30 miles (50 kilometers) short of his summit goal during a solo trek on an Antarctic solo mission in which he was hoping to beat a previous record and collect funds for charity.
The 55 year old man's death comes 71 days after first trekking out in the bleak inhospitable landscape, with Worsley sending a message to loved ones that his physical endurance had run out.
During his solo trek, documented on the expedition blog, shackletsolo the explorer had covered more than 1469km (869 miles), through blizzards and in temperatures as low as -47.2 degrees Fahrenheit (minus 44°C).
Airlifted to a hospital in the south of Chile, Henry Worsley died of organic failure, according to a statement from the man's wife, Joanna.
In his final audio message sent from Antarctica on Friday the explorer told: 'My summit is just out of reach.'
'The 71 days alone on the Antarctic with over 900 statute miles covered and a gradual grinding down of my physical endurance finally took its toll today, and it is with sadness that I report it is journey's end — so close to my goal.'
In that last broadcast he told supporters: 'When my hero, Ernest Shackleton, was 97 miles from the South Pole on the morning of January the 9th 1909, he said he'd shot his bolt.
'Well today I have to inform you with some sadness that I too have shot my bolt.'
The explorer said his journey had ended because he did not have the ability to 'slide one ski in front of the other'.
'I will lick my wounds, they will heal over time and I will come to terms with the disappointment,' he added.
Told The ReMark Group, which was supporting Henry Worsley's effort in a statement: 'When Henry was picked up by Antarctic Logistics and Expeditions (ALE), he was suffering from exhaustion and dehydration.
'He was flown to a hospital in Punta Arenas [in Chile] where he was found to have bacterial peritonitis.
'This resulted in Henry undergoing surgery but in spite of all the efforts of ALE and medical staff, he succumbed.'
In 2008/9, Worsley led an expedition to commemorate the centenary of Shackleton's Nimrod journey, which pioneered a route through the Transantarctic Mountains to a point just 156km short of the South Pole.
At the time of his death, Henry Worseley was raising funds for the Endeavour Fund, a charity which helps wounded servicemen and women and is managed by the Royal Foundation of the Duke and Duchess of Cambridge and Prince Harry. At the time of his death, Worseley had raised just on 100 000 pounds ($142K USD). 
The former army officer was a descendant of the New Zealander Frank Worsley who captained Ernest Shackleton's expedition ship Endurance.
Very sad to hear Henry Worsley has died. Also one of the first Brits to venture into Helmand. An extremely brave, warm and honourable man.

— Tom Newton Dunn (@tnewtondunn) January 25, 2016
The final message of polar explorer Henry Worsley https://t.co/a6888dBZH1 pic.twitter.com/UNXFZrtYrg

— BBC Radio 4 (@BBCRadio4) January 25, 2016
British explorer Henry Worsley dies on brink of Antarctic history https://t.co/HejQc9IMCF pic.twitter.com/9t198eVcmu

— The Times of London (@thetimes) January 25, 2016