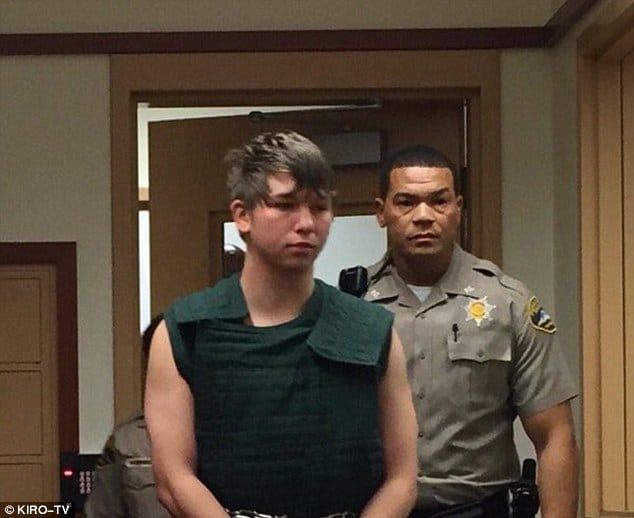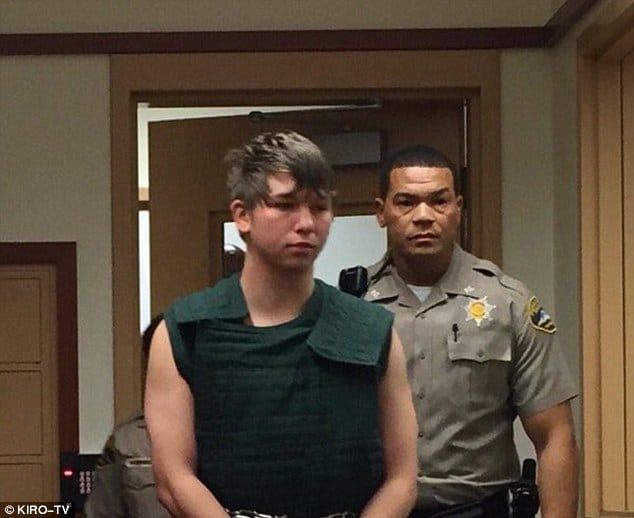 Austin Nelson a 19 year old man has been charged with first degree murder of Teresa Ryan, 46, of South Hill, Washington after the woman refused to let the former ex boyfriend of her teen daughter see his ex girlfriend.
The murder comes after Austin Nelson was dating the 15 year old daughter of the slain woman behind her back.
Things came to a head when the teen girl decided to break up with Nelson after being 'fed up' with lying to her mother according to a report via KIRO TV.
Offered Sgt. Jerry Bates of Pierce County Sheriff's Office: 'The breakup was not being handled well by the suspect.'
Outraged, the obsessed 19 year old went to the family home where he allegedly shot Terese Ryan in the drive way in front of her five year old daughter.
But it didn't end there, the youth allegedly then forced his way into the family home where he then fatally shot the family dog.
Nelson was arraigned on Tuesday in Superior Court on a charge of first degree murder, with the man also facing charges of first degree burglary and first degree animal cruelty.
He has pled not guilty to all charges.
According to charging documents, Nelson began dating Ryan's 15-year-old daughter in September.
However, Ryan told Nelson to stay away once she found out the two were together.
The girl kept seeing Nelson, and at one point helped him sneak into the family home when everyone else was sleeping.
Of note a report via The News Tribune tells of an individual on December 6 breaking into the family home in the 12000 block of 142nd Street Court East where they stole guns, a vacuum and other items.
However, the Ryan family chose not to report the break-in.
The daughter then broke up with Nelson on January 8, 'telling him that she did not want to continue lying to her mother'.
The girl then ceased contact, despite the assailant's persistent overtures. From there, the rebuffed man began a campaign of ongoing harassment against the girl and her family.
In one instance, Austin Nelson is alleged to have threatened to vandalize his former girlfriend's SUV.
The girl then found two windows had been broken out and three tires flattened while her car was parked outside her school.
She spoke to her parents, who then decided to call police, believing her ex to be responsible for both the break-in and the vandalism of the car.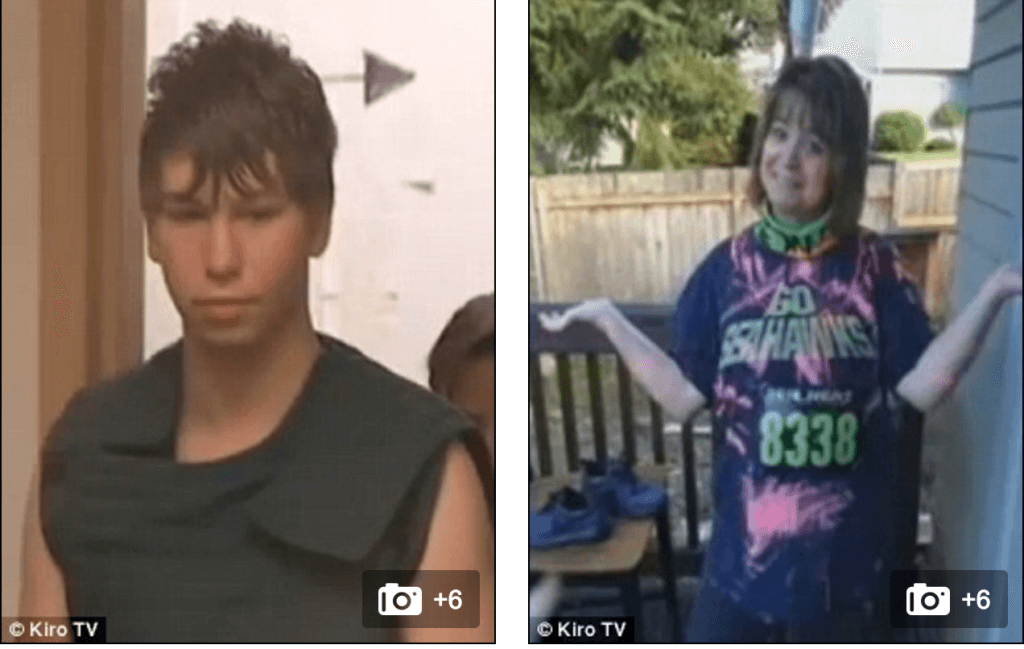 Speaking to police, the teen daughter told how Austin Nelson had threatened to post photos and videos of her online if she didn't give him money or marijuana. 
Graphic images were then posted to social media on Sunday.
Ryan sent her daughter to stay at a friend's place that night, believing she should be away from the house.
Then around 8.15am Monday, Ryan returned to her home with her younger daughter. 
A neighbor told cops that she had an argument with a man in a black hooded sweatshirt as she stepped out of her car in the driveway.
From there, Austin Nelson is alleged to have shot Teresa Ryan three times – once in the chest and twice in the back.
Officials said five shots were also fired in the house, and one of the family's two dogs was shot dead.
Ryan's five-year-old daughter ran from the car to a neighbor's house for help.
One neighbor tried to chase the hooded man but was unsuccessful.
Nelson was quickly identified as a suspect and arrested at his grandfather's house in Tacoma.
At the time of the murder, the assailant's grandfather conceded that his grandson had asked for his gun so he could go and pawn it, only to not return.
Austin Nelson's bail has since been set at $2million. 
A friend of the Ryan family has since started a GoFundMe campaign to raise money for funeral costs, 'so that the Ryan family can take some time to grieve without having to worry about some of the financial issues that lay ahead.'