Rohinie Bisesar, the MBA graduate who randomly stabbed a stranger in a Toronto drug store has been arrested after four days on the run.
The unprovoked attack stirred social media after the 'smartly dressed' woman was caught on surveillance tape making her getaway after inexplicably walking up to a woman at a local pharmaceutical outlet and plunging a knife into her body.
Appearing in court on Wednesday after the financial adviser was taken into custody Tuesday afternoon, Bisesar, 40, faced charged of attempted murder, aggravated assault and carrying a concealed weapon.
Speaking to reporters outside the College Park courthouse, Rohinie Bisesar's attorney, Calvin Barry, said his client 'seems really sad.'
Adding: 'She's been basically a deer in the headlights because it's all happening so quickly.'
In a bid to understand what may have preempted the woman, the financial adviser's lawyer fielded questions as to his client's background, responding 'she had an impressive resume.' This despite having struggled to find gainful employment in recent years.
According to her LinkedIn page, the Toronto local is a financial adviser and investor who has an MBA degree from the Schulich School of Business at York University, an elite institution along with a Bachelor's degree in molecular biology from University of Toronto.
The woman's attorney also noted that a number of her friends coming forward expressing shock at the allegations against her, which they said were out of character for her.
Told a friend of Bisesar's via City News: 'The behavior that is alleged is extremely, extremely out of character for Rohinie. (I'm) absolutely shocked. This is someone who is very gentle, very calm, very measured. She speaks almost with a whisper. Physically she is like 5-foot-1 in heels, probably 85 pounds soaking wet. … This is someone very gentle; just makes this whole thing all the more surprising.'
Another friend, Karl Gutowski, told the National Post, that since graduating, Rohinie Bisesar struggled to hold down regular work. Adding that since 2014, the woman's mental health had deteriorated with Bisesar having become alienated from her family.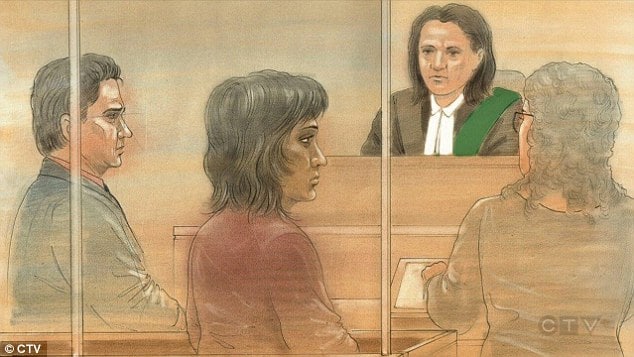 Provoking intrigue are claims that Bisesar had been unemployed for several years and had spent most of her time sitting at the same Starbucks every day wearing the same clothes.
Adding further furore is a report via the the national Post which moments prior to her arrest led to the outlet publishing an email from the woman's email account delivered to the outlet that read in part: 'Something has been happening to me and this is not my normal self and I would like to know who and why this is happening. There is either a single person or more responsible and who and why would be nice to know.'
The author of the rambling missive, who has not been confirmed to be Bisesar added: 'I am sorry about the incidence. I felt the need to be extreme to see if it would work. I would normally not do such a thing.'
The apparently random attack took place just before 3pm on Friday inside the Shoppers Drug Mart in Toronto's underground PATH system at 66 Wellington Street West.
The victim, who has not been named, was rushed to a hospital with life-threatening injuries. She was listed in 'grave' condition on Monday.
Police described the victim to CityNews.ca as being 'significantly' younger than her assailant and noted that it did not appear as if the two women knew one another. 
Bisesar is set to remain in jail pending her next upcoming court appearance on Friday.