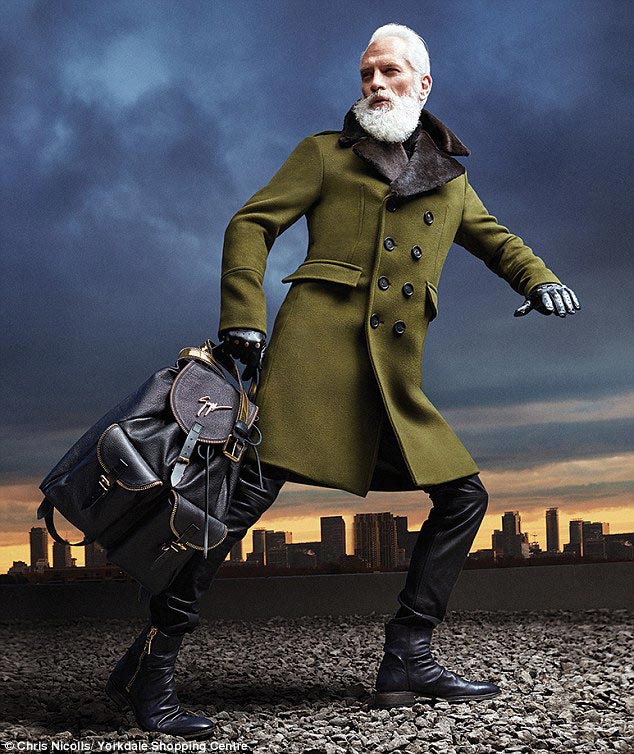 Turning heads this Christmas is the smoldering visage of Paul Mason, a Canadian model turned Kris Kringle, best known as 'Fashion Santa' at Toronto's Yorkdale Mall who has set tongues wagging as the new and improved Santa Claus boasting a trim frame, pierce blue eyes and cheekbones that don't let up. Of course Father Christmas also still has the white beard to boot.
The mall's new hot and improved Santa has led to men, women and children alike striking a pose with the new and dashing Canadian Kris Kringle, with many snapshots ending up on social media.
For every person who snaps a selfie with Paul and posts it on social media using the hashtag #YorkdaleFashionSanta, Yorkdale will donate $1 to the SickKids Foundation. 
Told the model by way of Yorkdale: 'It's a modern spin on the typical Santa photos,
 'I do so many selfies because of my profile and beard, so it seemed like a natural fit.'
While Mason may sport the traditional white beard of Santa, that's about all he sports as the new Santa has taken to scheduled mall appearances fitted in high fashion items, including a red velvet blazer, a long green coat, blanket scarfs and waist-cinching belts that remind fans that he does not have a belly that 'shakes like a bowl full of jelly'.
Responding to the new and hot and improved Santa, twitter users all over the world have joined in to give their thumbs up, with one user, Renee Anderson recently tweeting: '#YorkdaleFashionSanta the sexiest santa on the planet! good job, Toronto! [sic]'
Mason, a veteran model who appeared on Toronto Life's Best Dressed list in 2014, also stars in a stylish campaign for Yorkdale in which he models designer ensembles from luxury brands including Ferragamo, John Varvatos and Moncler. 
The rising social media star, who started working with Yorkdale last year, has already been in working in the fashion industry for three decades. 
Told the veteran model: 'I've been modelling for 30 years,'
'When I was attending Ryerson [University], I was in a sociology class that was mixed with fashion students and one of them asked me to walk in a fashion show for one of their assignments. 
'During that show, someone from the industry spotted me and liked what they saw. One month later, I was on the runway and I've never looked back.'
As for his how his white beard, the model explains that he just stopped shaving one day, and he liked the look so much that he kept it.
While the Yorkdale Fashion Santa has become a hit this upcoming Christmas, some nevertheless aren't too pleased with the deviation from tradition, with one user on twitter telling: 'Well, congratulations hipsters, you've done it again! You ruined a classic with "Fashion Santa." Is nothing sacred to you? #HoHoNO,'
While another user cheekily tweeted: 'Waiting for the inappropriate #YorkdaleFashionSanta pictures.'
However, Paul told the Toronto Star that he tries to stay away from children at the mall so they don't confuse him with the traditional Santa Claus – who is also available for photos at Yorkdale.  
'Adults are really my focus,' he explained. 'And it's not surprising that its adults who appear to be his biggest fans.'
What do you think? Will you be cosying up to the this years Fashion Santa?
'Fashion Santa' turning heads at Ontario mall – https://t.co/jJfOQurSsE pic.twitter.com/RaKm0GU5v6

— CTV Regina (@ctvregina) December 6, 2015
Oh, Santa! pic.twitter.com/blvRwZpeA2 — ∠( ᐛ 」∠) (@alienopacity) December 7, 2015
. @RicochetOnAir: #FashionSanta is turning heads at #Yorkdale.. read more: https://t.co/paNiNRDx2m pic.twitter.com/FyWuGlKtzv

— FLOW 93-5 (@Flow935) December 5, 2015
So what am I supposed to leave out when #FashionSanta drops in on Christmas Eve? pic.twitter.com/eoozODrNWx — Greg Lehming (@greglehming) December 7, 2015