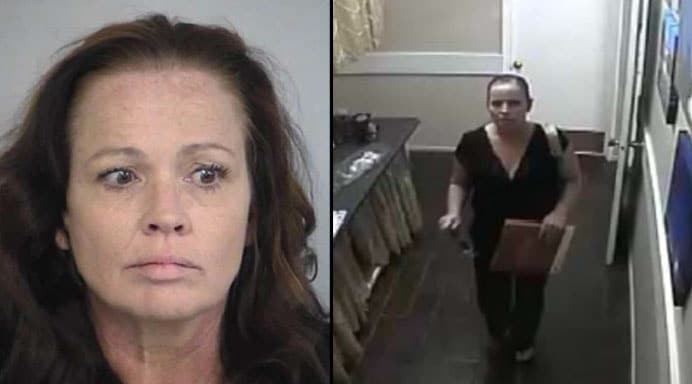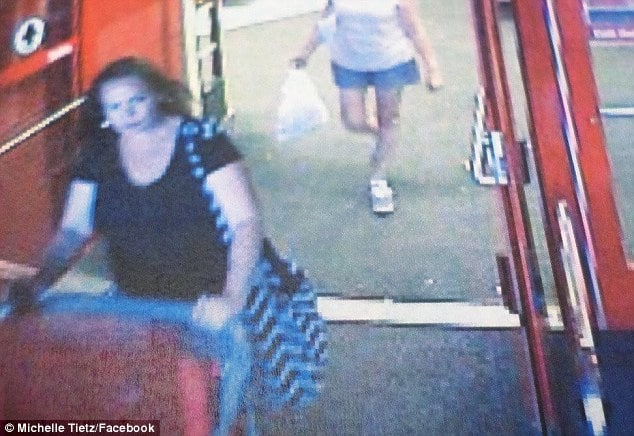 Denise Gunderson, 50, a professional California wedding crasher since nicknamed the 'bridal bandit' has been arrested after the woman went about posing as a wedding guest in a bid to steal from couples and their guest on their wedding day.
Burns who also went by the name of names Denise Burns, Lisa and Stephanie Burns would sneak into the bridal party's rooms to take wallets, cellphones and even wedding gifts, according to authorities.
Her port of call according to a report via 10news centered on San Diego and Riverside areas in recent months.
Disguised and dressed up like a wedding guest, authorities told how the woman slipped into crowded venues, where she rifled through purses and sneaks out with credit cards, cash and checks belonging to members of the bridal party. The thefts would not coincidentally take place during the ceremony, when the purses were left unattended.
One recent victim included that of Michelle Tietz who was tying the knot with her long-term partner in June.
Returning to her bridal suite post wedding ceremony, the newly wedded woman would be shocked to find her wallet gone.
Told Tietz via ABC News: 'What type of person [lies] in wait to steal a bride's wallet while she's getting married? I feel disheartened and sickened.'
The bride told how Burns immediately began using her credit cards, racking up $1,400 total at a gas station and stores such as Target and CVS before she noticed the theft and cancelled it.  
After returning from their honeymoon,Tietz posted security camera pictures of the thief – later identified as Burns – on her Facebook page calling for anyone who recognized her to call the police.
The status would end up being shared more than 2,000 times which the bride told via the dailymail she thought helped lead to the bridal bandit's arrest.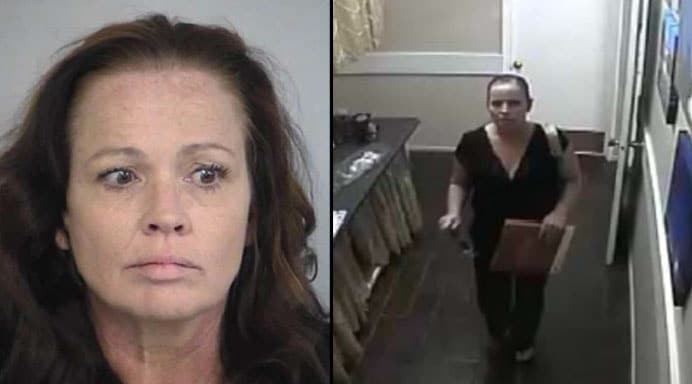 The 50-year-old career criminal, who was wanted in connection with at least four thefts at weddings across California, was finally caught in Las Vegas after police responded to reports of a woman attempting to steal a wallet inside a church.
Tietz's story would prompt another suspected victim of the serial wedding thief to come forward.
Yvette Lynch a catering director in San Diego, California, had her wallet stolen out of her purse which she had left in her office during a wedding in July.
She believes Burns had been hoping to target the bridal party but when she found the suites locked, she targeted an unlocked office door.
'I think initially the target for this event was the wedding, but we keep the bridal quarters secure,' Lynch told NBC San Diego. 'She was caught on every employee area on the property and couldn't access the bride. I had just stepped out of my office when she found the open door.'
Detectives also believe Burns was behind a theft at Churon Winery in Temecula, California, in September and in Coronado in October.
Surveillance camera in one instance shows Burns attending the wedding at Coronado Golf Course, California, where she stole cards, checks and a large quantity of cash which had been gifted towards the cost of the wedding from the devastated bride and bridesmaids.
Told wedding guest, Kimberly Silber via 10 News: 'I had this weird feeling in my gut that it was stolen but I was hoping that it wasn't because it was her wedding.'
Silber said they had left their purses in a dressing room when the suspect stole the bride's wallet, cash, and other valuables from three bridesmaids. The bride does not want to be named.
She described Burns as a 'selfish person' that 'probably hates her life' and is jealous of other people getting married.
'It really bothers me that somebody can keep doing this and not get caught,' she added. 
Cops later released surveillance images showing Burns at a nearby Target store in the College Grove area where she tried using the stolen credit cards as the wedding continued.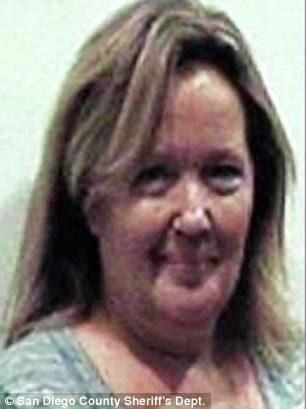 Detectives believe she was not working alone and have released images of a possible female accomplice, Sheila Russo, 51, in the thefts.
She is said to have used one of the stolen identities to open an account at Costco – brazenly posing for a picture for her new card.
Told Riverside County Sheriff's Detective R. Holder via The San Diego Union-Tribune: 'During the wedding, she goes through wallets, beats feet out of there and right away starts using the cards,' 
'What's unique about this is it's taking place at weddings, in which the last thing on (a bride's) mind is someone coming in and victimizing them on one of their most important days,' he added. 'It's very brazen.'
Burns has a long history of petty theft dating back to 1998 and also has convictions for drug possession, false impersonation, burglary and receiving stolen property across several counties.
In 2006 she was sentenced to three years in jail for receiving stolen property, according to court records.
A few years later, in 2009, she was accused of stealing a teacher's purse at a Wildomar school and using the credit cards at a casino. Three years later she was admitted a stealing a purse at a Temecula school. 
At last count, Holder said up to 11 victims in his county alone, all at weddings, dating back to 2012 have stepped up to tell of being victimized by Gunderson.
As of Thursday morning, Gunderson remained behind bars, and was due in a Las Vegas courtroom for a hearing regarding a fugitive warrant.
Told Tietz via NBC 7: '(I) can't be happier. I'm ready for her extradition, ready to appear in court and look her in the eye and let her know what she did to me,'
'I can't be more pleased she's off the streets and it won't happen to another bride.'