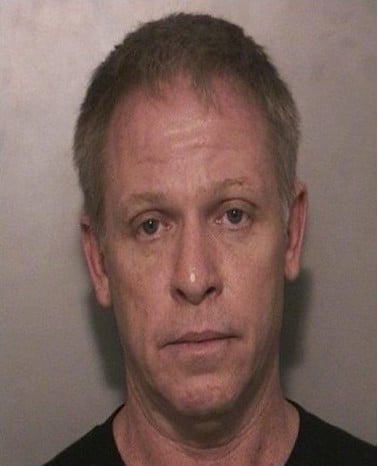 Breen Peck a 52 year old NY air traffic controller has told cops that he smoked crystal meth to stay awake after being arrested Wednesday night during a traffic stop after cops found Peck in possession of drugs and weapons.
During a traffic stop for illegal window tint and failure to signal, Peck admitted to Nassau County cops carrying a loaded weapon behind his seat and another in a rear cargo area. During the stop, cops also recovered meth from his pants pocket.
'That's meth, I smoke it to stay awake, I'm an air traffic controller,' Peck, an FAA employee since 1991, told police, Newsday reported, citing court documents.
The recovered guns included that of a .40-caliber semi-automatic handgun with 10 rounds in the magazine and a .380-caliber handgun with eight rounds in the magazine.
According to a Washington Post report, Peck was transferred from the Warrenton, Va., air traffic control center several years ago after a bungled incident involving a flight carrying Michelle Obama's plane.
At the time, Peck was retrained and assigned to the New York Terminal Radar Approach Control, or TRACON, in Westbury, which controls flights into and out of JFK, LaGuardia and other area airports, according to the FAA.
The FAA said in a statement that Peck is 'assigned to the facility's training program' but is not working as a controller.
'The FAA is investigating the circumstances related to the investigation,' the agency said.
In April 2011, Peck was directing a plane carrying the first lady and Jill Biden on approach to Andrews Air Force Base — allowing it to get too close to the wake turbulence of a military cargo plane. The White House plane aborted its landing.
A year earlier, Peck directed a United Airlines flight that almost collided with a smaller jet carrying a Wisconsin congressman — prompting the United pilot to say, 'That was close,' the paper reported.
FAA spokeswoman Arlene Salac would not address the mishaps, except to say that Peck was 'in training' at the time of his arrest.

Peck was charged with criminal possession of a weapon, criminal possession of a controlled substance and 'numerous' vehicle and traffic law violations, police said. He was ordered held on $12,500 cash bail or $25,000 bond.
During a press conference on Thursday, Nassau County Acting Police Commissioner Thomas Krumpter said: 'Based on alleged statements made by Peck during the encounter, police believe "He is an active substance abuser,'
Adding: 'The Nassau County police may have averted an air disaster in the skies above Nassau County by arresting.'
The man's arrest has since ignited debate as to the need to make officers charged with 'life threatening' responsibilities to make ongoing clinical and psychological assessments along with random drug tests. At present it is not necessarily understood to what degree the FAA 'levels' officers, or for that matter how many other flight controllers turn to substance abuse to 'stay awake'.