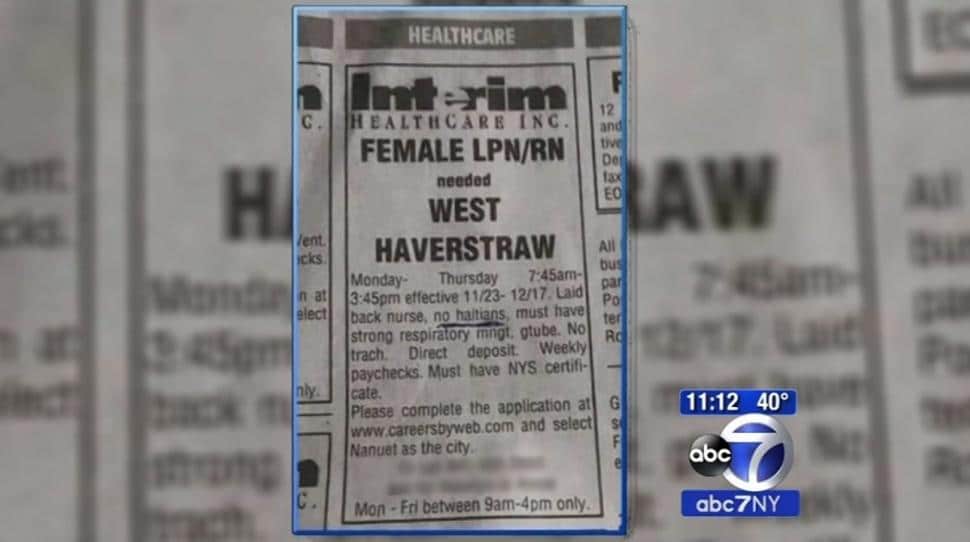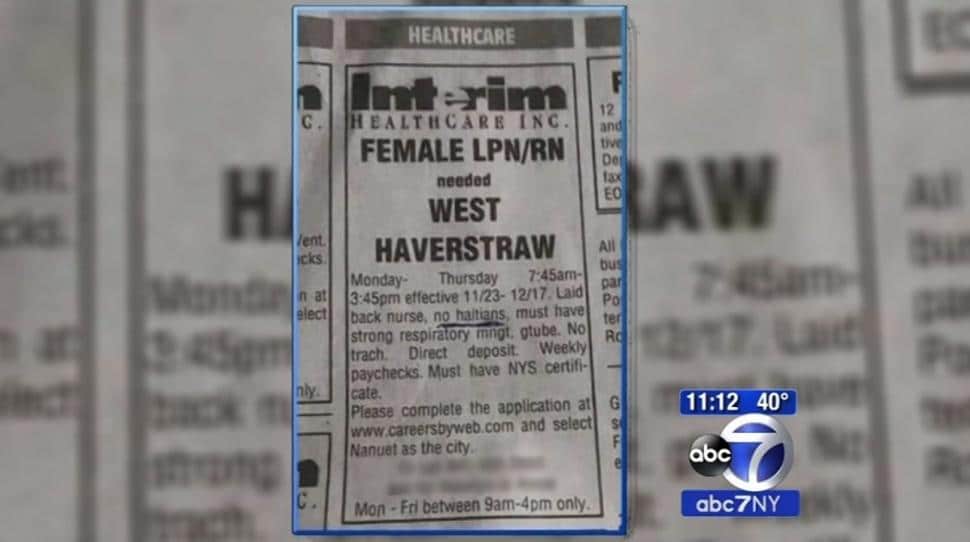 Disconcert has been caused with the placing of a NY nursing advertisement in an October 15 issue of the New City Pennysaver: 'No Haitians need apply.'
The ad appearing in a help wanted ad in Rockland County has led to community leaders calling for an investigation in a bid to determine whether the ad was a blatant racist ad or just a prank?
Read the ad in part: 'Laid back nurse, no haitians, must have strong respiratory mango'
The ad, for a nursing position in the hamlet of West Haverstraw, is thought to have been posted by Interim Healthcare Inc., one of the nation's oldest and best-known medical staffing companies.
Reacting to the ad, Sen. David Carlucci (D-Rockland) told via the nydailynews: 'This is outrageous discrimination in its purest form,'
'It is a direct violation of the Civil Rights act and is completely illegal!'
Adding: 'This company should be ashamed of itself, and Pennysaver should strongly reconsider running any job postings from Interim HealthCare in future publications.'
Carlucci said he would be asking the New York State Department of Labor and the federal Equal Opportunity Employment Commission to conduct a full investigation into the posting.
The Rockland County Human Rights Commission is slated to launch an investigation at the behest of the county executive, Ed Day, according to the Pelham Daily Voice.
Also reacting to the advertisement was the Haitian American Nurses Association, who posted the following response on its Facebook page.
Wrote group founder Berthilde Dufrene: 'This is not just a disrespect of the Haitian nurses but disrespect for the nursing discipline and the entire community that have benefited from the services and care provided by the Haitian nursing professionals.'
Meanwhile, a Change.org petition was launched calling for the company to apologize to the Haitian community and to the state of New York.
Interim Healthcare President Katherine McNally in a statement, called the ad 'totally unacceptable' and said they've launched their own investigation into how it got published.
Told the healthcare group in part: 'I can assure you that we take this seriously. Please accept our sincere apology. In particular, we apologize to the entire Haitian community.'
The Pelham, N.Y.-based Tri-State Media Group, which publishes the Pennysaver, was also preparing an apology.
'We are all offended here,' said an official.
This help wanted ad from @InterimHealth posted in a local Pennysaver blatantly states no Haitians will be considered pic.twitter.com/gNLAhVUy9S

— David Carlucci (@davidcarlucci) October 18, 2015