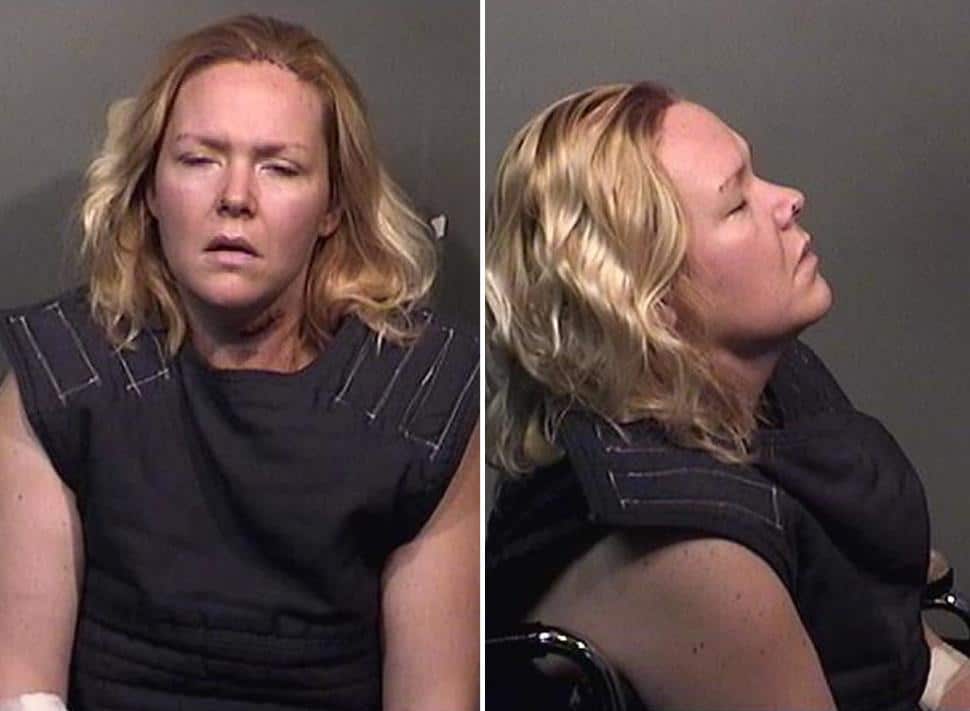 A disturbing report has told, Florida mother, Jessica McCarty, 33 who earlier this year murdered her three children wanted suicide by cops. At the time of her arrest, she had a suicide note prepared, believing almost certainly that she would be gunned down once cops arrived at the Palm Bay family home.
Police records indicate the Brevard County woman telling cops she was 'so pissed' that they didn't kill her as she surveyed the carnage in front of her.
It is thought that the mother had strangled and then drowned the children before slitting her wrists and calling cops to the family home.
Prior to killing her three children, the woman attempted suicide at least twice before killing Lacey, 7, Philip, and Christopher, five months old.
Obtained police notes revealed Lacey, Phillip, and Christopher each telling Jessica how much they loved her as they were dying. McCarty told police officers that Lacey's last words were in this vein, explaining, 'She kept telling me, 'I love you mommy'.'
Adding fissure is the woman having told relatives that her and her boyfriend, Christopher Swist, were going through a 'rocky patch' and that he had asked to leave the house.
The slaughter of the woman's three children had been a last ditch attempt at her own death conceded the mother after questioning.
When police arrived at the family home, they found blood all over the couches, kitchen and living room. McCarty started talking to police about having a 'girls day out' with her dead daughter and remarked that she would be missing her brother's wedding in New York. It took about 15 minutes before McCarty began to realize what she had done, police said.
Told the woman at the time via a report by Florida Today: 'I just wanna die,'
'I hope something bad happens and I just die here. Just give me the death penalty, right here, right now. I wanted to stab myself very badly. I've wanted to kill myself for a long time.'
Cops eventually subdued the woman, with the mother soon expressing outrage she hadn't been taken out by suicide by cop.
'I'm so pissed you guys didn't shoot me with a real gun. I don't deserve to live,' she told a detective. 'I would have finished the job.'
There must have been clues that the mother was set to ignite as family recall McCarty 'rambling about homicidal fantasies,' telling one family member that she 'will snap my babies' necks and 'take them with me when I kill myself,' according to the notes.
McCarty also said her suicidal compulsions came from a painkiller habit, and from having been raped twice, the first time when she was 7.
The murderous mom has since been charged with three counts of first-degree murder, with Florida state seeking the death penalty.
Her attack on the children was initially reported as a stabbing, but police have not officially confirmed how the children were killed.