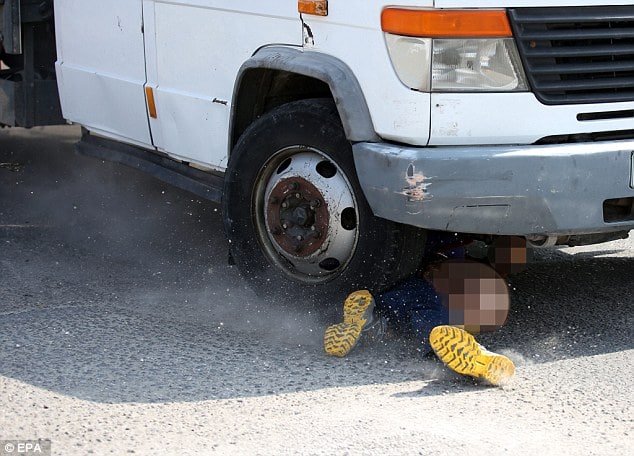 An unidentified Israeli motorist has been killed in dramatic fashion after clubbing passing Palestinian motorists and protesters in the latest escalation of West Bank violence.
According to the dailymail, the Israeli man was killed after getting out of his car after demonstrators proceeded to throw stones at him only to be run over and killed by a Palestinian truck.
At the time the man was observed using a club in retaliation, leading to some to believe the Palestinian who had run over him met aggression with aggression.
Turning himself in to Palestinian police, the trucker told authorities he had sought to avoid the man when he ran over him.
Neither Palestinian authorities nor Israeli police commented immediately on whether they believed the truck driver had struck the Israeli deliberately.
The incident took place according to Al Fawar Refugee camp near Hebron City.
The man's death comes as a spate of violence in recent days including a 24-year-old Palestinian who was shot dead by Israeli forces after he stabbed an Israeli military officer and lightly wounded him. That incident was closely followed by another incident where Israel's military said its forces killed a Palestinian during a clash along the border with the Gaza Strip.
Over the past month, 10 Israelis have been killed in Palestinian attacks, most of them stabbings. In that time, 44 Palestinians were killed by Israeli fire, including 21 identified by Israel as attackers, and the rest in clashes with Israeli troops.
The latest attacks has caused panic across Israel and raised fears that the region is on the cusp of a new round of bloodshed.
The violence claim Palestinian authorities has been stoked in part by Palestinians' anger at what they see as increased Jewish visits to the Jerusalem holy site, also revered in Judaism as the location of two destroyed biblical temples.
Addressing the bloodshed, U.N. Secretary-General Ban Ki-moon called for calm during a surprise visit to Jerusalem on Tuesday ahead of meetings with Israeli and Palestinian leaders, in a high-profile gambit to bring an end to a monthlong wave of violence.
In the interim, Israeli forces arrested senior Hamas leader Hassan Yousef in an overnight raid, accusing him of inciting terror attacks against Israelis whilst conjecture remains as to whether Israeli forces have sought to incite Palestinian agitation?
#News #Breakingnews #News24 #RealTime Palestinian truck runs over Israeli motorist – https://t.co/vgYIdimHkj pic.twitter.com/U1m7vUnpZD

— 24365News USA (@24365News) October 20, 2015
Israeli motorist pays with his life for attacking Palestinian's truck with a club when… https://t.co/VjUwxS6OIV #uk pic.twitter.com/28L7V3ja7H

— London News Now (@londonnewsnow) October 20, 2015
Palestinian truck runs over Israeli motorist… https://t.co/sGHWfKWTX4 pic.twitter.com/tWroCTzN3H

— Totall USA (@periclesusa) October 20, 2015
BREAKING VIDEO: Arab terrorist ran over & started hacking Israelis this morning in Jerusalem. pic.twitter.com/B3syqmAtpU

— Breaking News Feed (@PzFeed) October 13, 2015