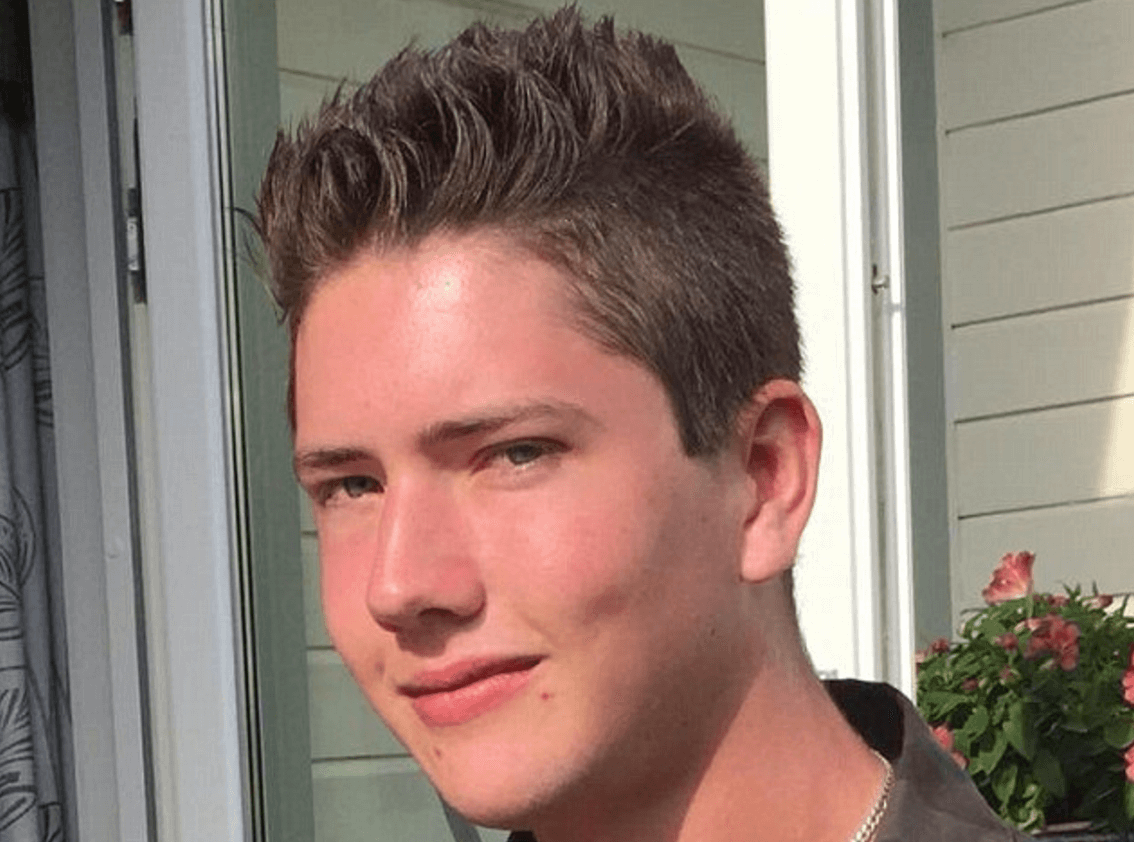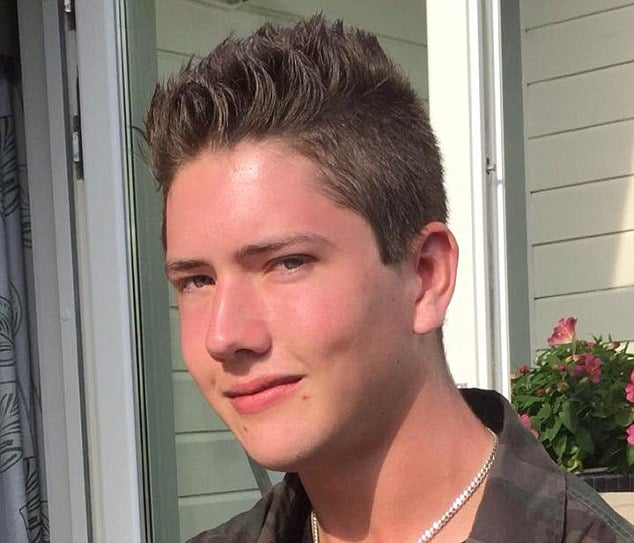 A terror attack at the hands of Swedish Darth Vader murderer, Anton Lundin-Petterson, 21 which saw the crazed man killing a teacher's assistant and a student at a local school has raised questions as to what inspired the costume donned madman who may have had an apparent death wish as he set out on his 'mission.'
Killed in the incident which has since shocked a nation usually devoid of mass murder initiatives, were teaching assistant, Lavin Eskandar, 20 and 'dark skinned' pupil, Ahmed Hassan, 15.
Responding police officers shot dead Lundin-Petterson as he set about slashing at them after they were called in after reports of multiple stabbings at the school cafeteria.
Preliminary reports tell that Petterson purposefully targeting students with dark skin color as he began slashing his sword at pupils at an obscure school in Trollhattan, a migrant community north of Gothenburg.
Incredulously at one point, security footage showed the determined 'fantasy evil doer' marching through school corridors armed with a sword and knife before stopping to talk and pose for photos with light skinned students.
Gruesomely, many students had initially believed that the man marching down school corridors with a sword and knives, dressed like an evil fiction character from the Star Wars saga was simply dressed in lieu of upcoming Halloween celebrations.
Not once did they suspect that the man underneath the Darth Vader costume and Nazi helmet was on a real life hunting death mission. Not once did they fathom that the fake blood on his sword was in fact real. Not once did they fathom that he had just murdered an assistant school teacher along with a student as the madman momentarily stopped to pose for photos with two female students.
Seconds after having posed with the students, the girl's teacher, a 41-year-old maths lecturer, came out of the classroom and told the costumed madman to take off his mask and leave as he was scaring the children.
'He just nodded, then he plunged the large knife into the teacher's right side. The last thing I heard him say was 'call an ambulance'.' told a student according to Swedish website, Aftonbladet.
Told lead investigator Thord Haraldsson: 'He selected his victims and attacked the dark-skinned ones and left the light-skinned ones alone
'Everything points to this being a hate crime.' 
Adding: 'It's in the picture[potential racist attack], but it is nothing I wish to comment on at the moment.'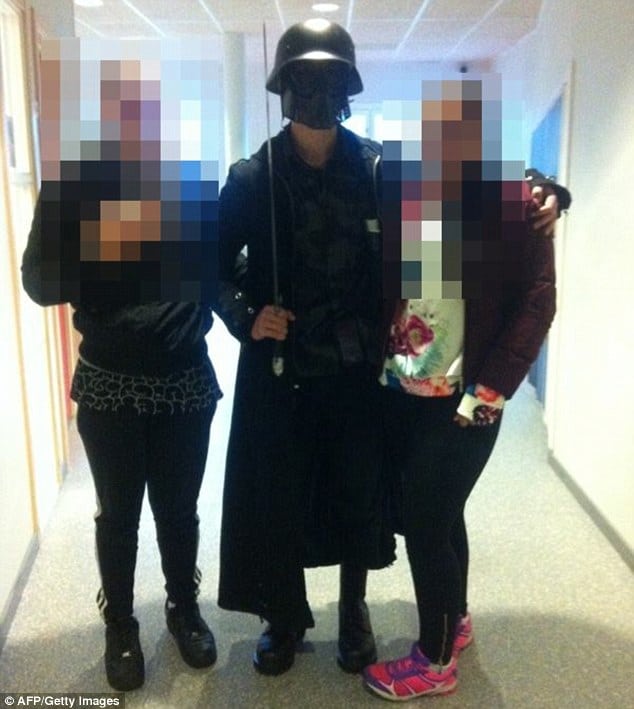 Teaching school assistant, Lavin Eskandar died after throwing himself between the hacking Swedish Darth Vader madman and his students as Petterson told witnesses singled out victims according to their skin color.
Warning the students to run, Eskandar attempted to valiantly fend off the madman who was eventually able to fatally wound Eskandar and stab two 15 year old students and another teacher.
Along with the death of 15 year pupil, Ahmed Hassan, two other pupils now remain in serious condition after being slashed at.
According to a report via Expressen, Lavin Eskandar, since hailed a hero, had graduated from a local high school in June this year with a diploma in media studies, had recently begun working as an assistant to one of the students at Kronan school in Trollhattan.
In deriving clues as to what inspired Petterson as he set about his deathly mission, one student told hearing the madman uttering 'I am your father' in English moments before commencing his attack.
In the weeks before the attack, Lundin-Pettersson had expressed sympathies with extreme right-wing organisations online.
An investigation by magazine Expo into Lundin-Petterson's social media activities (under the name, HiphopDestroyer666) found that he had 'liked' several YouTube videos glorifying Nazi Germany.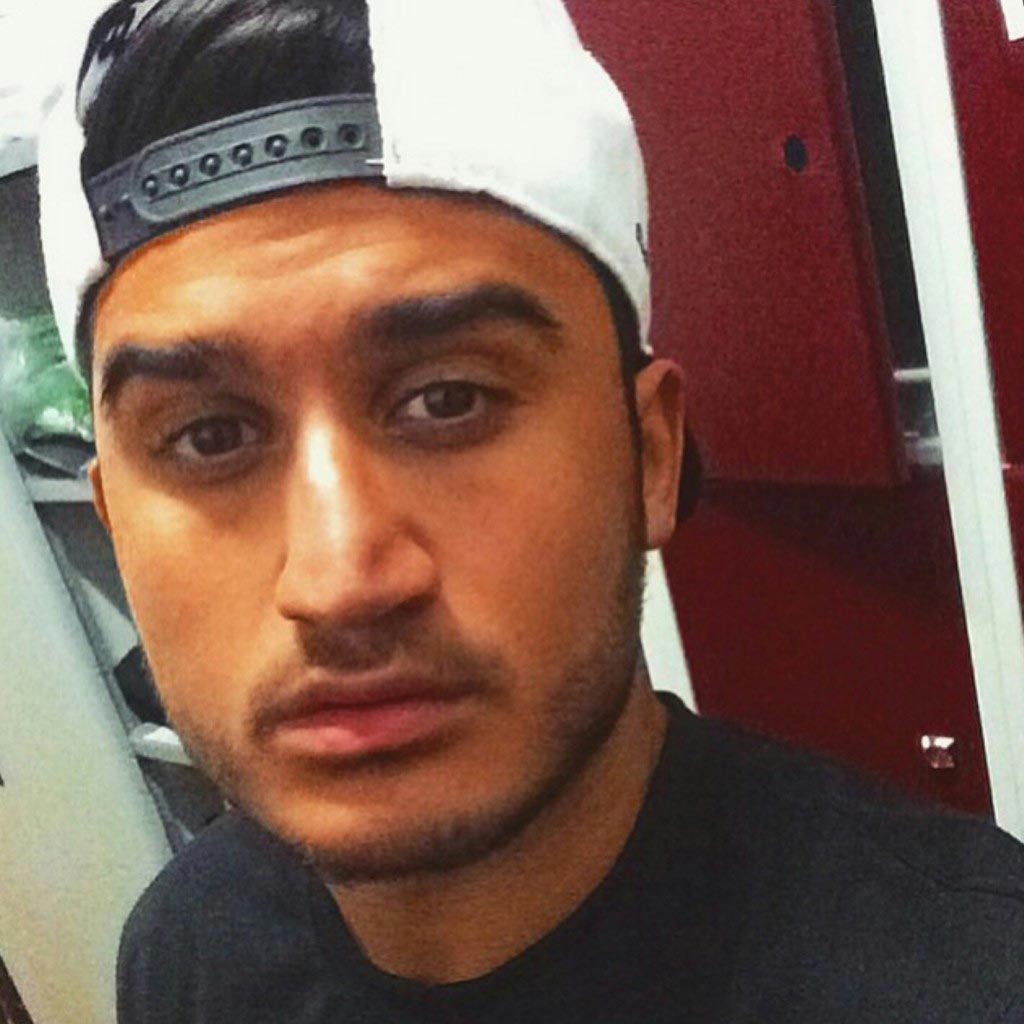 He had also showed support for anti-immigration party Sweden Democrats, and other right-wing politicians on Facebook. Both growing phenomenons in a nation continuously at odds with Sweden's until now open attitude towards immigration, often seen as outsiders, who are being increasingly scapegoated for the inevitable failures of government steered economies and cuts to social welfare programs.
Local media reports tell of the killer attending Lichron Teknikgymnasium, a high school in Trollhättan where he obtained a diploma in technology.
Kronan has around 400 students from pre-school, aged six, up to year 9, aged 15-16, but the murdered is not a former pupil.
A local neighbour Liv Ringstrom told the UK's Telegraph that there was nothing about Lundin-Pettersson to suggest he was capable of such a terrible crime.
Told the woman: 'I meet him in the stairwell and he always seems very nice and very friendly. I've no idea if he could have done it,'
'It's a tremendous shock,' said one of his colleagues at the company where he was working as a trainee. A childhood friend described him as 'introverted'.
'I have not seen him since our student days.'
The attack has since led to an entire nation mourning and grasping for answers.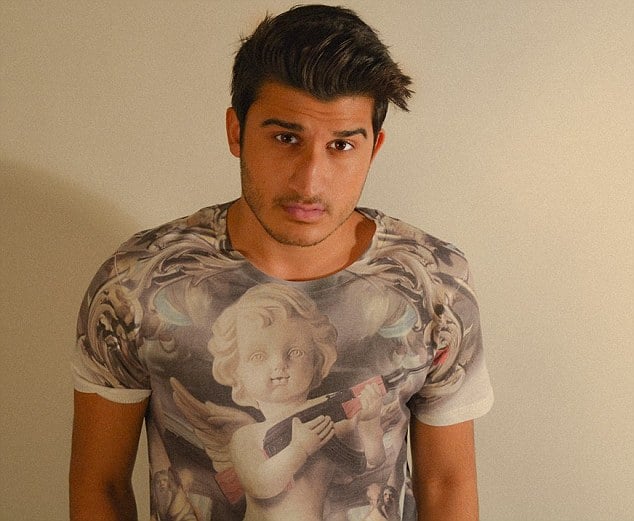 Ivar Arpi, Per Gudmundsson, Jimmie Åkesson, Ebba Busch Thor och Rebecca Uvell är ansvariga för mordet på de här två pic.twitter.com/bCwknaby5y

— AFA Stockholm (@afasthlm) October 23, 2015
UPDATE: Two killed in Sweden school sword attack – Bullet Point News – https://t.co/5WBO7xVGtF #Trollhatten #Kronan pic.twitter.com/jyqlNdSJWR

— BulletNews (@Bullet_News) October 22, 2015
Racist School Attack in Sweden #kronan
https://t.co/8ssCRqvjsF pic.twitter.com/iYKFaxhZL9

— WhatsOn (@WhatsOn_UK) October 23, 2015