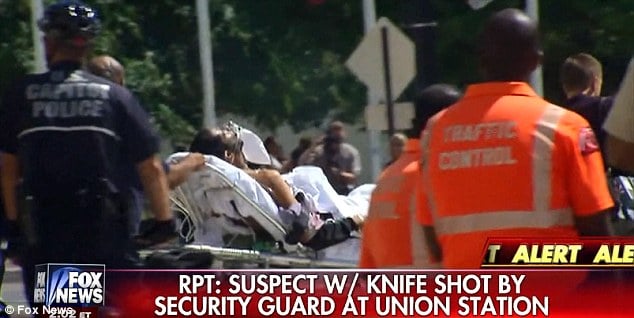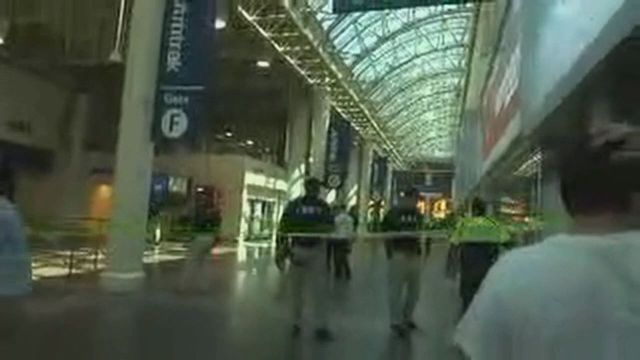 A Union Station security guard has shot a man who attacked his girlfriend with a knife inside the Washington D.C. transit hub.
The shooting came after the guard witnessed the boyfriend stabbing the woman near the station's food court, who opened fire after the man pointed his knife towards him told police spokesman Gwendolyn Crump in a statement.
The D.C. fire department took both victims from the scene. One was in critical condition and the other's condition was not known. It is understood the fleeing man was shot in the stomach and is expected to survive.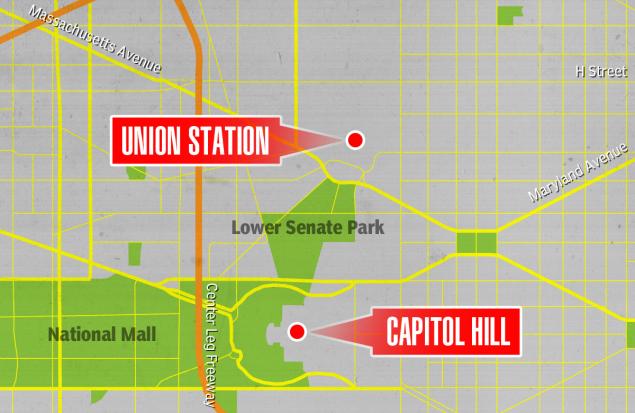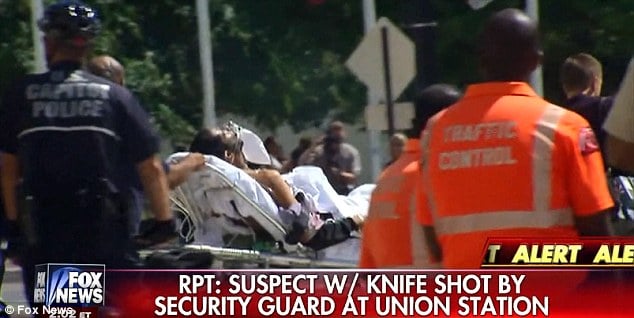 In a statement, D.C. Police Cmdr. Jeff L Brown said the guard who shot the man worked for the Securities and Exchange Commission, which is adjacent to the station.
Crump said the stabbing stemmed from a domestic fight, and D.C. police chief Kathy Lanier told CNN that the woman is the man's girlfriend.
Witnesses reported at least one shot fired just before 1 p.m. near the McDonald's in the food court.
The shooting sent panic through the busy station, which was flying its flags at half-staff in remembrance of the terrorist attacks on Sept. 11, 2001. and had been heavily patrolled in lieu of the anniversary.
The Union Avenue shooting in turn led to the evacuation of the hub, with police patrolling the area and the Senate urging people to stay away from the scene.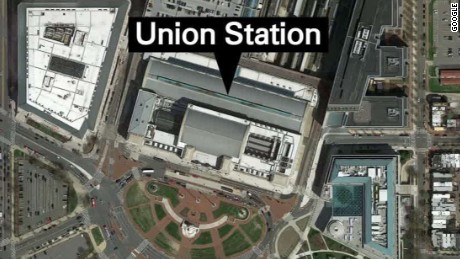 'Due to police activity, remain clear of the area near Union Station, please avoid this area until further notice,' the Senate Sergeant at Arms tweeted. The area has since begun to return back to normal.
Told one witness via the Washington Post, Alex Cucciniello: 'It was like a movie, people running out,'
'I turned away then heard pop, pop, pop. I heard the cop yelling at this guy to stand down.'
D.C. police Commander Jeff Brown has since implored that there was no apparent connection between the shooting and the anniversary of the Sept. 11, 2001, terrorist attacks.
Union Station is a major train station and transportation hub in Washington. It is Amtrak's headquarters.
I was about to enter union station heading back to New York when the station was evacuated. Reports of gunshots. pic.twitter.com/zgKIsJoIcw

— Jose E. Serrano (@RepJoseSerrano) September 11, 2015