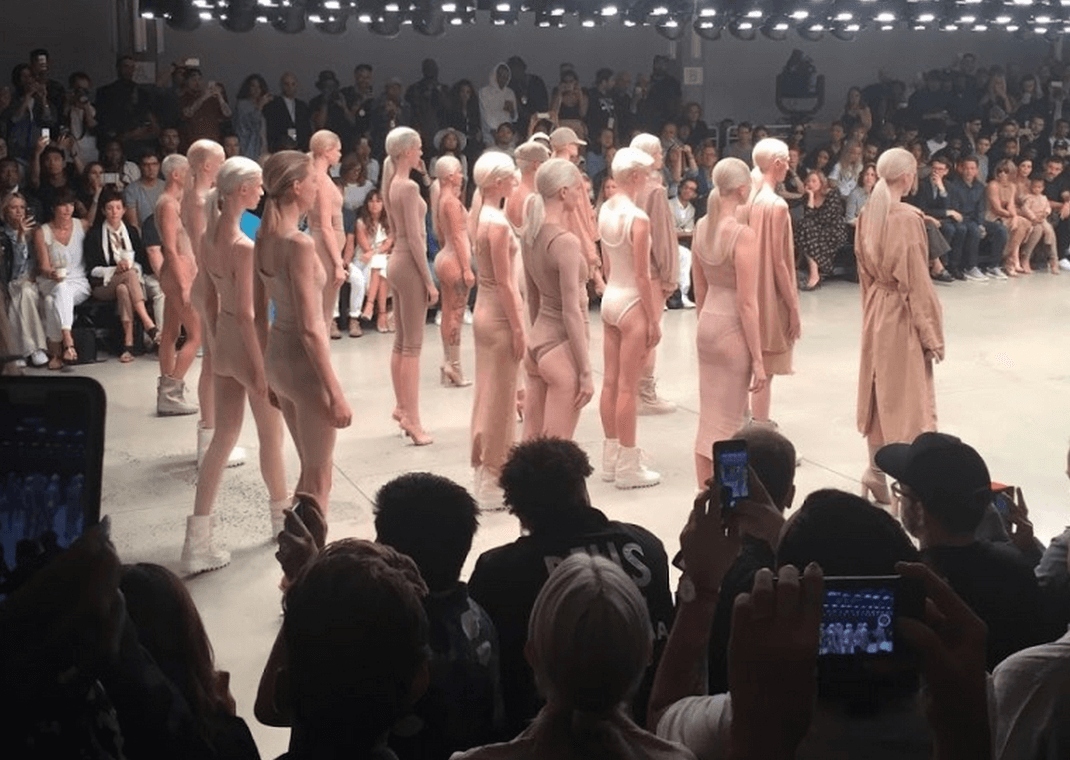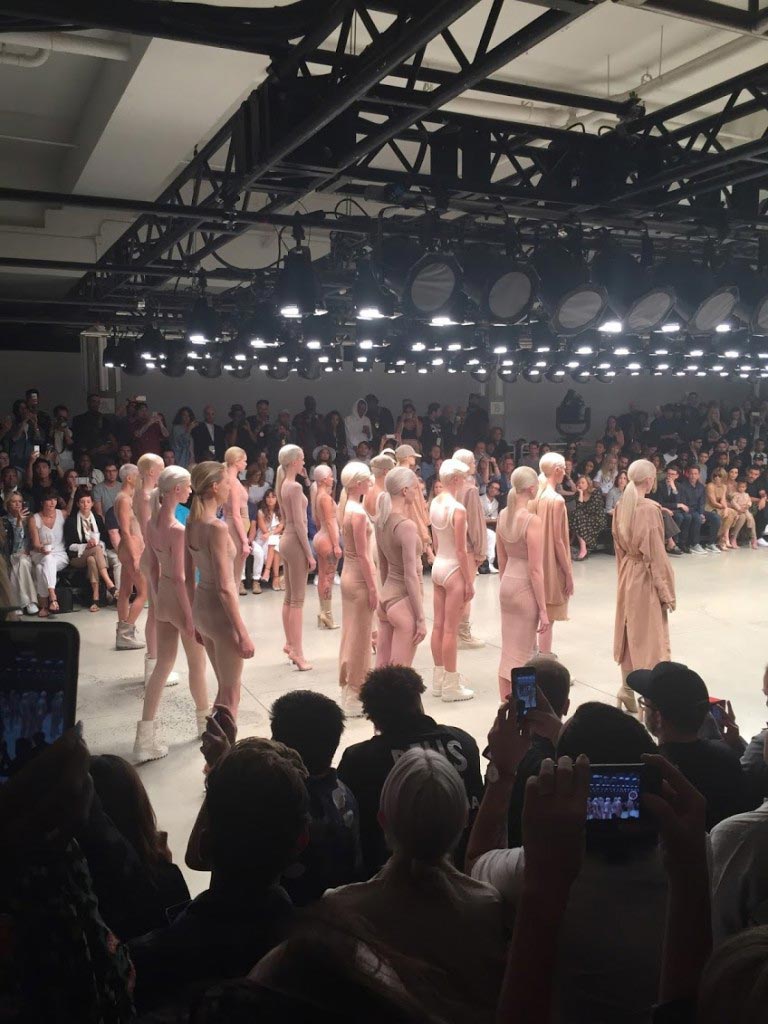 While anticipations for Kanye West NYFW Yeezy season 2 collection during NYC fashion week were frothy, and full of star studded front row attendees, the clothes it seems had many complaining that they were being asked to pay top dollar to rekindle a look of chic homelessness.
With looks that included see through body suits and layers upon layers of utility separates (parka jackets, long coats, oversize knits, hoodies, and tailored canvas pants) in colors ranging from blush, to army green, brown and then black the collection left attendees mystified and wondering what the commotion was all about to begin with.
Tweeted some after the show: 'Kanye West out here dressing models like they're from district 12 in the Hunger Games.' 
While another attendee wrote: 'Kanye West proves that it takes a lot of money to look incredibly poor,'
Contemplated another: 'Kanye's clothing line is LITERALLY how I used to dress when I was a homeless teenager.'
Tweeted user, J Marquez: 'Looks like Yeezy designed the costumes for the next season of The Walking Dead,'
But it wasn't all bad (one supposes Kanye West can only be so brilliant and lacking in other areas…) with some devotees praising the collection.
Posting under the username Markus Robinson, one attendee said of the collection: '@kanyewest did a great job with hisYeezy Season 2 presentation. Love him or not he isn't taking 'NO' as an answer.'  
According to a report via the dailymail, models were made to sign a $10million non-disclosure agreement before walking in the show, which was held at Skylight Modern in Manhattan, and live streamed around the world in select movie theaters. Naturally.
Many expected Kendall Jenner to walk in the show – which started 45 minutes late (naturally) – but instead, the supermodel sat second row behind Kim Kardashian and North West. 
However hidden under blue caps, Kylie Jenner and Bella Hadid kept a low profile as they sauntered down the runway.
@TeamKanyeDaily New music? pic.twitter.com/UpbqYC9GHj

— Javin Veluz (@JustJavin) September 16, 2015
#YZYSZN2 vibes. pic.twitter.com/LnbOlAaikD — KimKanyeKimYe (@KimKanyeKimyeFC) September 16, 2015
Kylie & Bella Hadid in the show. #YeezySeason2 pic.twitter.com/ncsWJGXQN0

— KimKanyeWestDaily (@KimYeWestDaily) September 16, 2015
More Kanye pic.twitter.com/GQNd3l8iy3 — Cathy Horyn (@CathyHoryn) September 16, 2015
Yeezy 950s: http://t.co/Y8aEgkmJgS #YeezySeason2 pic.twitter.com/N1cwzd2vLr — Complex Style (@ComplexStyle) September 16, 2015
  The Queen has arrived. #YeezySeason2 pic.twitter.com/C5Ig1Qwbid — Complex (@ComplexMag) September 16, 2015
Off to the Yeezy show! Thank you so much @styledbyhrush and @cwoodhair for the last minute glam session!!!! pic.twitter.com/Mg9Gr8F5bZ

— Khloé (@khloekardashian) September 16, 2015