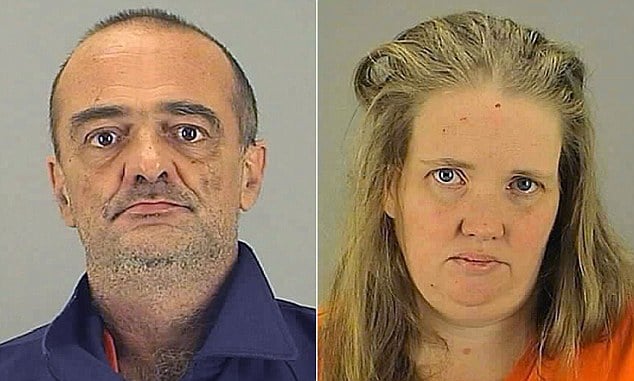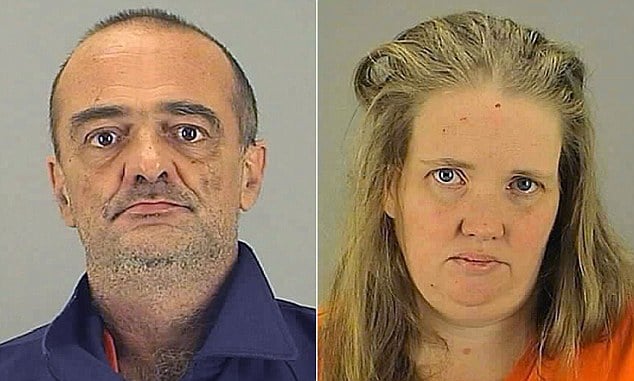 Husband and wife, Christian and Wayne Cunard, 42 and 46 from Akron, Ohio were sentenced to jail after endangering and neglecting five of the woman's children, including a four year old son with cystic fibrosis.
The prison sentence comes after authorities noted the parents did not feed the children regularly, tied them up with rope to chairs and leaving them there and in one instance the discovery of a dead cockroach in the breathing tube of the four year old son afflicted with cystic fibrosis.
The children ranged in age from one to fifteen years old and were found to be underweight after Summit County Children's services alerted cops in September.
In turn, the parents plead guilty child endangering charges, the Northeast Ohio Media Group reported.
'Your conduct is appalling,' Summit County Common Pleas Judge Amy Corrigal Jones said Monday before sentencing the mother to three years in prison.
'Your conduct as a mother is despicable and you stand here today and blame your choices on someone else.'
The woman told the judge that her husband ran the family's finances and wouldn't pay for the children's care.
'I wanted to leave so bad but I didn't have the money,' she said. 
'He controlled all of us. I love my kids. I'd do anything for them.'
Wayne Cunard in turn was sentenced to prison for a year. 
Asked to comment, the husband said that he would forfeit custody of his one biological child that was neglected. 
Assistant prosecutor Nik Buckmeier said the father cooperated with investigators and agreed to testify against his wife, who was believed by authorities to be primarily responsible for how the children were treated.
Christian Cunard previously lost custody of her children in 2007, but an appeals court had reversed that ruling in 2010.
They are now in foster care, with some of them returning to the foster parents who cared for them years ago.
The child endangerment convictions mean the Cunards won't get legal custody of the children again, Buckmeier said.