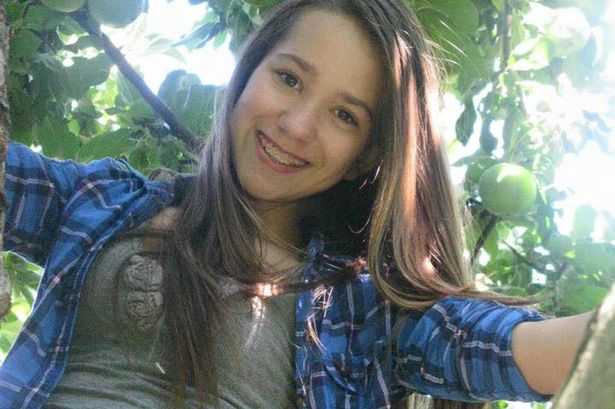 Sixteen year old South Carolina teen, Marley McKenna Spindler has yet to have been heard from after having left a local Chick-fil-A in Myrtle Beach en route to her first day as a junior at Socastee High School on August 20th.
According to WBTW, the missing teen was last seen around 7.30am driving away from the fast food franchise on Highway 55 in Surfside beach after having met friends for breakfast.
She was last heard from at 8:42am when she participated in a group text message session with friends.
During those texts, she reportedly told friends she was being followed. At the time, friends thought the teen was joking, according to NBC News. 
The teens didn't call police in case their pal was skipping school, told the missing teen's aunt, Shelley Long.
Of note, Spindler was observed driving on Ocean Boulevard and stopping by her bank, where she withdrew up to $100, said Lieutenant Raul Denis of the Horry County Police Department.
Whether the withdrawal was pure coincidence prior to her sudden disappearance or somehow related to her abrupt disappearance has yet to be understood. Also not understood is if the teen had willfully chosen to disappear why she may have done so and whether she had communicated her plans to do so?
At the time of her disappearance, Spindler was driving a 2002 silver Ford Escape with South Carolina tag KFI-776. Ominously, the vehicle is also missing.
Spindler (who goes by 'McKenna') stands 5 feet 8 inches, weighs approximately 100 pounds, and has long light brown hair and hazel eyes.
The missing teen was last seen wearing long blue jeans, a white flowery tank top and gold sandals, with a cross-body style purser, a carrying a Vera Bradley book bag and Vera Bradley lunchbox, according to a missing person's flyer.
Cops have since cleared an original person of interest, a 22-year-old man known only as 'Jeremy,' said to have been with the teen at the time of her disappearance. Prior to her disappearance, the teen had texted she was on her way to pick up 'Jeremy'. 
Police believe she is likely alone and there is no evidence of foul play at this time.
Offered the girl's aunt: 'We just want Marley back home,'
'And I just want her to know that if she's able to see this news, your momma and daddy and family love you so much, and we just want you back home safely, baby.' 
'We can't rule out that she was abducted, but we also have to face that maybe she ran away. We just don't know,' 
'She's 16, she's very young and maybe she didn't intend to get in a bad situation, but may find herself in one now,' said the distressed aunt. 'If you see this we don't care what you've done and you aren't in trouble. We just want you home safe.' 
Anyone with information related to Spindler's disappearance is asked to contact the Horry County Police Department or call the Tip Line at 843-915-8477 (843-915-TIPS).
Interested parties can also contact the 'Help find Marley McKenna Spindler' Facebook page for more information.