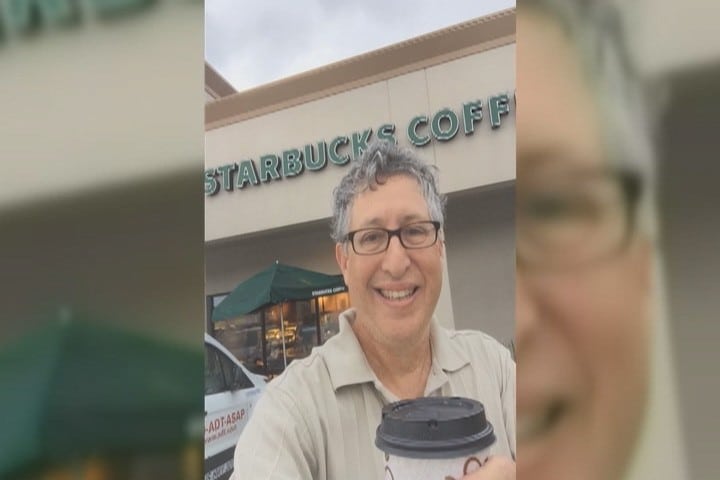 Rob Rowen, 62 a Bay area Tampa, Florida man was facing the prospect of being banned for life from Starbucks after confronting patrons who the man said violated handicap parking practices.
Told the long standing customer via mynews13: 'I saw someone park, and it was obvious they weren't handicapped,'
'There was no handicapped parking sticker. It wasn't a handicapped plate. And so I said to him, 'You're parked in the one handicapped space, and you need to move your car.'
As practice, Rowen would use his cellphone to take photos of offenders and would then proceed to confront violators inside the coffee shops, leading to the store manager accusing Rowen of harassing customers.
It wouldn't be long before Rob Rowen found himself being banned for life from Starbucks.
Reiterated Rowen: 'She said to me, 'You're harassing my customers,"
"I said, 'I'm one of your customers. I'm a regular customer, and I'm trying to help you protect your other customers who might not be able to park anywhere else."
In some instances it had been noted that Rob Rowen demanding customers offer proof that they were handicapped and failing that would call cops.
Read a letter in part from corporate headquarters after catching wind of Rowen: 'causing disruption to business' and 'threatening the well-being of a customer.'
Responded the self employed gallery owner of local Nuance Galleries: 'Instead of it being a 'we're sorry' letter, it's a 'you're not allowed to come back to any Starbucks, anywhere.' It's a notice of expulsion and warning against trespassing. I mean, it floored me!'
Calling himself the Rob "Starbucks Wake Up and Smell the Coffee" Rowen, the gallery dealer wrote an update to the story on his personal Facebook page after speaking with a senior vice president from Starbucks' regional office in Austin, Texas.
'The ban is lifted, but it is not about the ban; it is about the way they relate to their handicapped patrons,' Rowen wrote.
Rowen said he told the VP there needed to be more discussion about protecting their disabled customers and better training for managers.
Wrote Rowen: 'One easy fix is to have signage that you can see when you order, letting a person know that they have their handicapped parking reserved for those who need it'
'Finally, as a way of saying they are sorry, how about a latte one day for all their disabled customers? Talk is cheap, let's see some action from you Starbucks to show that you really care.'
Asked why he had made outing parking violators a personal crusade the man told: 'I care because I have a big heart,'
'I care because my son-in-law is one of those people who use those parking spots.'
A Starbucks spokesperson has since issued the following statement:
'We are working with the landlord of the property where this store is located to improve the parking situation. It is our goal to provide a warm, friendly and positive experience for all of our customers.'
At present it is not necessarily understood if Rob Rowen has resumed returning to Starbucks, or for that matter chastising those individuals who he regards violating handicap parking protocol. What do you think? Did Rob Rowen go too far in insisting on calling out customers, or that ought to be a concern for Starbucks and authorities?
@Starbucks Instead of banning Rob Rowen 4 standing up 4 what's right, maybe your stores should enforce proper use of handicap parking spots
— Emily (@OkiePokey) July 27, 2015
Kudos to #robrowen for standing up for those with disabilities. Shame on @Starbucks. I'll be heading to @Peets_Tweets

— Amanda Ferguson (@tool_fan_amanda) July 27, 2015
Dear @Starbucks, Seems to me that you should be banning those who illegally park in a HPS instead of banning Rob Rowen. Sincerely, Me
— CSMP (@CSMP77) July 26, 2015