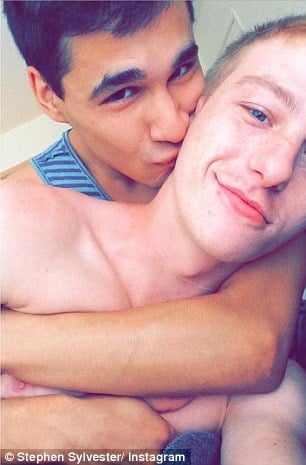 Bryan Canchola a 20 year old Texas college student has been charged with murder after allegedly bludgeoning to death his 19 year old boyfriend, Stephen Sylvester, 19 after the couple returned from a night out.
The boyfriend's death came after a heated argument in the Austin, Texas apartment the lovers shared after allegations of cheating.
Subsequent to beating his boyfriend to death, cops say the St Mary's University student then strangled his boyfriend's dog to death.
Screamed the accused at one point during the confrontation: 'Why would you cheat on me?'
According to KVUE the pair, who hadn't been dating for very long came out of their room pushing and shoving each other. 
Their roommate told them to keep the noise down, so they apologized and went back into their room.
But the fight continued and, at around 4:30am, the roommate heard the victim scream: 'Let go; I'm trying to leave.'
He was also heard shouting at him, pleading with him to let his dog Harlow go.
The roommate then started banging on the door and eventually made his way into the room. 
Canchola became aggressive toward the roommate, who noticed blood splattered on the wall. 
Sylvester then went into the kitchen holding the back of his head with blood pouring down his neck and shirt.
The roommate helped gather up some belongings so they could go to the hospital. But then, in a fit of rage, Canchola allegedly punched Sylvester, causing the man to fall on the floor.
As they tried to leave the apartment, Canchola started throwing drinking glasses at the victim.
Sylvester was checked into Sylvester into University Medical Center Brackenridge, but unexpectedly left again a short time later. 
When the roommate found out, he called 911, concerned Sylvester had gone back to the apartment to sort things out with his boyfriend. A short time later, Canchola also dialed the number to say the pair had been fighting.
Sylvester was taken back to the hospital by paramedics and died a short time later.
According to the affidavit, Canchola sent texts to his step-father saying he was 'scared, in trouble and did not know what to do.'
A police report indicates at one point Canchola changing his clothes when EMS personnel arrived to tend to Sylvester at the apartment.
The police report noted officers observing Bryan Canchola with blood on his lips, hands and feet. 
The report also noted a 'considerable lack of blood on Sylvester which suggested to him that the body may have been cleaned prior to his arrival.'
Told Sylvester's ex-boyfriend, Taylor Shirley via the nydailynews: 'I can't imagine why somebody would try to hurt him or his dog.'
Adding: 'Stephen was a very big hearted and trusting person and so whenever he met people, he trusted them way too easily and I think this was just one of those things. He trusted the wrong person and it cost him his life.'
Canchola is currently in custody at Travis County Correctional Complex with bond set at $500,000.