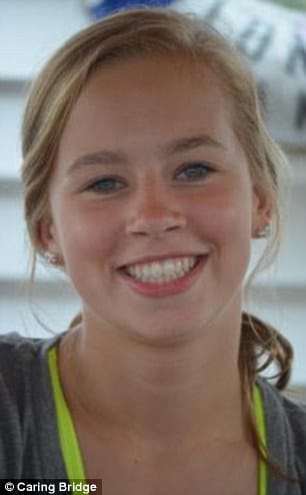 Sydney Galleger a beloved 17 year old junior Minnesota, Eden Prairie High School teen has died 3 days after suffering a cardiac arrest during a routine wisdom teeth procedure.
According to a statement released by the girl's parents, the teen had gone in to her dentist's office on Tuesday morning for a 'simple wisdom teeth extraction' which was going well until the 'very end.'
Without warning the girl's blood pressure shot up, whilst her pulse dropped, with the girl then going into cardiac arrest. From there the dentist 'frantically started' performing CPR whilst emergency crews rushed to the scene.
Transported to the the University of Minnesota Amplatz Children's Hospital, where she was placed on a ventilator to help with her breathing, her relatives posted on a CaringBridge page.
In subsequent days, Sydney Galleger suffered numerous seizures and underwent surgery to fit a drain in her skull to relieve the swelling of her brain. However, her brain continued to swell, cutting off the drain.
In the early hours of Friday morning, doctors informed Sydney's family that there was nothing more they could do, Fox9.com reported.
Wrote the teen's mother Diane on the CaringBridge page:
'As you can imagine, that was the most devastating news we have ever received,' 
'We want to rewind to Monday where we had our happy, healthy, funny, beautiful 17-year-old daughter. As we look at all the pictures covering her hospital walls, we can't believe this same happy, healthy, funny, still beautiful daughter, sister, granddaughter, niece, cousin, and friend is lying in that hospital bed. We can't comprehend it yet and not sure when we will.'
Just days earlier, the teen's mother had written her first post on the page, saying that 'what started out as a normal day soon turned anything but normal' after her daughter underwent the teeth extraction.
'All went good until the very end when her blood pressure shot up and her pulse dropped and then she went into cardiac arrest The quick action of the Dr. started CPR and called 911,' she wrote.
'The paramedics arrived in 5 minutes and continued CPR until her heart started again. She was immediately rushed to the hospital where more doctors and nurses than I could even count, started working on her. Once she was stabilized she was transferred to UofM Amplatz Children's Hospital.'
In the latest post, Diane said her daughter's heart was 'so big' that she chose to be an organ donor when she got her driver's license aged 16 – and fortunately, all of her organs appear to be healthy.
'We are still in shock that this has happened but knowing that a part of Sydney will live on and give someone else life, gives us some comfort,' she wrote, thanking well-wishers for their prayers.
Medics have told that they still don't know what caused Sydney, from Eden Prairie, to suffer a cardiac arrest during the wisdom teeth surgery, but said she may have had an unknown heart condition.
Over the weekend, a number of athletic teams at Eden Prairie High School paid tribute to Sydney by wearing her initials on their uniforms and writing the phrase 'Play for Syd' on their arms.
It is not clear how many wisdom teeth the teen had removed during the surgery.
Images via twitter.