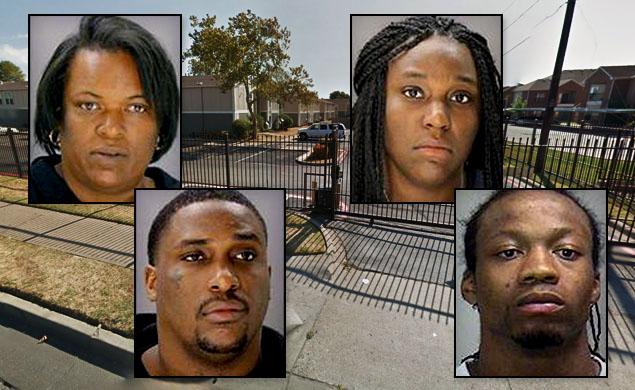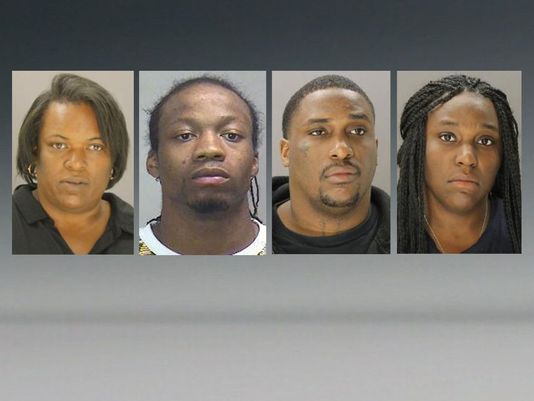 Four Dallas, Texas family members have been charged in relation to a six-hour beating perpetrated to terminate a 14-year-old's unwanted pregnancy.
According to a report via WFAA the teen was repeatedly struck in the stomach, resulting in her delivering a stillborn child in the bathroom of her family's Pleasant Grove suburban home.
Incredulously the fetus was then thrown in a charcoal grill and burned before its remains were tossed in a green plastic bag and disposed of, according to the arrest affidavit.
Indicted were: Sharon Jones, 45, Lonnell McDonald, 27, Cedric Jones, 27, and Cecila McDonald, 25, who were each arrested Tuesday in connection with the assault and booked into Dallas County jail. Bond would be set at $150,000.
The victim, who told police about the attack last month, said she became pregnant after she was sexually assaulted by a family member in August 2012, The Dallas Morning News reported.
The affidavit claims the girl 'did not tell anyone about the sexual assault because…she was embarrassed by it.'
It is not necessarily understood if she had been threatened to keep the incident a secret?
According to dallasnews the hours-long attack allegedly occurred in 2013, but the girl stayed quiet until another woman, who said she witnessed part of the assault, took her to a police station May 22.
At eight-months pregnant, family member, Sharon Jones gave the teen birth control, Plan B pills and cinnamon tablets to abort the child told a police report.
When that failed, authorities allege the family resorted to physical assault to kill the fetus.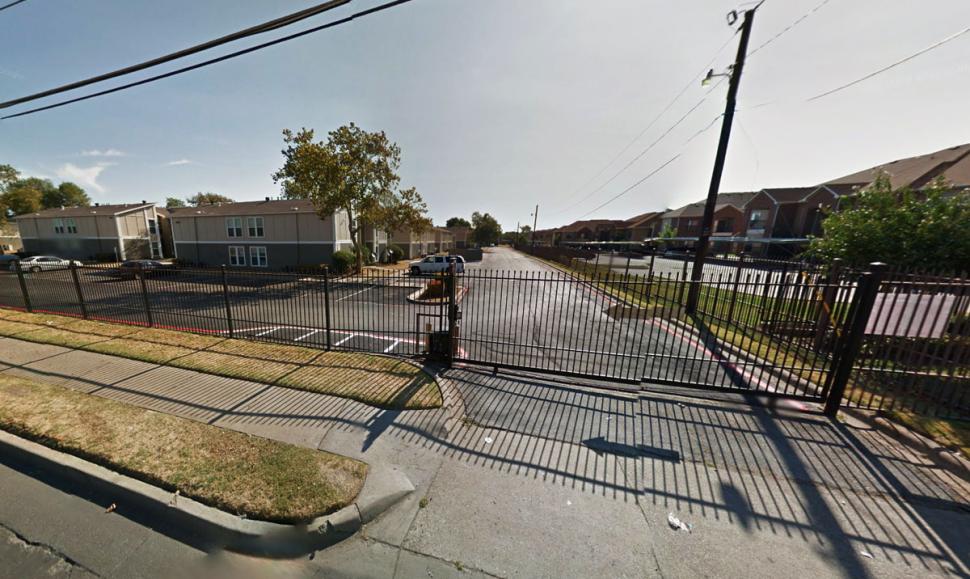 Police said the four attacked the pregnant girl in the living room of Sharon Jones' home, pinning the teen's 'arms down to the floor' as Cecila and Lonnell McDonald took turns bouncing up and down on her stomach.
When Cedric Jones walked in on the assault, Lonnell McDonald allegedly told him 'he had already been kicking the "s— out of the b—-.'
The victim eventually endured severe cramps and threw up before suffering a bathroom miscarriage, which took place in March 2013.
According to the arrest affidavit, family member Sharon Jones allegedly offered Cedric Jones $25 to dispose of the fetus two days later.
'Suspect Cedric Jones Jr. placed the remains in a dark green plastic bag with a red drawstring, placed it in his trunk, and stashed the remains in an unknown location,' the report said.
It has since been disclosed the family never sought medical care for the girl, nevertheless gave her iron pills because of her blood loss.