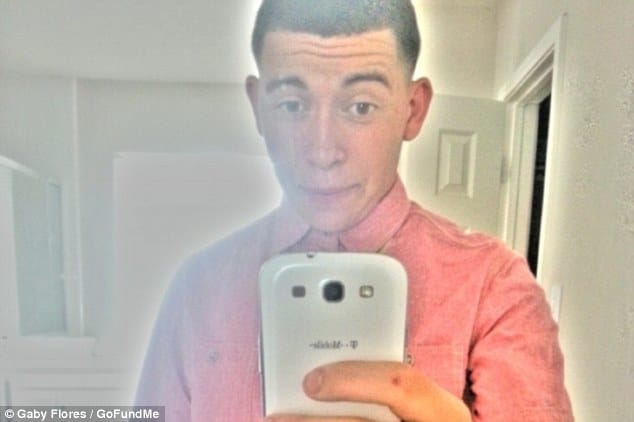 Omar Rodas an 18 year old Klein Forest High School, Texas high school student died over the weekend en route to his graduation ceremony after having picked up extra classes in the weeks ahead to meet a looming graduating deadline.
In a bid to graduate along fellow classmates the student had in recent weeks upped his work ante, building his credit in line with that of fellow students.
Nevertheless as the teen drove in his gown and mortarboard along Houston's I-45 freeway, fate would intervene as the car the student was traveling in crashed along a cement rail shortly after 7 am on Saturday morning.
Although fellow students would later come to hear of the incident later that morning, none of them had fathomed that the dead man inside the automobile was their classmate Omar Rodas.
It would only be later when the student's name was called to collect his diploma did fellow students suddenly realize something was amiss when the student failed to appear.
Students" confusion turned to horror as they came to realize a traffic warning about a freeway crash on the graduation route that morning had actually involved their classmate.
According to the  Houston Chronicle, by the time rescuers were able to pull his body from the wreck involving two other cars, the student was already dead.
In the weeks leading up to his graduation, the student had spent weeks staying late every night so he could make the grade.
Told Brandon Cortez, a childhood friend: 'He wasn't going to make it at first, but he did it. He was really excited that all his hard work had paid off.'
According to the KPRC local news station, Rodas was in a black Honda Accord driving south on I-45, when the vehicle veered out of its lane and rear-ended a dump truck.
At the same time, an SUV in front reportedly veered in front of the dump truck and also got hit. 
The overturned car could be seen on its side for some time later as police investigated. 
Police said a black Honda Accord was driving southbound on the North Freeway when the driver veered out of the lane for unknown reasons and hit the rear of a dump truck
It wasn't clear whether Rodas or somebody else was driving, though police only mentioned one victim.
Since Rodas' death, fellow classmates left tributes and cards for the student outside school building parameters.
Friends had scheduled a candle-lit vigil for Rodas Sunday evening, and have also started a GoFundMe page to pay funeral expenses, which as of Monday night (EST) raised just on $9 310.
Immediately when I saw this my heart dropped down to my stomach. Prayers out to Omar Rodas family & his girl Marissa. pic.twitter.com/VdCjUilfJz

— ForeverStayGold♕ (@CelindaLe) June 6, 2015
Flowers & balloons for Omar Rodas the Klein Forest HS Sr killed in a crash on his way to graduation. #RIPOmarRodas pic.twitter.com/UXMapH8RRx
— Damali Keith (@DamaliFox26) June 7, 2015
Wow. I saw the accident on the way to graduation, so saddening. RIP Omar Rodas, I'm beyond shocked. Knew him since we were kids. 🙁

— Kamil Patel (@KamilitaryMane) June 6, 2015
Candlelight vigil held for Klein student killed in crash: Friends of Omar Rodas gathered out… http://t.co/hWcJcSYu0g #Houston #HouNews
— KHOU 11 News Houston (@KHOU) June 8, 2015