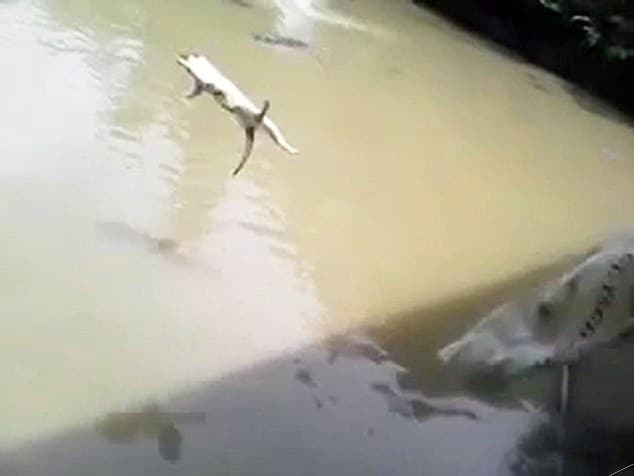 Going viral is a disturbing video (see below) showing the moment two men deliberately threw a cat into a Peru lagoon infested with crocodile.
As the video begins, two men can be heard laughing as they take the animal out of a bag and toss it over high fences into a nearby lagoon known to be full of crocodile.
From there the video pans as a waiting phalanx of crocodiles motion towards the doomed cat as it frantically attempts to swim back to dry land.
Seeming to have pulled off a miraculous escape, the cat is seen climbing onto a bamboo fencing but at the last moment is dragged back into the clutches of a thrusting crocodile as it scampers up the fencing, depleted of energy.
Pouncing on the traumatized animal, the crocodile is able to lock onto the animal's tail as it pulls it back into the water.
As it appears all is lost the animal attempts to make another break after a second crocodile now appears lurching at the first crocodile in a bid to steal its anticipated meal.
Released the cat once again attempts to swim away but fails to go too far as one of the crocodiles quickly motions to snatch the animal and this time put an end to the animal's misery.
Since making its way, the video according to a report via the UK's dailymail believed to be filmed in the city of Iquitos has led to widespread condemnation.
Offered one social media user: 'Cowards, this is a defenseless animal… There are no circumstances to do something like this.'
Whilst Victor Rodriguez Vilcapaza posited: 'It would be great if the people involved in the facts would be punished in order to make them understand that animals are alive and they have sensibility, pain and love'.
Reports larepublica.pe via google translation: Witnesses of this cruel episode comment and tease the fate of the cat. They seem to enjoy when the animal is eaten.
The YouTube video have been recorded in the district of Nauta and was published by the user "Trouble police Iquitos" This June 9.
At present it is not known whether the two men seen in the video and the individual filming the incident have yet to be brought to account.