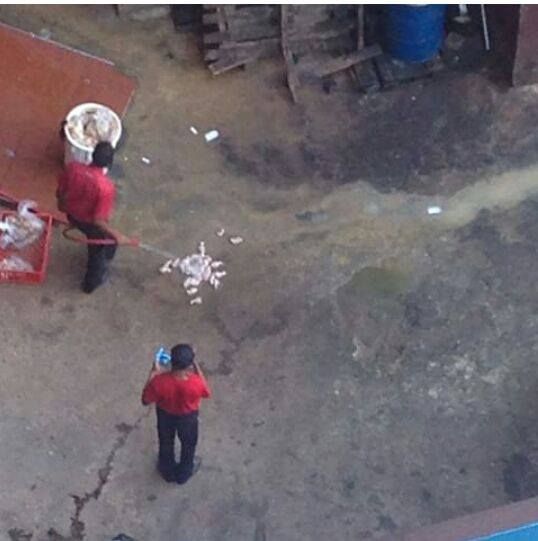 A South African KFC outlet has apologized after it was filmed (see below) rinsing chicken meat on a concrete floor in what may have been a bin store.
The two minute clip filmed from above KFC Braamfontein shows two employees throwing pieces of meat of meat on a concrete floor and hosing it down after it had purportedly been coated with seasoning.
Needless to say the video led to a huge uproar and KFC taking out a full page newspaper ad with the following headline: 'We're sorry.'
A statement on KFC facebook page said the store was closed immediately and an investigation showed the chicken was never going to be sold. 
Of course why wash it then?
In its defense the fast food conglomerate said it was shocked to see the pictures and at first 'couldn't believe what we were seeing'.
Adding: 'The franchisee required the team to discard product before breading it to avoid breading (mixture of flour and our secret recipe of 11 herbs and spices) waste,' 
'The team had some waste that they had discarded with breading on it and they were washing it off to hide it from management.'
'We have strict processes in place, even when it comes to food disposal and will not tolerate our stores not following them.  
'We have already dealt very firmly with the owner and responsible people involved.'
The firm said that although it was a good thing the chicken had not met 'high quality standards' and had been set aside for disposal, the way members of staff handled the product to be disposed of did not follow guidelines.
Commenting on the well-being of KFC customers, KFC Africa Managing Director Doug Smart emphasized that the fast food chain strives to ensure their food is 100% safe to eat.
It would later be disclosed that the video had been passed on to news outlets by an anonymous woman who had wished not to be identified.
The video would lead to the store temporary closing 'pending an investigation' before re opening later that evening…
And then there were these comments on the web that caught my eye, see what you think?
lets listen to his logic again .. here goes .. "the Braamfontein owner told his staff not to bread chicken that is meant to be discarded. (duh) … We at KFC headquarters then told the franchisee that he must remove this rule." what ???????? firsly, this rule is logical. why remove this logical rule? you logically will not go bread chicken that must be thrown away. Clearly the Braamfontein owner is guilty and made up this excuse, and KFC headquarters went along with it so as to cover up for their franchisee.
The owner is covering up the act of washing the chicken for the next days customers. It saves the owners several thousands of rands every month by not having to throw "waste" away
Kfc put out an apology in the papers.The power of social media. pic.twitter.com/romXsPo3k5

— Luthando Shosha (@LootLove) May 10, 2015
KFC full-page ad to apologise for Braamfontein branch debacle. Don't know many brands with the courage to say sorry pic.twitter.com/LZYhFexKTp
— Patrick Conroy (@PatrickConroySA) May 10, 2015