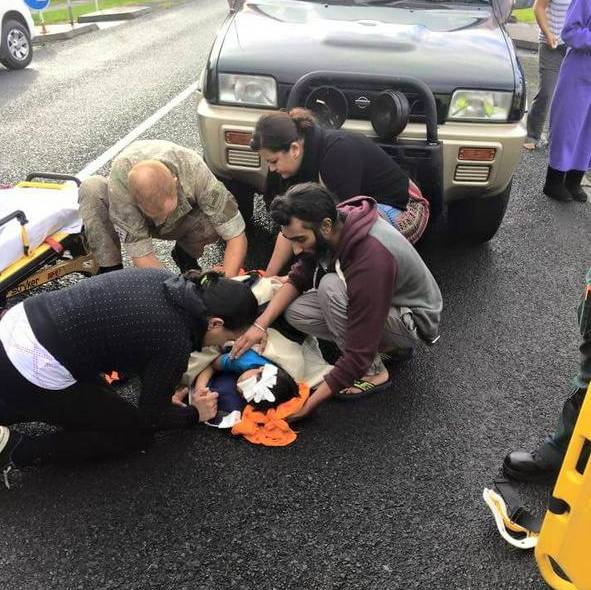 Harman Singh a Sikh student from New Zealand has been hailed a hero after daring to break strict legal religious protocol by taking off his turban to save the life of a child hit by a car.
At the time of the accident, Singh ran out of his home upon hearing a nearby impact where he then took to removing his turban to cradle the bleeding head of a five year old boy who had been momentarily hit by a vehicle on his way to school in Takanini, South Auckland.
Offered Harman Singh via the NZ Herald: 'I saw a child down on the ground and a lady was holding him. His head was bleeding, so I unveiled my turban and put it under his head,' 
'I wasn't thinking about the turban. I was thinking about the accident and I just thought, "He needs something on his head because he's bleeding". That's my job – to help.
'And I think anyone else would have done the same as me.'
Remaining with other witnessed until emergency services arrived, Singh would find himself being thanked by the boy's mother who eventually arrived at the scene.
Added Harman Singh: 'The little boy, he was talking to us before his mum came. He wasn't crying. But when his mum arrived – when he saw her – he started to cry, because she was crying.'
Offered witness Gagan Dhillon who had been on his way to work when he saw the accident: 'There was enough help as there was, but being a Sikh myself, I know what type of respect the turban has. People just don't take it off – people die over it,'
'He didn't care that his head was uncovered in public. He just wanted to help this little boy.'
The five-year-old was reportedly walking to school with his older sister when he was hit. He was thought to have suffered life-threatening head injuries, but last night was in a stable condition in hospital. 
A resident nearby said she heard a vehicle skidding, and then a big bang.
Charmaine Tuhaka told how she and two others held the boy still to prevent him moving and further injuring himself.
Since breaking strict Sikh religious protocol by removing his turban, Harman Singh has been praised by people from around the world for the heroic act, his facebook page inundated with messages and comments.
Wrote Ashleigh Garrett: 'Great symbol of – we are all human beings. We have our individual beliefs, but at the end of the day to care for one another is key,' 
Commented another: 'This is why I have high respect for the Sikhism faith. Awesome job mate!,' 
Whilst another user said: 'Humanity before religion. Nice one buddy,'
Harman Singh originally from India and now living in Auckland  where he is studying a business course said he was overwhelmed with all the praise.
Told the hero: 'Thousands of people have said 'well done'. I was only doing what I had to and trying to be a decent member of the community,' 
'Thanks to all who messages, calls… thanks all the worldwide Facebook members who messaged me. I think i just did my job nothing else.'
The Sikh Press Association later posted on Facebook saying: 'Whilst the story of how this Sikh went out of his way to help an injured child is a beautiful story and nicely covered by nzherald.co.nz , it is entirely inaccurate to say he "put religion aside" to do it.
'A Sikh is taught to do whatever they can to help someone, especially in the kind of situation seen in the linked article. This is seen in the use of the DuMalla style of turban during war times.
'DuMalla can be transcribed as meaning 'two turbans'. One reason this style of turban was worn by warrior Sikhs was to have extra material to use for treatment of wounds and to give to women who may have had clothes ripped in attacks after villages were ransacked. This Sikh did not "put aside religion" to help, he was simply doing what generations of Sikhs have done for centuries.