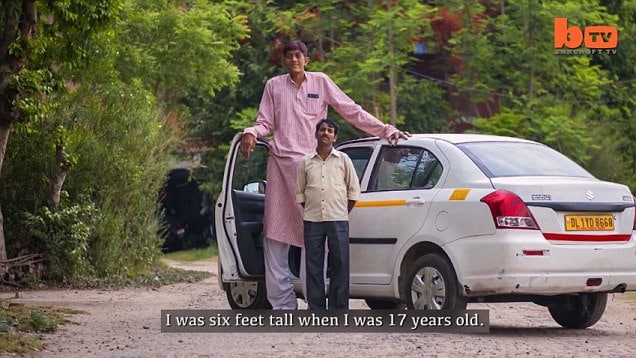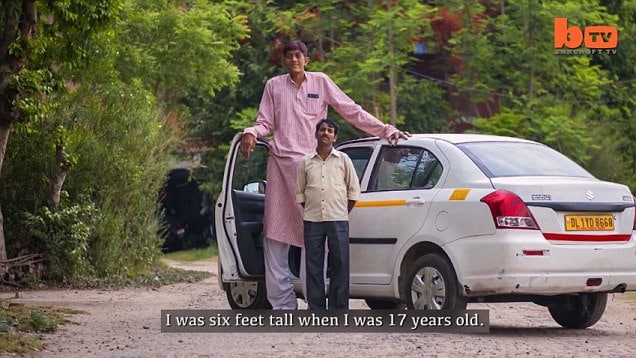 Dharmendra Singh may have a masters degree, a loving family and loyal friends but as India's tallest man at 8ft' 1 he is missing one thing that he years for: true love.
Told the man via Bancroft TV: 'In terms of marriage, the main problem is my height. It will be very difficult to find someone who is tall enough for me. I think it is impossible,'
'So this is also the reason why I haven't had a girlfriend.'
Adding: 'Women are very much interested in me. They talk to me and giggle but I have never met anyone who I could look up to,'
'In college I was a very shy person. Like other boys, I never approached girls to have a chat. I had great respect for them but never met the woman of my dreams.'
Whilst having a masters degree in Hindi, Dharmendra has also found to his constipation that his height has also affected his job prospects, with employers fretting about the man's height.
Explains the man: 'Whenever I went for interviews for jobs, people asked how I will work if I am so tall.'
Also taking a toll on him because of his height is Dharmendra's health.
Tells the man: 'I few months back, I had fractured my hip bone. I got myself treated in Delhi. I have a plate in my hip, and I have to bear pain because of it. I have to use a stick for support.'
In an effort to expand his dating pool, and to maintain economic viability Dharmendra Singh has agreed, albeit reluctantly, to work at a freak show near his home town of Meerut, Uttar Pradesh. 
Patrons will pay him to have their photos taken with him along with his employer supplementing his income.
Explains the man who is hopeful that his new job may open new horizons and even lead him to meeting a special woman: 'I am immensely popular and it is all because of my height.'