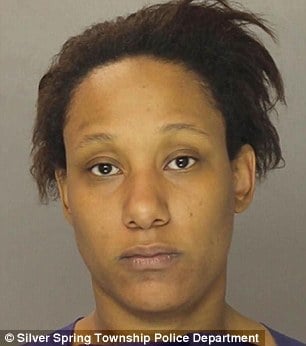 Christina Leach a 27 year old Silver Spring Township, Pennsylvania woman has been charged after luring a man for a massage then setting him on fire after she tied him to a bed.
According to police records the woman was inside the man's house when she offered to give him a massage when she poured flammable liquid on to his chest and set him alight.
Leaving the man to burn, she then drove off in the man's van before eventually being arrested later that evening in Dauphin County after cops spotted the man's stolen van.
Told Sergeant Leroy Hippensteel via fox43: 'She tied him to the bed and poured a flammable substance on his upper torso and lit him on fire.'
After he was set alight, the burning man wriggled free and jumped out of his bedroom window before driving to a nearby Turkey Hill dairy ice cream store.
A shop assistant there called the emergency services before the victim was flown to Lehigh Valley Burn Center. The man's current condition is not known. 
Fire crews were also called to the man's home to put out the resultant blaze.
Leach has since been charged with aggravated assault, arson and theft. 
Commentators on the web have since asked had the genders been reversed whether the assailant would also have been charged with attempted murder? Which raises the question of violence perpetrated by women against men and why punishment is often mandated a lesser indictment.
At present it is not necessarily understood what relation the pair maintained and why the woman had resorted to violating the man.
The woman's police record would show she was arrested and arraigned in Dauphin County because of several unrelated outstanding warrants.