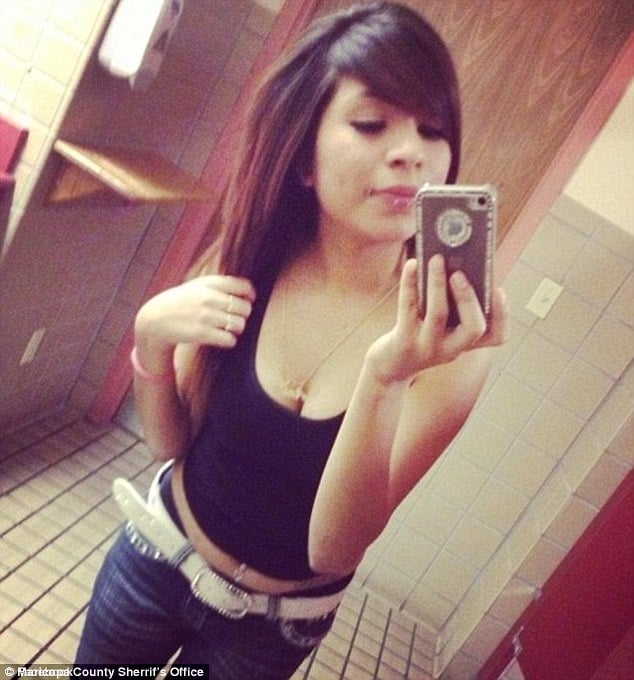 Anna Areola Hernandez a 24 year old Glendale, Arizona woman who posed as a 15 year old teen girl in a bid to lure teen boys has been sentenced to ten years jail and lifetime probation.
Along with jail and probation the woman has also been mandated to register as a sex offender after pleading guilty last month to three counts of chid molestation.
According to a report via AZCentral.com, Areola-Hernandez's sentencing comes a year after cops acted on a tip which led to the eventual arrest of the then 23 year old woman on charges of sexual conduct with a minor, child molestation, unlawful age misrepresentation and adult posing as a minor for a sexual conduct act.
Police were alerted to Areola-Hernandez's illicit escapades after getting a call from the mother of a 13-year-old boy who accused the woman of seducing her son.
Despite initially denying having a relationship with the boy, the woman later conceded she had sex with the child, as well as tricking the boy into believing was 15 years old.
Prosecutors said Areola-Hernandez used social media sites like Facebook and texting apps including Kik, Snapchat and Tango to lure multiple underage boys, one of whom had contracted chlamydia from the woman who called herself 'Tiny Hernandez' and 'Ana Hernandez' online.
During the woman's sentencing hearing Wednesday, a victim's mother accused the defendant of manipulating, stalking, and ultimately molesting her child.
Told the mother in a damning call for action: 'She should not be let out, ever.'
The mother also claimed that Areola-Hernandez plied children with alcohol and drugs.
In her defense, the woman's lawyer, Eleanor Knowles argued that her client had a very low IQ and a history of trauma and untreated mental illness, and that sending her to prison for a decade would delay treatment for her condition.
During testimony, Knowles read a letter written by her client in which Areola-Hernandez apologized to the court and her family, and promised to seek counseling behind bars.
According to police, Areola-Hernandez met a then 13 year old boy at Desert Sky Mall in Phoenix and later contacted him on Facebook.
According to a court document, Areola-Hernandez showed no remorse when talking to police about the allegations.
Police said she admitted to preferring younger boys rather than men her own age but did not explain why.