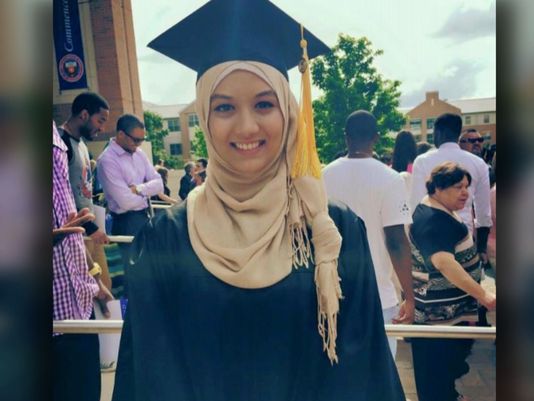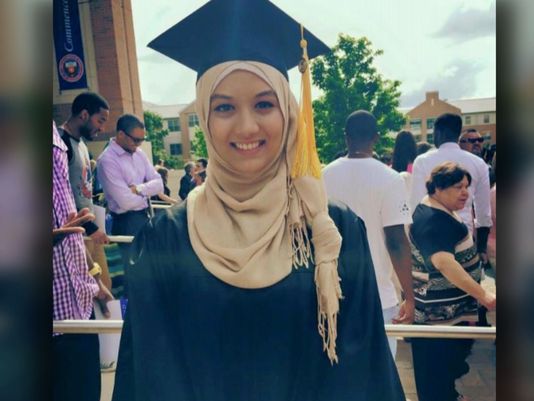 Aminah Jennifa Ahmed a 22 year old University of Texas graduate from Arlington has died of a suspected brain aneurysm after complaining of a headache just moments after graduating Friday week ago.
At the time the student decided to take a nap but would never wake up after passing away in hospital this past Wednesday.
The girl's death has since led to her family, who had proudly watched their daughter come to the podium and collect her diplomas in biology and business saying they are devastated.
Told the father, Shamus Ahmed via WFAA: 'Broken, heartbroken,'
'Nothing comes close to her.' 
Before last Friday, Aminah had shown no signs that anything was wrong told the girl's father, but after walking onstage, she started complaining of a headache. 
After posing for pictures in her cap and gown, she vomited on campus and then again on the ride home.
Pressed, Aminah told her father that she just felt stressed from school.
Upon returning home, Aminah said that she wanted a short nap but when her father checked on her, she was struggling to breathe.
From there Aminah was rushed to hospital and taken to the ICU and put on life support, but she passed away on Wednesday. A service was held for her on Thursday.
Offered Omar Suleiman, the director of the Islamic Learning Foundation and an Imam in Texas on a Facebook page: 'The family is in immense pain having seeing their daughter graduate literally hours before she was declared completely brain dead,'
'Please keep her and them in your sincerest.'
Told Dr. Babu Welch with UT Southwestern in response to Aminah's sudden death: 'It's not very common in young patients,' Dr. Babu Welch with UT Southwestern said. 'Usually our average age range is in that 40-60-year-old range.' 
He added that a family history of aneurysms makes it more likely for a person to suffer from them. They cause a headache, double vision and hand numbness
Now as Aminah's family struggles to cope with their loss, they are turning their attention to realizing the dreams she had.
She carried out a lot of charity work and had recently launched a project to pay for eye surgeries for children in South Asia, including her family's native Bangladesh.
Her family has now renamed the project 'Aminah Sees' and is raising money to get it off the ground.
By Friday morning, a Gofundme page had raised more than $36,000 for the project.