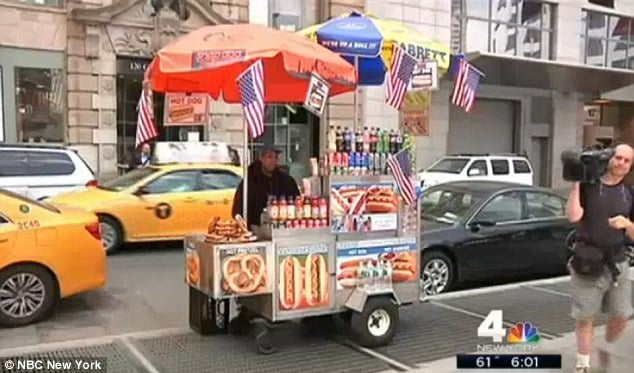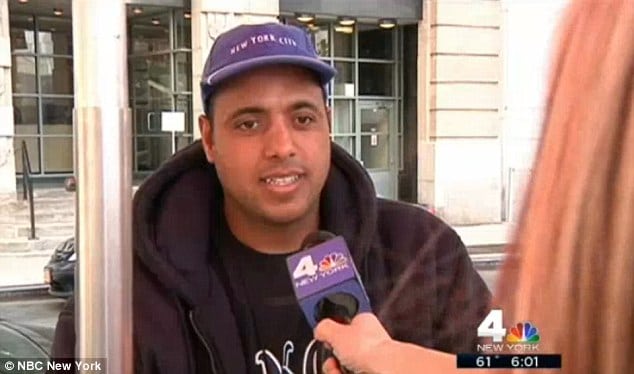 NYC street cart vendor, Ahmed Mohammed who went about charging unsuspecting tourists outside the world trade center memorial up to $30 for hot dogs has been sacked.
Told the man's 22 year old employer, Abdelalim Abdelbaky whose father owns the food cart and vending license via the nypost: 'I fired him over it yesterday after I watched the news,'
'He told me he charged the people $2 a hot dog. He lied to me.'
Abdelbaky said the scam vendor pocketed the extra money along with leaving his family with hundreds of dollars in fines to now pay off.
Things came to a head when the rogue vendor came to be slapped with three food-vending citations — after WNBC caught him on camera overcharging customers with accents.
Yes kids, it's as easy as that- pick out the foreign accents and see what your crap charm and the delectable aroma of your steamy frank can get away with .
Ahmed Mohammed was ticketed for being too close to a crosswalk, having items outside of his cart along with failing to conveniently list prices — which is how he got away with the outrageously high prices in the first place.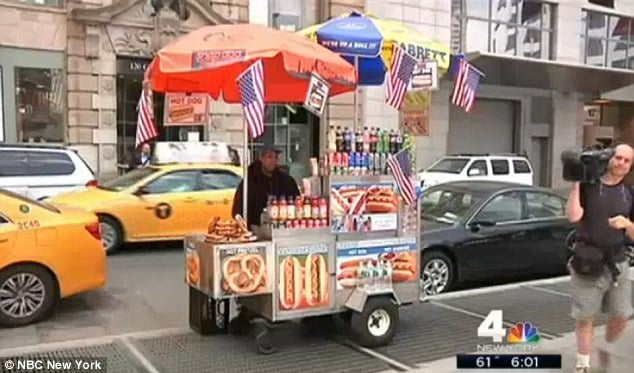 In one case he tried to charge a New Yorker with a French accent $15 for a pretzel and a hot dog.
'$9 for a can of coke? Yes but it comes with extra napkins and my promise that I will be thinking of you when I finally manage to go on to bigger and better scams things …'
Fines could now total up to $1,500 — a bill the owners of the cart must foot, Abdelbaky said.
The food-cart chief also has a beef with his ex-employee because he's lost customers, he said.
You think?
'Nobody would give him a job and he came to me. [But] I lost money — and I lost some customers,' he said, adding he even let Mohammed stay rent-free at his home in Jersey City.
Not anymore right?
Reiterated the pissed off good friend in a time of need: 'I lost money now, and I lost some customers, so I have a lot of losses.'
Since being busted Abdelbaky has now taken to posting the prices of some of the items on the cart (why wasn't he doing it before?), including $2.50 for a hot dog and $3.99 for two hot dogs and a bottle of water.
Isn't it time you tried to get one over your fellow mankind too…?