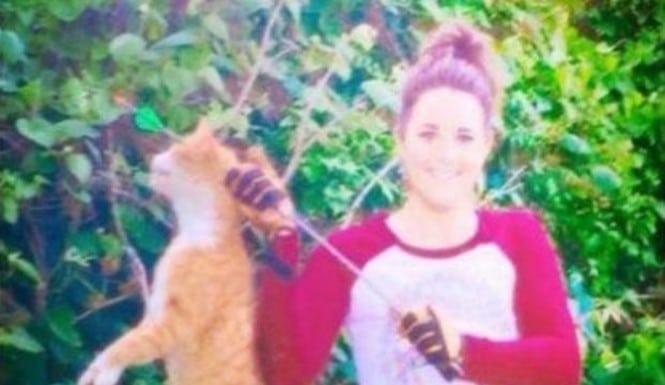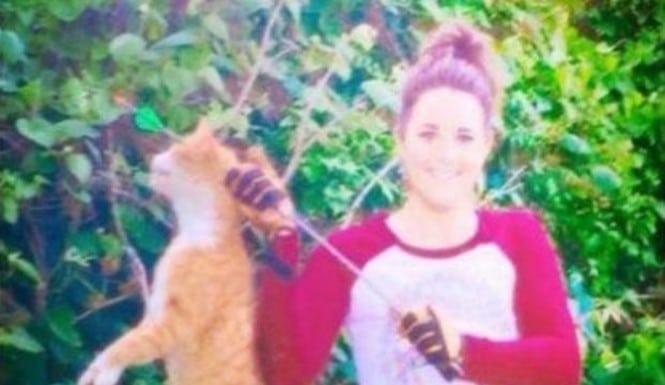 Kristen Lindsey, a veterinarian of the year has been fired from her clinic after posing pictures of her holding a cat which she had killed by firing an arrow into its head.
In her post on Facebook (since deleted) the 31 year old woman explains how she hunted down the animal in her backyard, believing it to be feral.
Wrote Lindsey next to the image: 'My first bow kill… lol. The only good feral tomcat is one with an arrow through it's head. Vet of the year award… gladly accepted.'
A rescue center would say the cat was in fact a domesticated cat called Tiger who had been missing for around two weeks.
Perhaps most ironically, prior to learning she had lost her job, the vet had commented: 'And no I did not lose my job. Psshh. Like someone would get rid of me. I'm awesome.' 
It would not be long before the vet came to be widely reviled for posting her images on Facebook before her employer, Washington Animal Clinic also took note and were forced to distance themselves from the woman before sending Lindsey her marching orders.
Told a statement Friday morning from the vet's former employer: 'We are absolutely appalled, shocked, upset, and disgusted by the conduct.
'We have parted ways with Ms. Lindsey. We do not allow such conduct and we condemn it in the strongest possible manner,' the clinic said in the statement.'
'Please know that when informed of this we responded swiftly and appropriately and please do not impute this awful conduct to the Washington Animal Clinic or any of its personnel.'
Also expressing their disgust was the Texas Veterinary Medical Association who told that the vet's conduct did not reflect the standards of other vets.
Told the outlet in part in a statement: 'This individual's actions directly violate the veterinarian's oath taken to use his or her "scientific knowledge and skills for the benefit of society through the protection of animal health and welfare, the prevention and relief of animal suffering, the conservation of animal resources, the promotion of public health and the advancement of medical knowledge." 
'We are saddened and disturbed by the unfortunate actions of this individual, and we remind Texas residents that this conduct is not reflective of the veterinary profession or of the veterinarians who strive to embody the words of the veterinarian's oath every day.
Adding: 'We hope you will stand strong with us against this type of behavior against animals. TVMA values the trust built between veterinarians and the public based on mutually shared care for animals. 
'We hope that we can unite to prevent actions like this from occurring in the future.
But it seems things aren't just quite over for Kristen Lindsey as local prosecutors have also now intimated pressing charges agains the woman.
Cruelty to animals is a Class A misdemeanor under penal code 42.092: 'A person commits an offense if the person intentionally, knowingly, or recklessly tortures an animal or in a cruel manner kills or causes serious bodily injury to an animal.'
Offered Austin County Sheriff Jack Brandes: 'This kind of stuff shouldn't happen in our society,' Brandes said. 'It's a very sad thing. 
'Hopefully we will get to the bottom of it and get the truth, 100 per cent truth, and get it to the DA and put it in his hands if it needs to go any further.' 
Lindsey interned at Equine Sports Medicine & Surgery in Weatherford from 2012 to 2013.
She created a personal blog called Wyo-Girl-Kristen Lindsey and posted about herself in 2011, saying: 'I love Wyoming and the mountains….the Big Horns especially…but any will do when it really comes down to it. 
'I love hunting, fly fishing, pack trips, the outdoors in general, horses, skiing, dancing, whiskey, my friends, my family, God, raising hell, my daddy, and sheep.' 
A Facebook page, called 'justice for the cat murdered by Kirsten Lindsey'  has already been 'liked' by more than 7,000 people.
A video of the six-year-old cat that Lindsey is believed to have killed riding on top of a tractor has also surfaced online.