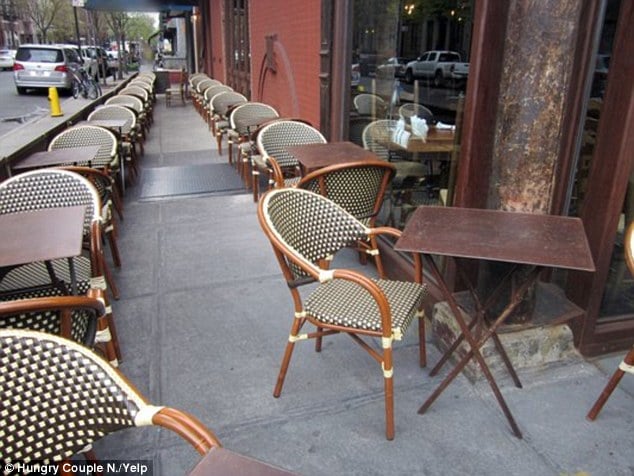 Nicholas Dematteis a 39 year old NYC diner has caused disconcert after grabbing an Upper East side restaurant manager by the neck and hurling him into an elderly lady after been made to wait more than an hour and a half.
The incident which happened at Bocca East on Second Avenue, 4pm,  Saturday afternoon led to the man demanding a free meal after been made to wait insufferably at the trendy eatery.
'We heard yelling and glass breaking,' said one restaurant patron, Upper East Side resident Jason Wirtz via the nydailynews.
Adding: 'The guy was screaming, 'I'm not paying for it!' There was some expletives used in there.'
As a 34-year-old manager tried to calm Dematteis down, the Upper East Side rage-aholic hurled a homophobic slur before lunging at the man's neck and slamming him against the bar.
Offered one Verdi restaurant manager, Joseph Verdi: 'He was a big guy, a lot bigger than the manager.'
At the time of the incident, the verbally assaulted manager followed the disgruntled diner outside, who witnesses told appeared weathered and quite drunk, when Dematteis grabbed him by the neck, tossing him into an elderly woman standing on the street.
Offered Julie Chappell, who was dining near the sidewalk: 'There was a hustle and bustle out here and she hit the ground pretty hard.'
Cops would arrest Dematteis, who lives in the neighborhood, at E. 74 St. and Third Ave., just a few blocks from the restaurant, charging him with assault.
Interestingly the diner had been previously arrested in January for breaking into his girlfriend's apartment in Astoria, cops told.
Said one of Dematteis' Upper East Side neighbors: 'I hope he goes to jail, he's a psycho," said one of Dematteis.'
At present it is not necessarily understood if the diner will be received back at the restaurant ever again…