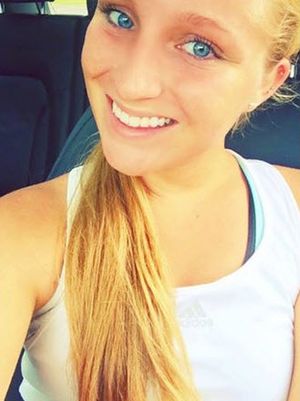 Authorities are probing the possibility that Marisa Curlen, a 20 year old college sophomore student at James Madison University in Virginia died of alcohol poisoning.
The star athlete and sorority member of Alpha Phi and Rye, NY native was found unresponsive in her dormitory room Friday. To date authorities have said they do not suspect any foul play.
Pursuant to the girl's death, Sgt Jason Kidd of the Harrisburg police department said that investigators were now waiting on the medical examiner's report before declaring formal reasons for the 20 year old's death.
Also pending are toxicology tests which Kidd said takes an average of three months to get results for.
The girl's death has raised questions as to whether Marisa Curlen's death was the result of excessive partying that the girl may have partaken in, which may or may not reflect social attitudes amongst sophomore peers and sorority sisters.
Perhaps not coincidentally the Journal news notes that Curlen was the third member of Rye High School's graduating class of 2013 to die.
Offered Rye High School senior Mike Augusta via CBS New York: 'The first one's the warning,'
'The third? I don't even know what to make of it anymore.'
Other Rye graduates found deceased include Michael Rath, 19, a student at Coastal Carolina University in Conway, South Carolina, who was found dead in January 2014 at his apartment on campus.
Also found dead was Peter Collins, 18, a student at Marist College in Poughkeepsie, New York, who was found unresponsive at his Rye home in July 2013 and passed away later in a hospital.

Curlen's wake will be held at the Graham Funeral Home on the Boston Post Road in Rye Friday from 2 p.m. to 4 p.m. and 6 p.m. to 8 p.m. Funeral services will be held at the Rye Presbyterian Church, also on the Boston Post Road, Saturday at 2 p.m.
Sarah Lundberg, the president of Alpha Phi's James Madison chapter described Marisa Curlen in the university student newspaper, The Breeze, as a dedicated sister 'who exemplified our values of sisterhood and loyalty.'
In the interim university officials have declined to publicly address the sophomore's death. It is not necessarily understood why.