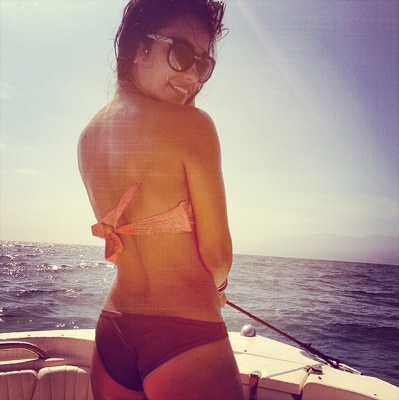 Columbian born model Manuela Arbelaez, 26, has found herself becoming tabloid fodder after an errant error saw her revealing the mystery price of give away car, a Hyundai Sonata SE, valued at $21, 960 to a contestant on The Price is Right.
Before the contestant had even finished guessing, the model inexplicably revealed the mystery price, leading to the contestant overjoyed who immediately claimed the car, whilst leaving the show's host, funny man, Drew Carey gasping.
Shouted contestant, Andrea as it dawned on her what had just happened: 'I win.'
Offered Carey in return: 'Congratulations! Manuela just gave you a car! The game is over, folks.'
While Andrea jumps for joy, poor Manuela, 26 didn't know where to hide, before eventually consoled by both Carey and the delighted contestant.
Arbelaez later tweeted: 'I don't usually give expensive gifts, but when I do is a $21,960 CAR,'
She also tweeted that the producers on the show and Carey couldn't have been more supportive and understanding. 'I'm not in trouble 🙂 phew!,' she wrote. 
Arbelaez joined the regular rotation of five models on The Price Is Right in April, 2009.
A finalist in The Price Is Right Model Search of 2008, Arbelaez caught the show's producers attention and the rest is history as you can see below…
Images via instagram