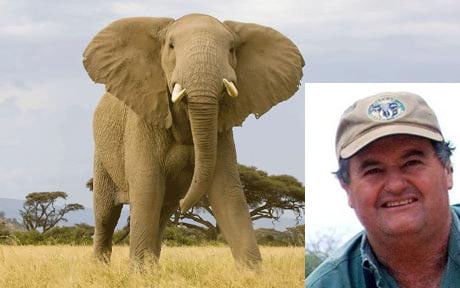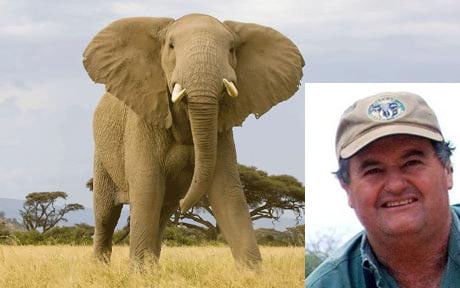 Social media has erupted with a thudding boom after it was revealed that prominent professional game hunter Ian Gibson was trampled to death by an elephant he had hoped to slay. 
At the time of the man's death, Gibson was leading a hunt in Chewore North in the lower Zambezi Valley of Zimbabwe, when the bull elephant 'began a full charge,' reports huffpo.
In an online note on the website of his employers Safari Classics, the outlet said Gibson had been tracking the elephant for five hours with a client when they stopped for a rest.
Told the note: 'Feeling he was quite close to the elephant, Ian and his tracker Robert continued to follow the tracks in hopes of getting a look at the ivory as the client stayed with the game scout.'
Gibson's tracker indicated the elephant was in 'musth' – a condition where the animal's urge to mate goes into overdrive and it becomes overly aggressive, but the professional game hunter continued.
Adds the note: 'They eventually caught up with the bull, spotting him at about 50-100 metres. The bull instantly turned and began a full charge.
'Ian and Robert began shouting in order to stop the charge. At very close range, Ian was able to get off one shot before the bull killed him. The scene was very graphic.'
It is not known if the animal was injured or killed in the incident.
And then there were these sample responses from the web that caught my attention, see what you think?
I wonder if the elephant took the guy's teeth for their value?
The number of elephants is half what it was a decade or so ago and are dwindling fast. I don't respect "hunters" who pay extraordinary fees and hire professional trackers killing shrinking numbers of elephants, rhinos, lions etc. just to feed their egos.
Agriculture, not hunting, is the foremost cause of extinction world-wide as well as the single greatest source of greenhouse gas destined to alter our climate for centuries. While I have no sympathy for the deceased, I do wonder how many of his critics fail to understand their own roles in the ceaseless destruction of this planet. How many stand gazing out upon endless fields of exotics grown purely for human benefit, with their hands on their hips, wondering where all of the wildlife went, and then blame the hunter? How many fly to Africa on "harmless" photography safaris without ever considering the impact of such self-indulgent behavior?
I have zero sympathy for this hunter. I react to this the very same way I do when I see a bull fighter get mangled. BRAVO.
above image found here