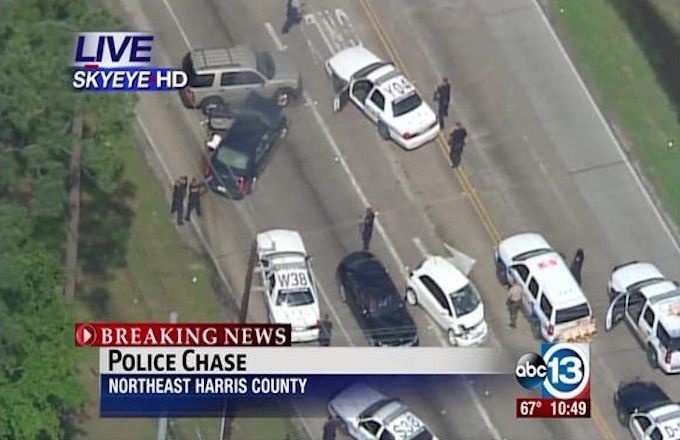 TV viewers have been left open mouthed after the airing of the live shooting death of Houston, Texas man Frank 'Trey' Shepherd, 41 as he led cops on 20 minute high speed car chase.
According to report via the Houston Chronicle, the father of three led cops on a chase after police officers attempted to pull over the man over a traffic violation.
From there Frank Shepherd led cops on a wild 20 minute chase which involved ramming into several vehicles in northeastern Houston before halting outside two suburban schools
Ironically as the chase was being shown on live air tv, the man's uncle, Chris Shepherd watched on, unaware that the man leading cops on a wild chase was his nephew.
Told the uncle: 'I'm looking at it on TV, saying 'why would you run from the law? Not knowing it was my nephew,'
'My sister, his mom, called and told me that they shot and killed him.'
After pulling up ahead of the schools, Shephard, is seen getting out of his car only to then turn around suddenly and reach back inside his automobile.
A gesture that was met with a volley of gunfire as the man who worked as a barber re emerged, killing the man whilst news helicopters hovered overhead.
Witnesses would tell officers then covering the man's body with a white sheet with his blood seeping the asphalt.
A female witness told ABC-13 she heard several shots while she was stopped at a traffic light, but did not see the confrontation between the suspect and officers. 'When I heard gunshots, honey, I just started backing up.'
Offered witness Torrey Smith, 16: 'I saw the dude lying on the ground,' 'You could see the bullet holes in the window and him laying on the other side.'
At present it is not necessarily understood why Trey Shepherd fled cops initial's overtures to pull over.   .