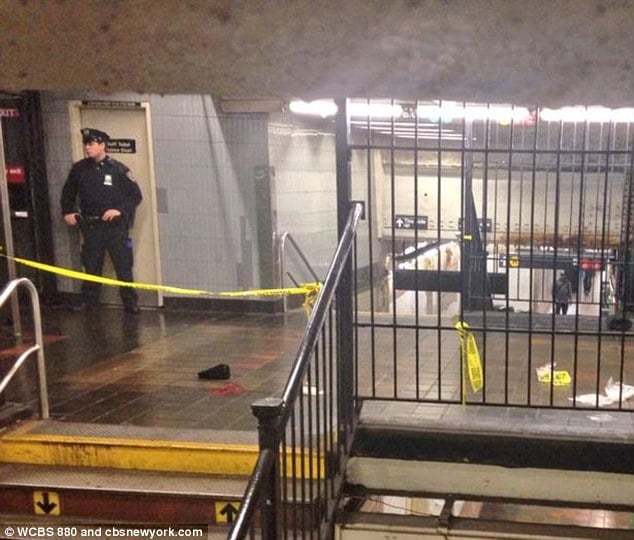 A retired corrections officer has fatally shot a 29 year old subway rider at Brooklyn's Borough Hall station after an altercation during rush hour.
The unnamed victim, was struck in the abdomen by a bullet near a stairwell circa 6.40pm reports PIX11.
Rushed to Brooklyn Hospital Center in serious condition the man would soon be pronounced dead from his injuries.
Prior to the shooting, witnesses told two young men were acting belligerent on a Brooklyn bound 5 train.
A witness told the station that an older man, later identified as a 69-year-old former corrections officer, got on the crowded train at Bowling Green station and was trying to walk past the two men when some words were exchanged. 
From there the retired jail guard was trying to keep his distance and was heard saying, 'don't touch me,' before one of the two young men allegedly punched him in the face.
Another witness told via the New York Daily News he overheard one of the assailant use a racial slur in addressing the older man.
The witness said one of the assailants told the older man 'Oh, I got you now my 'N—-," as the retired officer tried to walk between the younger men to get on the train.
Told the man: '[The older man] said, "I'm not your n*****, I'm not your boy,"'
The retiree tried to restrain his opponent and pulled a gun on him. When the doors of the subway car opened at Borough Hall, the two men ran out, followed by the 69-year-old, and a scuffle ensued on the platform.

Reports nymag: Other passengers ran off the train as the scuffle spilled onto the platform, and the correction officer put a clip in the gun. The two men were running up a flight of stairs when the older man opened fire. "I was getting off the 4 train and then pop pop pop, four or five shots, it was gunshots," said Fatim Manuel, who was getting off another train. "I was desperate to get help. I just wanted to get out."
Startled straphangers said whether the shooting was justified, firing a weapon in a crowded subway station is dangerous.

Told one witness via social media: 'That old man wasn't having it. He loaded the clip all calm and collected and went right for those boys. He was done. Pure chaos.'
Norman Seabrook, the president New York City Correction Officers' Benevolent Association said the retired corrections officer was 'forced to use his weapon.'
Adding: 'I believe that we should wait until all circumstances are in before rushing to judgment.'
According to CBS New York, the shooter was hospitalized with minor injuries. He has not been arrested as of 9.30pm.
The station was closed for hours Tuesday night, and the 4 and 5 trains bypassed the station in both directions.