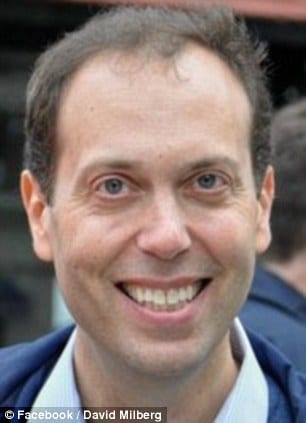 David Milberg, ex Lehmans Brothers executive and his estranged wife Melinda want to entertain on us on public good manners. Or the lack of….
It seems the battles of the well to do has taken a nasty nosedive in front of our front door steps once again, this time with the telling of a 'long simmering custody battle' which continues to play out in the public.
Repeat after me: 'children of rich people are pawns to do as what we please in front of the media.'
Starring in the latest too rich for you not to humiliate you in public is well to do, former Lehman Brothers executive, David Milberg, 50 (Princeton grad to boot) who is involved in a nasty custody battle with his estranged wife Melinda Milberg, 50 who has since filed child abuse charges against her husband 3 weeks after the fact.
Explains the nypost: David Milberg allegedly shoved an iPad into his son's stomach at his posh West 80th Street pad on Dec. 14, causing him "to suffer a red mark to his stomach and substantial pain," court papers say.
His son allegedly fled the historic luxury building, called The Orleans, with his dad in hot pursuit.
When the boy hopped into a cab, Milberg dragged the terrified child out by his arm and pushed him to the ground, cops said.
Milberg, 51, surrendered at the 20th Precinct station house Thursday morning after his wife, Melinda, filed a complaint — three weeks after the incident.
Retorted our devout collective heroine Melinda Milberg, a George Washington University-educated lawyer : 'This is a tragedy for our entire family and my heart goes out to everyone involved.'
Understandibly not thrilled is David Milberg's lawyer who reckons this is 'just another attempt by his client's vengeful wife to score points in Family Court,' where the two are locked in a fight over finances and custody.
Do you suppose? But all's fair in love and war and high stakes high society?
Reiterated lawyer Robert Gottlieb: 'Whatever occurred during that visit was certainly not a crime,'
'This is part of the strategy that's being implemented to advance the matrimonial case, and it's got to stop — you don't use your children as pawns in your game to get money.'
Set up or not or just plain bad manners or dare we wonder, bad parenting, David Milberg was this Thursday past arraigned on charges of assault, endangering the welfare of a child and harassment raps.
It gets better. The nypost reports that Manhattan prosecutors had sought to remand the investment honcho on $2,000 bail, but the judge (thank God for some common sense?) released the former Lehman Bros honcho on his own recognizance.
For more background on the merry go round riches to riches 'War of the Roses' saga starring the Milbergs and their three children go here and weep.