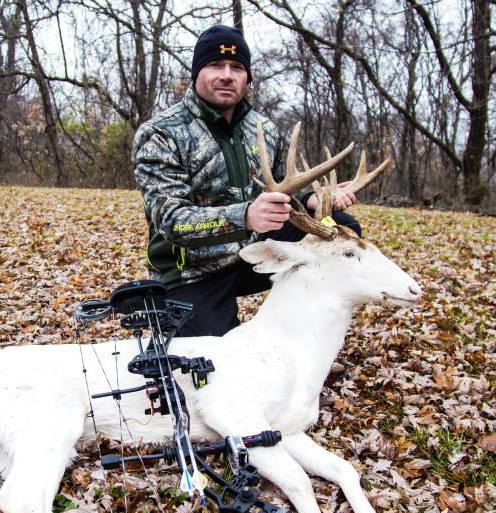 Jerry Kinnaman, a Missouri deer hunter has incurred the wrath of social media after posting pictures of his latest kill on Facebook: a rare albino buck.
Wrote Kinnaman on Facebook alongside pictures of the dead deer: 'Not my biggest buck but at 7 1/2 years old he might be the oldest,
'Let the bashing begin!' 
Who has unwittingly become his own topic of bashing is Jerry Kinnaman himself who has since come to find himself the center of criticism and even death threats.
Told the defiant hunter via the Washington Post: 'People are all tough on the computer,'
''but it's easy for them to say that because they know they're not going to get in trouble for it.'
That said the deer hunter would acknowledge why social media has taken a disliking to him: 'I was the same way as anybody else about this deer, so I understand the relationship some of these people have.'
In his defense, Kinsman insists the ageing deer was already in a poor state of health and would have died over the next few months anyway, adding that there was 'not an ounce of fat on him'. 
Since the fracas, Kinsman has taken to Facebook to defend his decision to kill the albino buck and post images: 'To all of you who have negative comments I say this: I know if you do not hunt it would be hard to for you to understand why I would take this animal. I knew that before I decided to harvest this animal. I can say this to you: first, after completely cleaning this animal I can tell you he had NO FAT on him for winter. 
'He Was extremely skinny. He had Been shot before. And his teeth were almost gone. We documented all of this tonight. He would have died painfully this winter. 
'I did NOT shoot this deer to sell nor did I poach it. I contacted MO Department of Conservation right when I harvested him. All of this is documented. I will see if our Nature Center will like to display him for everyone to see when I get him back. Good night.'
Even though he killed the buck legally on land just north of Cape Girardeau's city limits, the UK's dailymail reports Kinnaman knew he would be pilloried for shooting it. Hunters who had the opportunity in recent years had passed it up out of affection for the beast, including Kinnaman himself.
Told the deer hunter via the Southeast Missourian: 'I had a friend who let me hunt on his land a few years ago and I asked him, `Would you be offended if I shot this deer?' and he said yes because it was so beautiful, you know?,' 
But eventually, his friend changed his tune.
Reiterated Kinnaman: 'He had people trespassing on his land (to see the deer) and it was getting to be too much of a hassle,'
'It got so bad that he came back to me and said, 'I want you to shoot this deer.'
Kinnaman said the deer had been shot before, surviving wounds to the shoulder.
'I gave him a fair shot. He had a good life,' Kinnaman explained. 'He's famous. He still will be.'
Missouri Department of Conservation deer biologist Jason Sumner said albino deer are more susceptible to predators because their white color makes them stand out.