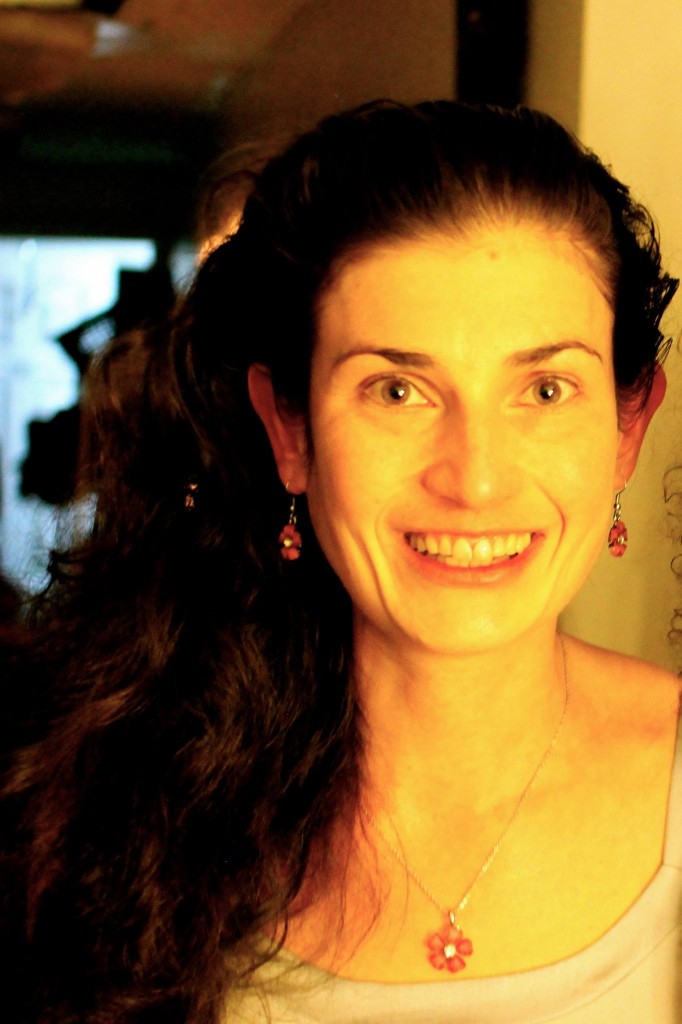 Evelyn Dahab, 33 author and part owner of Gowanus' Lucey's Lounge has come to die as a result of a fire that took place in her lower east side basement apartment in the early hours of Wednesday morning.
The cause of the fire is said to have been the result of an electrical overloading of circuits, but that too comes after Dahab had been embroiled in recent months with the building's landlord, Big Apple Management to vacate the apartment and recoup a seemingly large deposit of $18 ooo.
Reports dna: Evelyn Dahab, 33, who planned to vacate after "a painful legal dispute" with her landlord, was discovered inside the apartment at 31 E. 1st St., near Second Avenue, about 3:15 a.m., after a fire tore through it, according to the NYPD and her family.
The beloved author's body would be found after 60 firefighters eventually managed to contain the fire whilst building residents fled to safety.
Told one first floor tenant, Chase Chemero, 25: 'When we got out, we looked at the basement apartment door and there was smoke coming from it.'
Adding: 'The fire department came and broke open the door and smoke just came billowing out. It was a very dark gray. The smell was powerful. It just smelled like burnt charcoal.'
Notes dna: Dahab, who was known for hosting parties with friends in her basement apartment, penned "Incapitated," a 2011 memoir recounting her early-adult travels with a rich and powerful bachelor, according to the book's website.
"The story, which spans the fifteen months between their first and last meeting, is a compelling mixture of the most beautiful, erotic, and tragic," according to the site.
That said conjecture remains as to a simmering dispute between the Columbia's Barnard College educated part time model and sometime actress who had been lobbying the building's management company, Big Apple Management to refund her $18,000 deposit.
Wrote Evelyn Dahab via her facebook page: After a painful legal dispute, Big Apple Management has refused to refund my $18,000 deposit. Even the property manager looked like she was close to tears as the landlord's lawyer bullied her (let alone bullying me and my attorney) when she protested moneys owed in my favor. My lawyer made the comment that my landlord's name, translated from the Hebrew, means "pursuant of peace at all costs" — but as my lawyer said, in Big Apple's case, the landlord should be renamed "pursuant of money and theft at all costs"… So be it… Amen, right?
Bottomline, the settlement is that I'll pay one more rent installment (why? they already have 3 months security and the last 3 months prepaid, right? — but the voice of logic falls on the deaf ears of criminals)… And I'll move out before the new year…
Friends would note that Evelyn Dahab had hoped to host a final gathering, which she had dubbed Evelyn's Grotto at the lower east side apartment located at 31 East 1st on December 24th.
Wrote the author: 'This year's Grotto Christmas Eve is going to go down in the annals of NYC history…. It will be made of the memories that spin into fantastical Urban Tales for decades to come.'
At present Big Apple Management has declined to respond to the fire as authorities have yet to confirm that the fire was indeed caused as a result of an overload of electrical circuits…
Images via facebook.