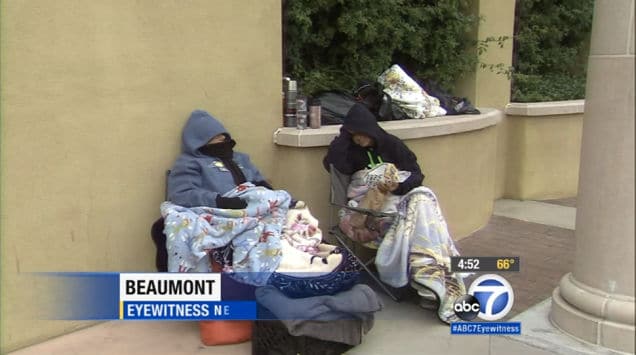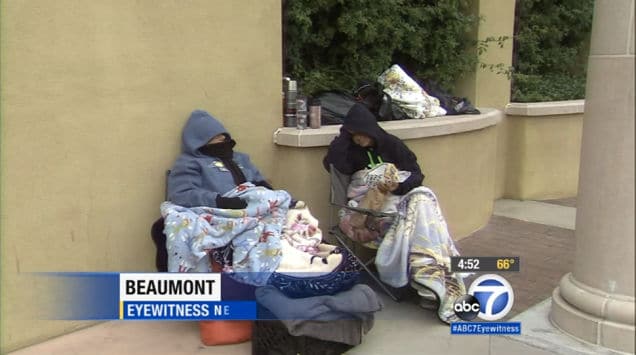 America's yummy past time, Black Friday shopping steals is creeping ever so closer. Not willing to miss out on the cut price discounts that are certain to be had (despite experts warning to avoid shopping on Black Fridays, the day after Thanksgiving) Vicky Torres and Juanita Alva of Beaumont, California have secured their front row seats to what will be their third year in a row of beating out fellow shoppers. 
Told the two women via KABC who have been camping outside a Best Buy store since November 5 (yes kids, 7 days ago already), taking turns sleeping overnight in folding chairs and who have their eyes on a 50-inch HD-TV for $199: 'We're good to go.'
In fact all of America is good to go, except Vicky and Juanita are more ready to go than most of us, despite admitting that they might be fiscally challenged given their fixed incomes.
Reiterated Juanita Alva's husband: 'The point is to get the sales, because everybody is on a fixed income and we don't have that kind of money to splurge.'
Fortunately for Vicky and Juanita they will be in good company in the weeks ahead as Best Buy security guard Jose Luna has come to once again welcome the two women who have this year made it their third year in a row early bird sit in.
Offered Jose via the Press-Enterprise: 'I don't know what kind of deals they get, but it spices up my job. I've been keeping an eye on them since Nov. 5.'
Also keeping Vicky and Juanita company are the passerbys (and of course the media) who have already taken to noticing the two women sitting and sleeping day and night outside of the local Best Buy store.
Reflect the women: 'They say you're dedicated. That's cool. Some say you're stupid.'
Reflects Juanita for a second, 'It's fun.'
What do you think kids? Isn't it time you subscribed to the class structure crises and get yourself a folding chair and wait for your well deserved spoilt deserts and nifty new HD television too?