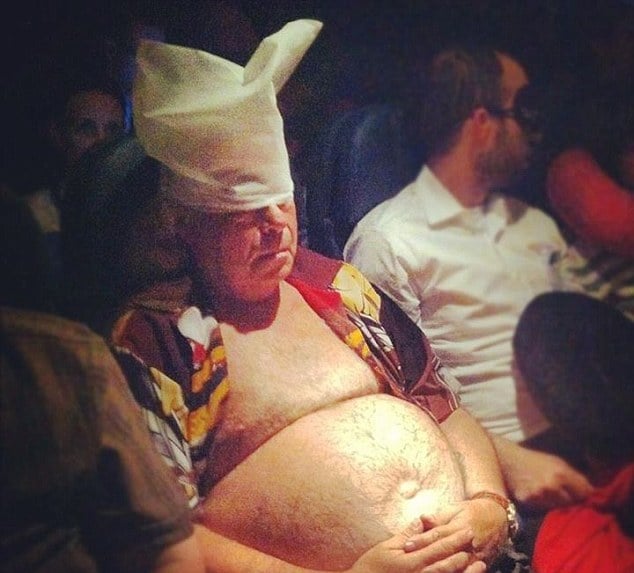 Traveling to be blunt is painful. From the money one needs to cough up to arrive at their specified destination. From the energy and time committed to making one's physical way to a new destination and from the pain and humiliation and yes degradation one is often forced to suffer through whilst arriving at one's ultimate destination (never mind the long trip back home as well, ugh). But that it seems may now be a little less painful and somewhat redemptive courtesy of a new social media trend, #passengershaming that is shaming those amongst you for your unruly traveling dispositions.
Set up in January 2013 the social media trend and facebook page, passengershaming take aim at bringing attention to less than desirable decorum and one supposes a forum where one can let off some steam and of course openly ridicule those who dare to act like a buffoon which it seems is sometimes the going rate of behavior for some when it comes to intermingling with the public.
The photos are submitted anonymously by passengers and flight attendants, are posted to Facebook and Instagram and the results are sure to shock.
There's people resting their feet near people's head and on tray tables, as well as people sleeping with their feet in awkward positions. I suppose at 6'2 I am guilty of this habit too- blah!
But then there's photos of people changing children's nappies on tray tables and remarkably leaving them on the floor or in the back seat pocket when they disembark. Must we ladies and gentlemen? Really, for the love of Go….
According to the UK's dailymail, Shawn Kathleen is responsible for the page and has been a flight attendant since 2010.
She has previously mentioned some her most feared habits, including people who don't flush the toilet and people going into the bathroom without shoes or socks. I can think of a few other fears that I have witnessed taking place in the bathrooms too, but that might mean owning up to some of my own less than decorous behavior. Yes flying in tight quarters brings the worst out of people doesn't it?
Yummy photos include unsupervised children vandalizing the aeroplane with stickers and crayons (naturally) as well as other delights as you cast your eye down this page.
The Facebook page has drawn attention from passengers right around the world and currently has more than 17,500 likes.
Ms Kathleen also started a blog last year titled Rants Of A Sassy Stew, which document the strife she encounters up in the air. Of course you can read about some of these recent bloody strifes too. Cheers. Now get your feet off my head now wise guy!