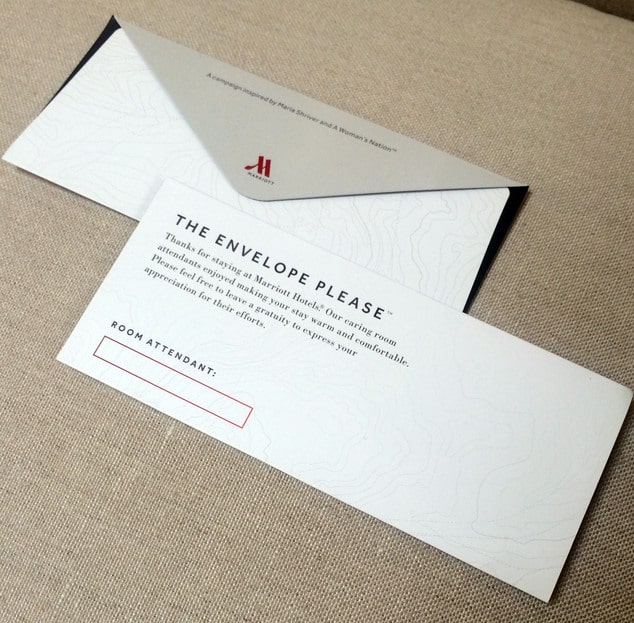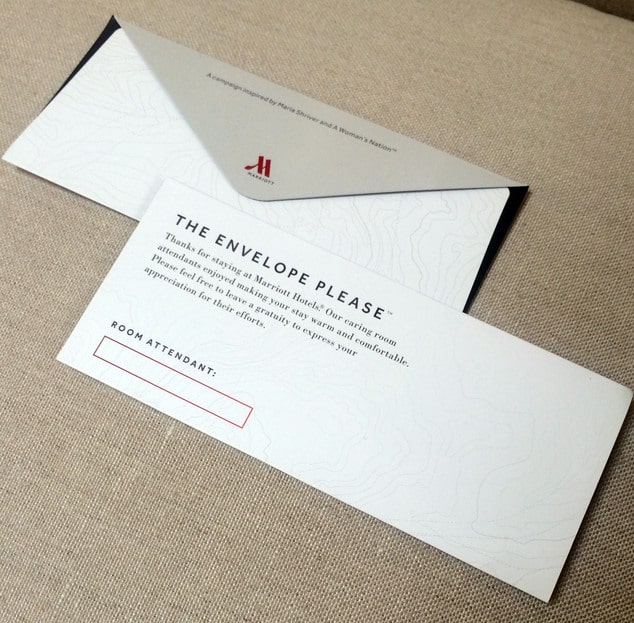 Marriot Hotel has launched a campaign to make you feel guilty for their inept wage policy with respect to their employees. Yes they are now stuffing envelopes in your room with the implicit hope that you are shamed into tipping the cleaning lady.
ABC reports that the campaign, called 'The Envelope Please,' will begin in earnest this week. Envelopes will be placed in 160,000 rooms in the U.S. and Canada. Some 750 to 1,000 hotels will participate from Marriott brands like Courtyard, Residence Inn, J.W. Marriott, Ritz-Carlton and Renaissance hotels.
The name of the person who cleans the room will be written on the envelope along with a message: 'Our caring room attendants enjoyed making your stay warm and comfortable. Please feel free to leave a gratuity to express your appreciation for their efforts.'
The program comes courtesy of the initiative of Maria Shriver who founded 'A Woman's Nation,' which aims to empower women, who tells many travelers don't realize tipping hotel room attendants is customary.
Of course that may have a lot to do with the fact that most travelers are used to the notion that employers pay their employees a fair wage, as is customary to do in places like Australia, Canada and Europe. But not necessarily so here in the United States where the elite continue to skimp on paying workers and hoarding the lion's share of profits to their own coffers. That too may have a lot to do with lobbying efforts by big businesses to keep the average American in check and in constant servitude and disillusion. Class warfare it's not publicized at but reality would suggest otherwise.
Offers the daughter of a political dynasty, the Kennedy's: 'There's a huge education of the traveler that needs to occur,'
 'If you tell them, they ask, 'How do I do that?"
Counters Barbara Ehrenreich author of 2001 book 'Nickel and Dimed,' which chronicled her experiences in low-wage jobs: 'It is not Marriott's responsibility to remind customers to tip; it's their responsibility to pay their workers enough so that tips aren't necessary.'
For those who are compelled to tip the cleaning lady, Marriott International CEO Arne Sorenson says $1 to $5 per night, depending on room rate, with more for a high-priced suite might be apropos.
The UK's dailymail also reveals according to Michael Lynn, a professor at Cornell University's School of Hotel Administration, research shows that '30 percent of people stiff the maid,' while 70 percent said they usually leave a tip.
Sorenson noted that housekeepers 'are less frequently tipped' than other hotel workers because they do an 'invisible task.' In contrast, workers who carry bags, hail cabs and park cars tend to get tipped because they 'make a personal connection' with guests.
That said one worker, Rosario Rodriguez who works as a housekeeper at Marriott's Times Square hotel, says many guests don't tip and welcomes the envelope campaign as 'a good idea.'
Then again one wonders how she would feel about a more appropriate wage for the work she does, instead of the notion of having to rely on tips to make a modest income to get by in America?
But it may well be that hotel housekeepers are not doing too bad for themselves anyway.
According to the UK's dailymail unlike waitresses who earn less than minimum wage because tips are expected to raise their earnings (and that is a whole debate within itself), hotel housekeepers are paid minimum wage, and in expensive markets, substantially more. In Washington D.C., Marriott housekeepers start in the mid-teens per hour.
Then there's this eye opener via thewashingtonpost: Housekeepers at Marriott's high-profile hotels in downtown Washington tend to make more than that, according to John Boardman, executive secretary-treasurer of Unite Here Local 25, which represents workers at more than 30 area hotels.
Under the union's current contract, which runs through September 2017, housekeepers, who currently make $18.30 per hour, receive raises every six months Boardman said. By the contract's end, housekeepers will be making $20.35 per hour at local hotels including the Marriot Marquis Mayflower Renaissance and Washington Marriot Wardman Park.
That said only 10% of Marriot's workforce belong to unions which are able to ensure employees livable wages. On another interesting note, Marriot Hotels plans on opening 1300 other properties by 2017, which would take its total number of hotels to more than 5000.
So should you feel shamed into providing a tip for the housekeeper? Under no circumstances. Should you tip the housekeeper if you want to? Yes by all means, it's a gesture that all service employees appreciate and sadly are forced to rely on. Should you feel compelled to shame hotels to pay their employees a better living wage? By all means….