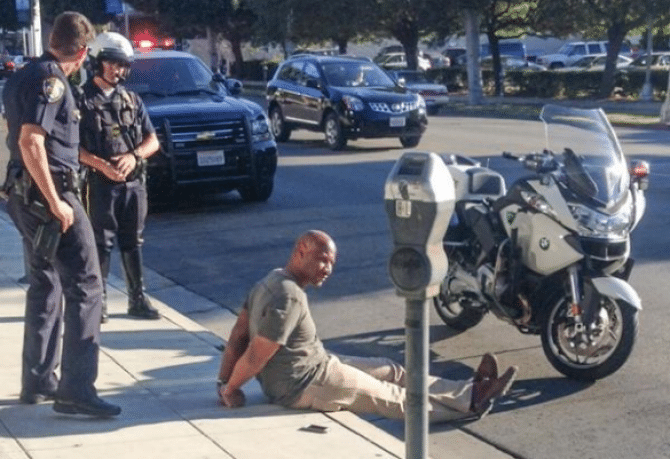 Charles Belk, a Los Angeles television producer and actor has posted a photograph of himself on Facebook after the Harvard graduate came to be wrongly detained by the Beverly Hills police department on Friday. The image shows the man handcuffed sitting on a street curb, where he remained for more than 6 hours, protesting his innocence after cops believed him to be a bank robber of a local hold up.
At the time of the incident, Charles Belk, 51 was on his way to an Emmy's party, having just paid a parking meter along Wilshire Boulevard when cops detained him.
Not told why he was being held, Belk was forced to submit to cop's will until finally being released just before midnight after admitting they had made a mistake. During which time he was denied the ability to make a phone call.
KTLA would report Charles Belk was booked on $100,000 bail, with the producer telling he was treated with contempt by the arresting officers who only let him go when they reviewed the video and realized that the bank robbery suspect bore no resemblance to him.
Told Charles Beck on Facebook: 'I get that the Beverly Hills Police Department didn't know that I was a well educated American citizen that had received a B.S. in electrical engineering from the University of Southern California, an MBA from Indiana University … and an executive leadership certificate from Harvard Business School,' 
'Hey, I was 'tall,' 'bald,' a 'male' and 'black,' so I fit the description.'
Reiterated the producer: 'It's one of those things that you heard about, but never think it would happen to you.'
'Within minutes, I was surrounded by 6 police cars, handcuffed very tightly, fully searched for weapons, and placed back on the curb,'
'Within an hour, I was transported to the Beverly Hills Police Headquarters, photographed, finger printed and put under a $100,000 bail and accused of armed bank robbery and accessory to robbery of a Citibank.'
Adding: 'What I don't get … is why, during the 45 minutes that they had me on the curb, handcuffed in the sun, before they locked me up and took away my civil rights, that they could not simply review the ATM and bank's HD video footage to clearly see that the 'tall, bald-headed, black male' … did not fit MY description.'
The arrest of Belk comes off the back of a spate of questionable behavior by cops towards African American men, including the choke-hold death of Eric Garner in New York City and the fatal shooting of Michael Brown in Ferguson, Missouri.
After Belk's release, the Beverly Hills Police Department attempted to clarify their treatment of Belk, who should have attended a pre-Emmy's party instead of a freezing cold jail cell on Friday evening.
Pursuant to Belk's arrest, cops released a statement issued on Monday claiming that officers were investigating an armed robbery at a nearby Citibank and arrested Belk beause 'he matched the physical characteristics of the second suspect and was in the area of the bank shortly after the robbery.'
A witness to the robbery allegedly identified Belk as the thieves accomplice, leading to his detention.
Thanking his lawyer for eventually securing his release, Belk thanked them saying 'I am certain that I would still be locked up in the custody of the Beverly Hills Police Department.
'Based on comments made by a Beverly Hills Police Officer during my booking, and an FBI Special Agent, it appeared that they had tried and convicted me.'
Belk said he understood officers doing their job. However, what galled him was the fact that no one had checked the video.
'Why, at 11:59pm (approximately 6 hours later), was the video footage reviewed only after my request to the Lead Detective for the Beverly Hills Police Department and an FBI Agent to do so, and, after being directly accused by another FBI Special Agent of '…going in and out of the bank several times complaining about the ATM Machine to cause a distraction…' thereby aiding in the armed robbery attempt of a bank that I never heard of, or ever been to; and within 10 minutes……10 MINUTES (sic), my lawyer was told that I was being release because it was clear that it was not me,' wrote Belk.
The Beverly Hills Police Department said that they have apologized to Belk.
'The Beverly Hills Police Department regrets the inconvenience to Mr. Belk, but was under obligation to thoroughly verify that he was not the suspect before releasing him,' the statement from the police read.
However, referring to the continuing troubles nationwide, Belk said that the 'time has come for a change in the way OUR (sic) law enforcement officers 'serve and protect' us.'
'We all do not, FIT THE DESCRIPTION.'
Then there was these comments that made me wonder:
Imagine how many black men who dont have the education, support, attorney or finances that you have ….but yet are falsely accused.
I grieve this incited, I grieve for all black males, I grieve the stupidity of our law enforcement's prejudice, I grieve, I grieve, and I still grieve knowing it will not end in my lifetime.
This is common practice all around the country for Black men. No matter what socio-economic background they come from. We can do absolutely nothing wrong our whole life and this happens. I've had the police pull me over so many times in my life that I don't remember. And the only reason they really pulled me over is because I am a Black male. They will always give excuses, fit the description, there was a report of a stolen vehicle fitting your description, we thought you were someone else, your license plate light bulb is out, you looked suspicious, why were you running(it's illegal to run in America if you are a Black male btw), we thought you might be lost. The list goes on and on. And it doesn't matter what city it is in. This is the normal treatment of Black men by the police in Amerika.
Common sense tells us that most black men are law abiding individuals who just like many white men strive to live life with integrity and good will and yet fear, prejudice, skewed cultural perceptions, has many in society leery, not necessarily because they may actually believe a black man is any more culpable of crime than a white man but because of the reality that most violent crime comes to be caused by those in lower social economic brackets, forever causing a sense of unease that whilst there are black males who succeed and do not resort to crime, there are disproportionately more that do, or at least incarcerated, forever reinforcing the stereotype that every black male fits the description…. alas.