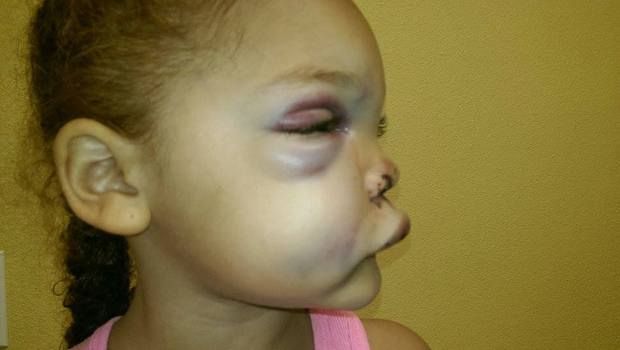 Lacey Harris has launched a social media campaign, #Justice for AvaLynn with the hopes of finding who she claims is the perpetrator of her 5 year old daughter's injuries. This despite a Mississippi school telling the mother that the daughter came to sustain horrific facial injuries simply from a fall. An assertion that Lacey Harris refuses to believe to be the case.
To date cops have refused to become involved in the Arlington Elementary school incident, where school authorities have told the child's injuries came as a result of falling off a playground slide.
Harris for her parts instead believes the real reason her 5 year old's gross injuries came as a result of being kicked until she fell off the slide.
Tells a Facebook post the mother has since launched: 'AvaLynn informed Lacey that she was assaulted by another student: that she was kicked repeatedly in the face until she fell off of the slide on the school's playground. The school informed Lacey were no teachers present when the incident occurred, and because of that, no one could prove whether or not another student had harmed Ava,' the post reads.
'The school basically claims that Ava injured herself, as all the photos depicting her injuries will debunk. The local PD claims that there has been no criminal act, which the injury photos also disprove.' 
Harris has since retained the services of a lawyer, who has insisted she make no comment to the press while they press for a police investigation.
She has also opened a gofundme page that has raised in excess of $6200 to help with AvaLynn's treatment.
'There is a need for repeat CT scans, specialist visits to an ENT, ophthalmologist and quite possible orthopedics for her little face,' Harris wrote.
The Pascagoula School District spoke to gulflive.com about the incident to say: 'A student was injured while playing on the playground at Arlington Elementary School Tuesday afternoon. School officials responded to the situation. 
'The parent was contacted and the student received medical treatment. No other children were involved in the incident. The Pascagoula School District remains committed to the safety of all its students.'
Police have said they will not open a file because they do not believe any criminal activity occurred.
And then there were these comments on the web that made me wonder:
for the cops to try and cover up this neglect case up the internal affairs or state police should be contacted to investigate them as to why they are sweeping this under the rug or neglecting to do their jobs!!!! The teacher or teachers that should have been watching the kids but weren't should at the least be fired if not also charged for child neglect!!!! 
Look at the picture the MOM took right after!  Bruising looks horrible over days everyone knows that!  She is playing on peoples sympathy to raise more money for her FUND ME page that was started almost immediately after!  WHO does that???  Yes she is a single mother with 3 kids on welfare with MEDICAID insurance.   She needs to take care of her injured baby and stay off the internet.. she sure has been busy promoting this… You tube, every news station and newspaper.  Normal people take care of their child first not then deal with legal issues after the child is well.  I hope the little girl heals and her mother buys a new car for her to ride in with all her money she got. 
Since the beginning of school, there have been playground altercations. They happen quickly and can occur with the best supervision. I don't believe it was an adult that did this. I don't believe she was attacked. I don't believe she was beaten. I don't believe the other child's parents are evil and have taught their child to be. If as rumored, this was a little boy that kicked her, he should be taught better how to treat any female. With this being said, I agree her injuries are horrific, but I believe the vast majority of them were caused by the fall.
Now if the mother needs money, I believe she is on financial assistance already. I believe grandparents have been mentioned and I don't think the little girl was an immaculate conception. Where's her father?  Judging from the number of posts by people claiming to be friends or to know her personally, there's quite a few there that should be able to help. 
Unfortunately it wasn't an accident.  There are a few posts that have come to light on the FB page that a another child witnessed the altercation and there was indeed a foot to the head/face, as AvaLynn had indicated.  I'm thinking that Lacey's lawyers are instructing her to keeping this quite for now, until they can come up with a secure case.