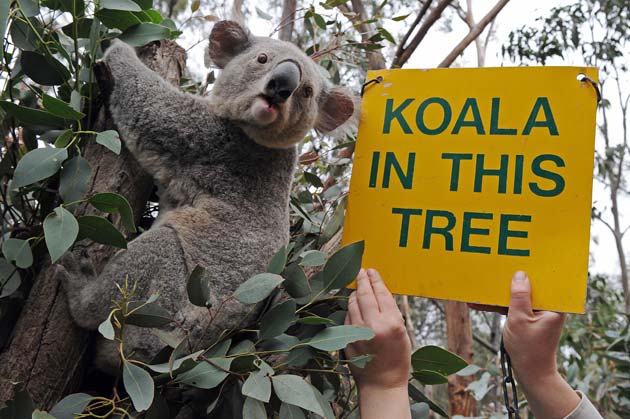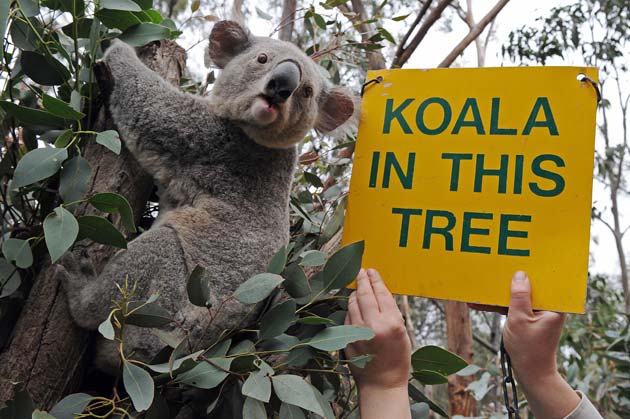 Victorian, Australian authorities are trying to understand how a dead  koala bear stuffed with $50 in its mouth came to arrive in the driveway of a Heywood Police station?
Told theage.com.au: A Victoria Police spokeswoman confirmed the animal was found outside the Heywood Police Station, in south-west Victoria, by a police officer on Saturday night.
A caller to radio station 3AW on Tuesday morning said the Heywood police officer found the koala after being woken up by a "thud" during the night.
Told the caller: 'What immediately occurred to me was nothing sinister, but if someone accidentally killed an animal they might do it as a way of apologizing.'
At the time of the dead koala bear being found, Sergeant Jason Von Tunk told he thought he was being set up for a possible ambush when he made the grisly discovery in the driveway of Heywood police station on Saturday night.
Von Tunk affirmed he had come to hear a sudden thud and went outside the station to investigate.
'I put my torch on it, and I saw it was a koala,' Von Tunk told Fairfax radio on Tuesday. 'It made me shiver, I thought what's this about, and I thought I was getting set up – the old put a dead koala out in the middle of the driveway situation, and then get ambushed. All sorts of things go through your head.'
Nevertheless the sergeant's curiosity was piqued when he noticed there was $50 rolled up in the koala's mouth, with police having remained baffled as to the motive behind the money.
'We don't know what the message is,' Von Tunk said. 'Why $50, I don't know. I'm at a loss to explain why this happened.'
Australia's abc would also report that Sergeant Jason Von Tunk told he called in another officer from the nearby Portland police station to help work out what was going on.
'There was no note attached to it to suggest what it was there for,' he said.
'We're still at a loss, we haven't heard from anyone.'
Authorities have since told that they are not investigating the incident as it wasn't clear if the koala had been killed deliberately or run over by a car.
Offered Victoria Police spokeswoman Melissa Seach: 'We don't know how the koala was killed, but it looks like it's been hit by a car,'
'It looks pretty bloody.'
above image found here