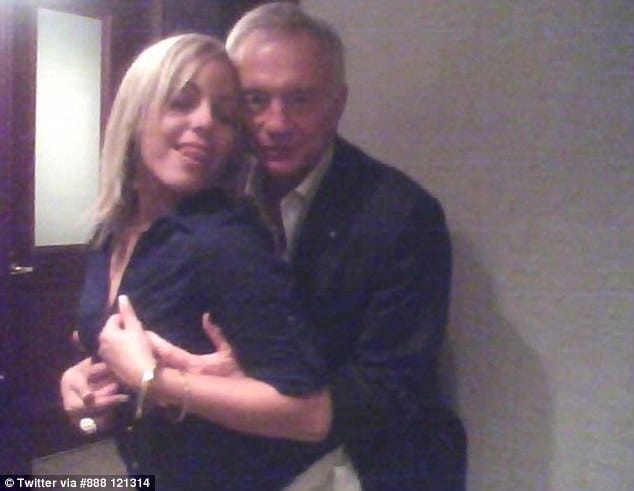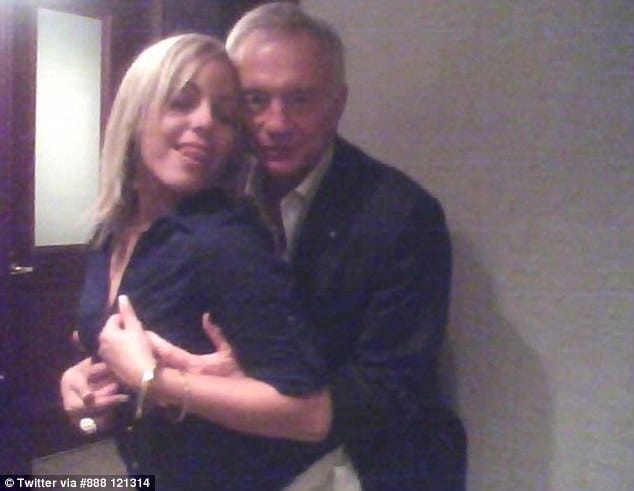 It seems Dallas Cowboys owner Jerry Jones may have bitten off more than he can chew after purported images of the billionaire straddling the supines of eager lassies have begun making the rounds, the result of an alleged extortion plot.
One delicious image shows our collective hero cupping  the breasts of a blond woman in a restroom.
Another shot appears to show a dark-haired lovely, in the same restroom, kneeling with her cheek up against his crotch.
The racy images serve to potentially add fissure between the 71 year old and his wife, Gene of 51 years. Or perhaps not?
The images came to the fore last night after tweeter user INFIN8SON, posted these pictures with the caption: "Sins of Jerry Jones."
Deadspin identified the Twitter source as Dallas Cowboys and Mavericks groupie Frank Hoover, who claims he got the pictures from others who had planned to extort Jones.
The photos also appear in a 20-page manifesto addressed to Jones, titled "Uncovering the Truth."
In the compelling letter, Hoover alleges he got the photos from a group of people who conspired to blackmail the billionaire.
'I am the way, the truth and Jerry, you are my light,' wrote Hoover, who calls himself the "Son of God."
Hoover said he had to move from Dallas to Wichita, Kansas, because unknown forces were out to kill him over his knowledge about the alleged plot against Jones.
Adds Hoover: 'So I gave my own life to save yours.'
As the "Son of God," Hoover said, he was put on Earth to save Jones from danger.
Sources told Deadspin that the man who tweeted the link to the report 'used to be fairly well connected in Dallas' and would often attend parties with Cowboys and Mavericks players.  
Continues the manifesto which has since caused many to wonder what's crazier, the manifesto or the pictures?
Writes Hoover: "I know this because I am the Son of God and he sent me to you. Jerry, possession giving the rest away to charity and then living poor,"
Which is Hoover's back hand way of telling you he's been sniffing the coolest brand of Cool Aid on the open market.
The note also reveals Hoover having attempted to reach out to Jerry Jones over the years, through Jones' lawyer, Levi McCathern, to no avail.
Explains our collective hero: 'Jerry Jones' attorney, Levi McCathern, failed his client and had the chance to prevent this by helping me,'
I asked for nothing in return except a meeting with Jerry.'
A meeting that Jerry is desperately taking to scheduling some time in the foreseeable future. Or perhaps not.
Interestingly Jerry has yet to respond to the alleged extortion plot. Can anyone guess why..?