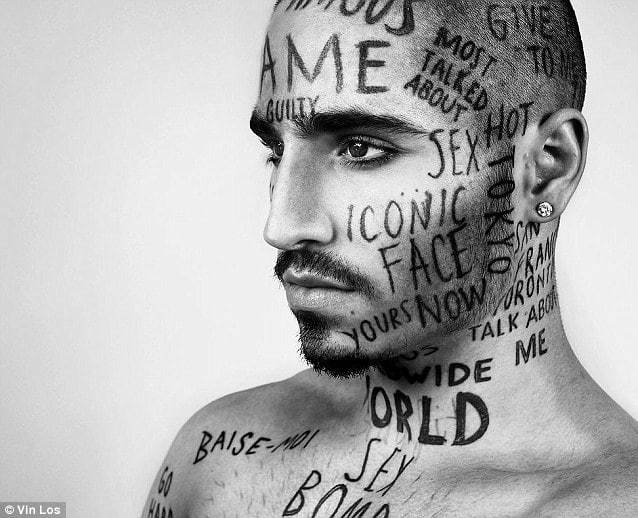 Making the media rounds is the visage of Canadian model, Vin Los who has literary taking to painting a colorful picture of himself in the hope that he will become the most famous man in the world.
At the age of 24, the Montreal native has arrived at a stasis where he has become a walking meme of his own being as he has taken to covering his face, neck and torso with a dozens of tattooed words.
Rather than opting for colorful designs and motifs, Vin Los has instead used basic words, sayings, such as 'don't mean anything,' (but surely it does….) permanently linked in a variety of haphazard sizes across his face and body. Why you wonder?
Told the model via  Vice: 'I want to be an image for people to look at, something that has an impact. Everybody who sees me is bound to ask questions: "Why fame? What's his life like?"'
Adding: 'I want to embody pop culture. You could look at me in a hundred years from now and really get the idea of what pop culture was like in the early 2010s.'
Having first started tattooing his face and body at the age of 16, his very first being the Le Coq Sportif logo, the model has since had another 24 words permanently tattooed on his face.
Which raises the interesting question, if one is inclined to poster face one's face, what words and sayings would one choose?
Sample words and sentences include, 'most talked about,"sex bomb,' 'iconic face now, ' which like a crossword puzzle fits into 'yours now,' along with 'famous name guilty,' on the temple of his face, above his eyes. Something that might draw a reaction of sorts from curious passerby's.
With respect to an aversion to images and preponderance to using words only, Vin Los told: 'Drawings don't mean anything to me. It may sound like I have bad values or something, but my tattoos aren't just for me.'
Adding: 'It's very superficial. I'll go on YouTube and listen to all the big hits and I'll just take words from these songs. For example, "Top of the World" is from the song by The Cataracs, but it's also what I want.
'A lot of people ask me if I'm scared I might regret it one day. If I was indecisive, I don't think I would write on my face.'
All of which raises the awkward question, does marking one's face and body really make one famous or just a passing anomaly?
And then there was these responses on the web that caught my attention:
So edgy, so brave, so stupid.
Ridiculous. Silly. Moron. Douche. These words are missing on his face.
Good stuff buddy, keep going, keep going. LOL. Idiot.
mental health issues.