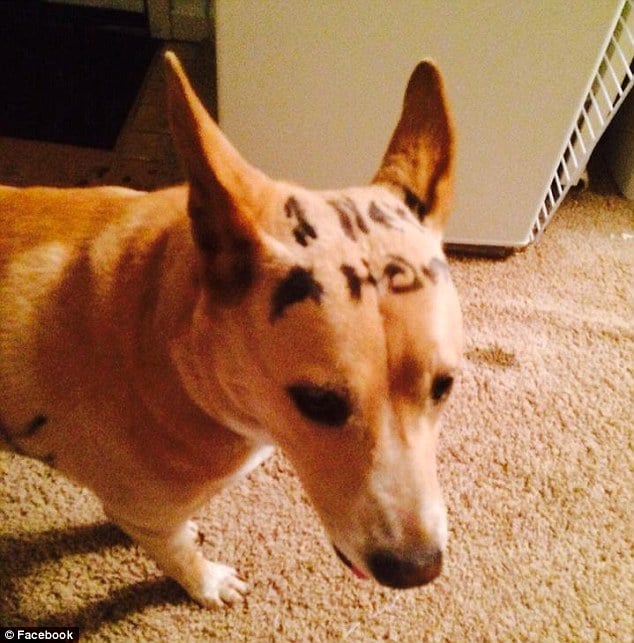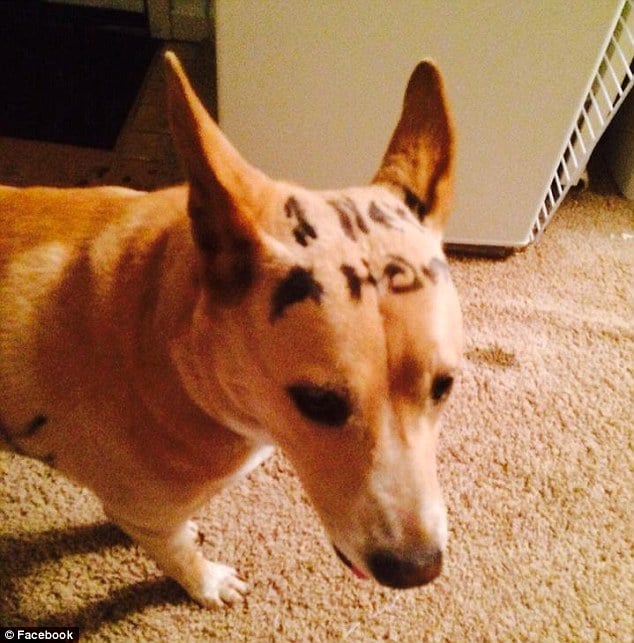 Shannon Bettencourt and her fiancé have come to adopt an abandoned dog after the Benicia, California woman had happened to pass by a dog whose fur had been permanently marked with the following phrases: 'free,' and 'I need a home.'
Shivering as it stood under a tree, the restaurant worker decided that someone had purposefully dumped the dog who despite circumstances appeared to be in good health.
Worried that animal control officers would take the pup if she called police, Bettencourt took it home, 8 News NOW reported.
Told Bettencourt via  NBC: 'She was scared, shaking, and kind of whimpering,' 
'I was heart broken, it was really sad. Nobody wants to see an animal like that ever.'
After a night of bonding, Shannon Bettencourt  came to name the abandoned dog 'Libby' – short for Liberty as she found the pup the day before Fourth of July.
'(The dog) was obviously well taken care of, you could have easily found a home for a dog like this if you really gave it half an effort,' Bettencourt's fiance, Christopher Franco, told NBC.
'The first night I let her sleep in the bed with me because I knew she needed something and she just slept on my stomach the whole night,' Bettencourt told NBC.
Bettencourt told WSOC-TV it was particularly difficult to understand why Libby was dumped because she appeared healthy, well-trained and liked to play with other dogs.
Thinking to return the dog to its rightful owners, Shannon was unsuccessful in tracking down the dog's owners as she tried facebook without luck.
Which is how after some consideration she came along with her fiance to decide to formally adopt Libby this week.
Offered the woman: 'Somebody just kind of treated her like trash but she ended up being my treasure,'
'It was actually kind of a blessing in disguise, even though it was very sad to start with.'
Meanwhile Benicia Police Department say the original owner could face dog abandonment charges and have asked that witnesses call cops.