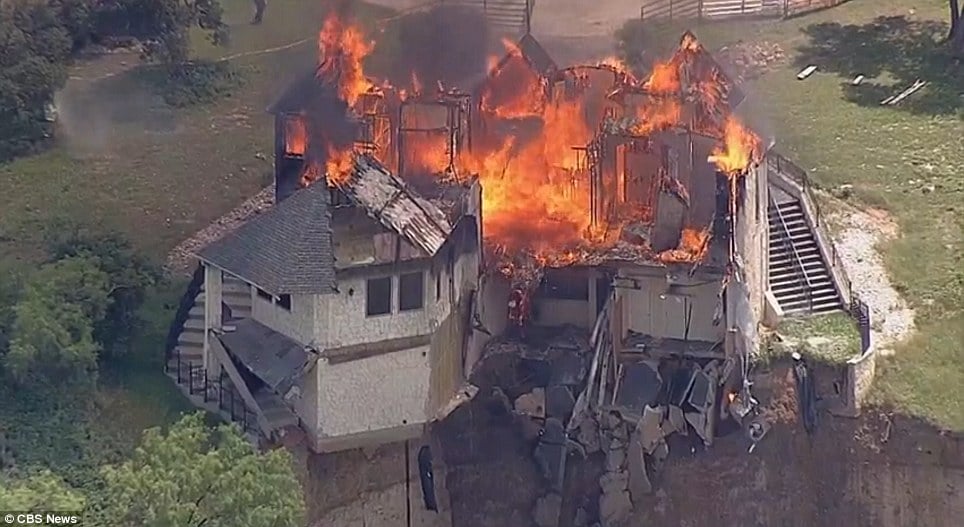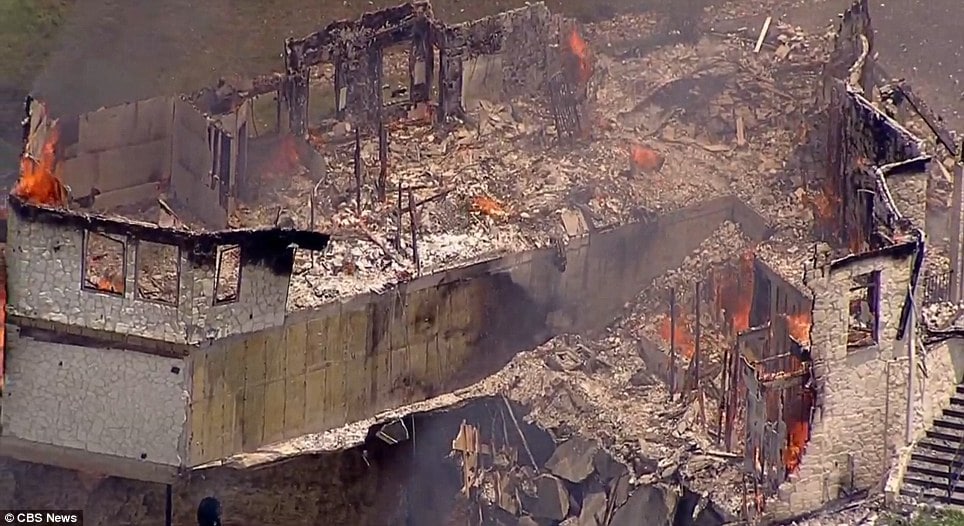 A Texas couple who have come to be the owners of a mansion dangling off a cliff can finally put their memories and nightmares aside as they finally did the inevitable and turned their backs on their multi million dollar dream home as they set it ablaze.
With demolition crews prepping the mansion early this morning it wasn't until just before noon that their dream which in recent weeks had become a nightmare as the cliff they had build it on began to erode, sending pieces off the mansion cascading into the ocean below it along as well became at last no more.
Told mansion owner, Robert Webb via local station WTSP: 'You know, that's my life there that we're watching fall off,'
'I want to leave that to my grandchildren. It's a big hit.'
According to the Webbs the luxury 4000 square foot mansion near Lake Whitney in Hill County was estimated to have cost around a million dollars to build, far higher than the generally thought $700K being tooted.
Since been forced to say goodbye to their grand prize the Webbs told that they lost a large chunk of their retirement savings as their insurance policy is unlikely to cover 'earth movement.'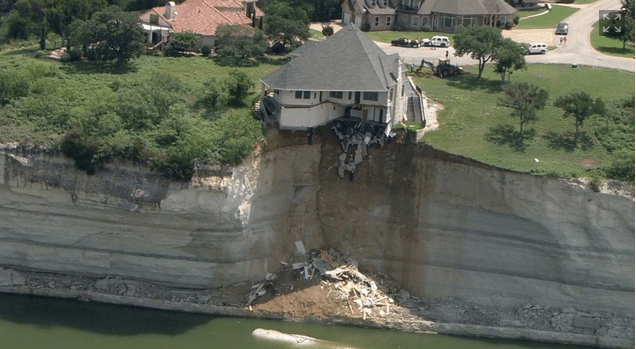 With the debris almost no longer burning the Webbs will be left with the miserable task of moving it along with the home's foundation to stable land. Cause some dreams are not build to last…
And then there was this comment on the web that made me wonder:
I have to be honest, I'm slightly glad that they had to do away with the house. This kind of shit is all over Texas. Rich folks building their mansions on the hills. It's a.) garish and b.) in the case of my town, really fucked over the people by raising property taxes when this kind of shit got built and c.) it's dangerous. You shouldn't be building heavy ass houses on the side of limestone cliffs, you goddamned idiots.

Fuck them. I hope they eat this and get no insurance.