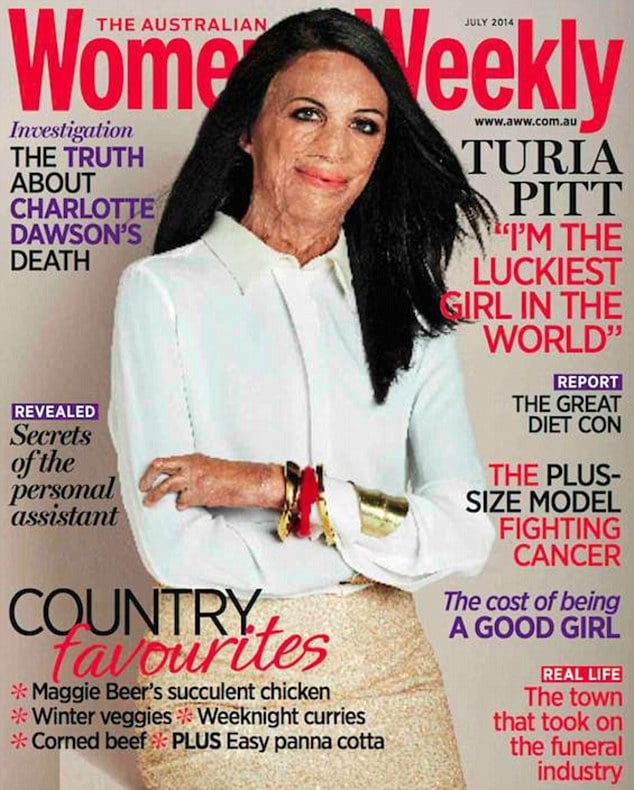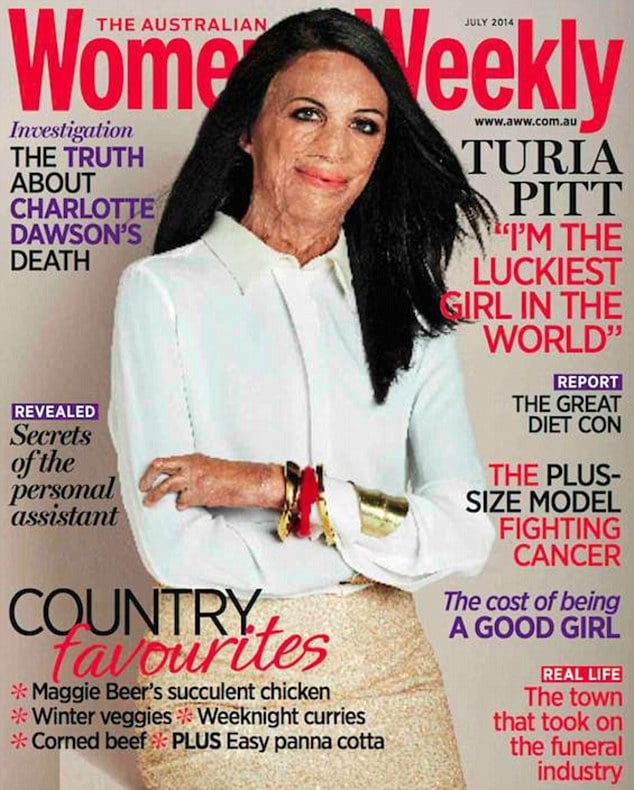 Australian Women's Weekly has done the unthinkable and the enviable as it chose to feature burns survivor Turia Pitt, 24 on its cover.
With the view of inspiring a greater consciousness, the outlet put behind traditional aesthetics and concern for what many would necessarily would consider palpable by choosing to champion the former model and mining engineer who came to the horrible misfortune of being caught in a fire which would leave her with burn marks to 64% of her body in 2011.
And the result?  A more conscious brand of beauty that speaks openly of the spirit of the individual from both the inside and the outside, despite one's awkward reticence to what one classically considered beautiful woman has come to endure and now resemble on the outside.
But perhaps that is what Australian Women's Weekly may have sought to inspire a dialogue about as the stalwart journal made the equally brave decision to give prominence to an individual who does not represent traditional surface aesthetics, choosing instead to tell that one can be more beautiful in spite of adversity.
Reflected editor Helen McCabe: '….any attempt to describe the magic and beauty of Turia seems to get lost in platitudes or cliches.'
'Yet I have never met a more remarkable person,'
Until the journal's decision to feature Turia Pitt, burn survivors were never so widely represented. For burn survivors, seeing Turia Pitt on the cover of a fashion publication came to directly challenge the way survivors are perceived and treated in a culture preoccupied with outward values
Told Linda Hansen, the executive director of Burns Recovered Support Group, said:
 "She exhibits beauty and strength. To feature this woman in such a prominent way is about how her gift is not about the scars on her face. That doesn't make her any less of a person. My guess is it makes her more of a person."
Australian Women's Weekly decision to run Turia Pitt on the cover would in the end come to be a resounding success as social media came to applaud the outlet for daring to go beyond the traditional view of what constituted beauty and for its willingness to broaden the spectrum of what beauty really means.
Turia Pitt's story first began to catch waves when wearing a mask she appeared before a parliamentary enquiry in 2012 to discuss the horrific injuries she came to suffer, the result of a bushfire whilst running an ill prepared marathon in Western Australia.
Only a short way into the race a wildfire trapped her in a rocky gorge, leaving her with 'nowhere to go'.
'It just got hotter and hotter and hotter and I couldn't stand it any more so I jumped up and tried to run and that's when I got burned,' she said.
Turia suffered 64 per cent burns and was taken to a specialist unit in Sydney where she had skin grafts on her back, legs and face.
'I stood there in shock – I didn't even look. I just knew I had been badly burned.'
She revealed she has extensive scarring to her body, half her left foot had to be amputated and a large part of both ear lobes are missing.
Half of her right index finger is missing and her other fingers are scarred and disfigured.
Turia, a part-time model and 2007 contestant in Miss Earth Australia, told the inquiry that there had been a brief mention of bushfires at  a pre-race meeting but the focus was on other risks such as dehydration, snakes and even crocodiles.
'They told us to avoid the fires if there were fires, but it was more of a passing comment,' Pitt told the inquiry.
She said she had 'earned a pretty good living' at mining giant Rio Tinto in Kununurra before the fire but now cannot work and relies on handouts. Her partner has stopped work.
Turia said at first she had no interest in competing in the event – her first ultra-marathon – because she thought the entrance fee was too high. However, she was later convinced to register.
Another victim, Michael Hull, said the flames caught him and three other runners by surprise. 'It was just horrendously hot. We tried to run away from the blaze but we became trapped by the wall of flame,' he said.
Turia launched a court action in February, 2013 after a WA parliamentary inquiry found Hong Kong-based Racing The Planet did not take reasonable steps to ensure the safety of competitors.
The Supreme Court action was settled out of court for an undisclosed sum.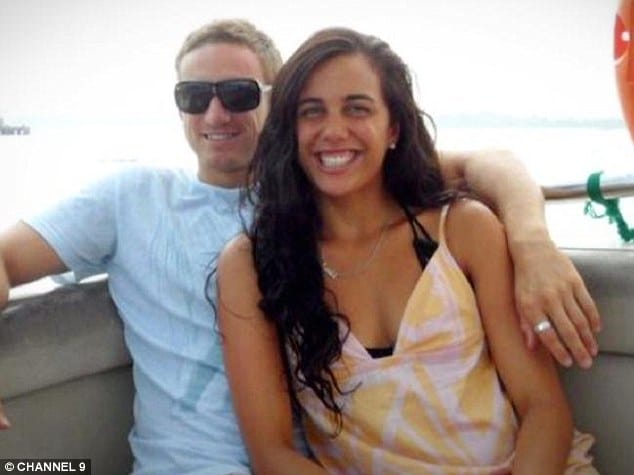 In 2012 Ms Pitt and another runner, Kate Sanderson, 38, were awarded $450,000 by the WA government as an 'Act of Grace'.
Western Australia Tourism Minister Dr Kim Hames said that the money was to 'assist in alleviating their financial stress while they explore other options.'
Undergoing no fewer than 100 surgeries since the burn, Turia Pitt has gone on to become a motivational speaker, continuing to pursue her athletic goals, walked the Great Wall of China, swim Australia's Lake Argyle to raise money for Interplast, a nonprofit that provides reconstructive surgeries in third world countries along with publishing her autobiographical book, Everything To Live For.
Turia Pitt's Tips On Perseverance
1. Never Give Up: You can do anything you want simply by never giving up. You also need to possess the qualities of determination and persistence in order to achieve your goals.
2. Surround Yourself With Positive People: Negativity is contagious and you'd be surprised how quickly it can rub off on you.
3. Stay Busy: When your life is full of things to do and full of things to look forward to, you don't get a chance to feel down.
4. Accept That It Is Okay To Feel Down Sometimes: It is unreasonable for us to expect to feel good all the time, and inevitable that we will at some point experience sadness. With the good comes the bad; that's life.
5. Eat Well And Exercise: When you're feeling strong and healthy and you're bursting with endorphins it's pretty difficult not to feel good about yourself and life.