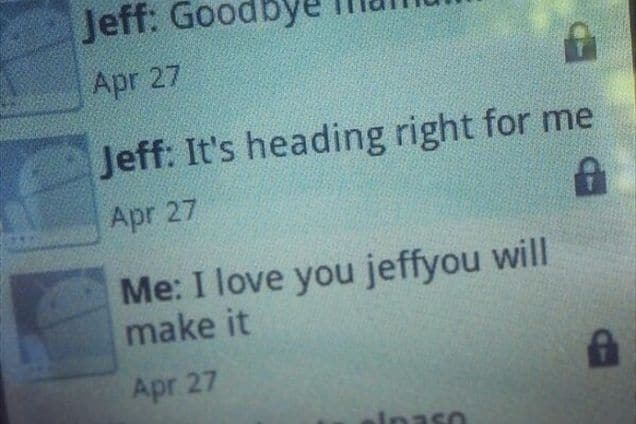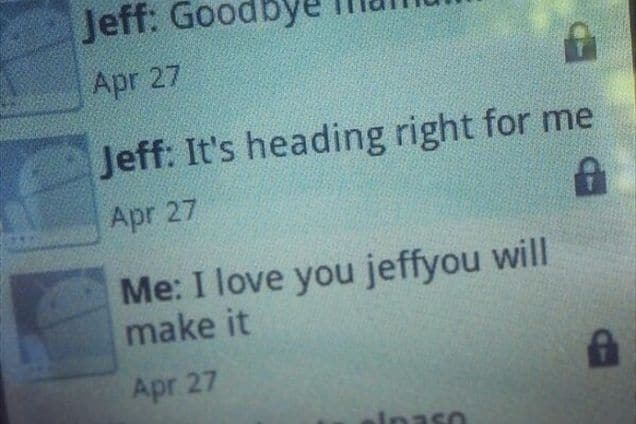 Jeffrey Hunter a University of Central Arkansas senior spent his final moments on Earth taking shelter in a bathroom sending a goodbye text to his mother as a tornado bore down on his home last week.
Read the text the 22 year old youth sent to his mother, Regina Wood who at the time was a mere 20 miles away as the text bore down:
'Goodbye mama…'
'It's heading right for me.'
The tornado hit the Vilonia, Ark., house where Hunter was staying with his father and stepmother. They both survived, but Hunter didn't. A neighbor found his body the debris after the EF-4 storm leveled homes in the area.
Told the boy's mother: 'I kept saying are you okay? Are you okay? Let me know. Let me know. No answer,'
'All you could hear was horns going off and people hollering help help,' said Lynn Watkins, who lives a few doors down from Hunter, who was a senior at the University of Central Arkansas.
'I made my way, he was at that house right there,' said Watkins. Lying there unconscious on the ground was Hunter. She hadn't heard anything from him since his last message.
Jeffrey Hunter would end up being one of fifteen individuals who died in the tornado.
His graduation from the University of Central Arkansas would have taken place over the weekend. Instead, his funeral service was Saturday.
His mother says she takes comfort in the thought that, even though he feared he wouldn't survive, he thought to tell her goodbye.
Some have commented that maybe the youth should have called, so she could hear his voice. Others believe the youth did the only thing he could do, so she could save his text. A voice will fade in the years, but the text can be saved, printed, even framed with the last picture of him. How bitter sweet…