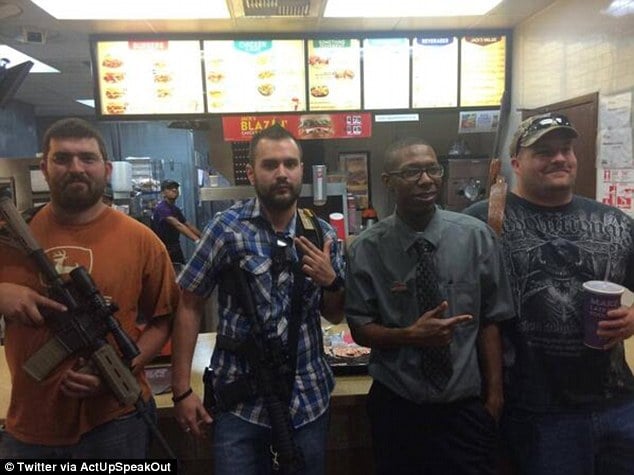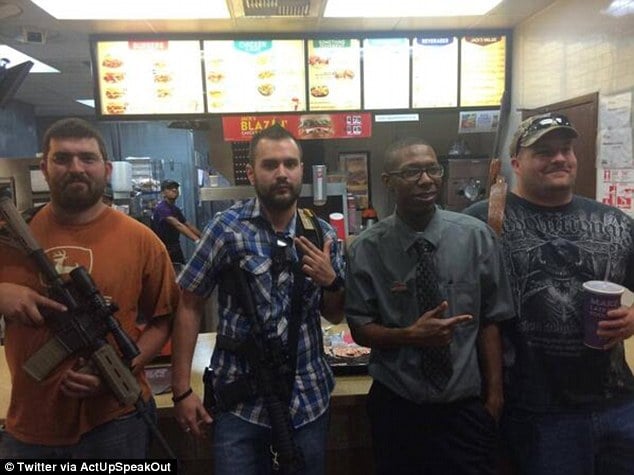 Employees at a local, Fort Worth, Texas, Jack in the Box fast food outlet took for cover after members of pro gun group, Open Carry Texas dropped by for a snack. Hid in the freezer that is because they thought there were in the midst of being robbed by the heavily armed men who insisted they were simply holding their right to maintain arms in public, as the Texas constitution allows.
Although the men had only come to peacefully demonstrate their right to bear arms, police weren't so sure after at least a dozen police officers showed up .
Told one demonstrator, Edwin Haros: 'I would estimate around 10 squad cars showed up, some with two per squad car,'
'I believe we counted more than 15 officers showed up on scene.'
Although no arrests were made, the gun advocates who believe they should be able to openly carry firearms expressed reticence as to the way the police handled the situation, believing that they were treated like a 'bunch of criminals.'
Countered Sgt. Ray Bush, with the Fort Worth Police Department: '(The staff) locked themselves inside a freezer for protection out of fear the rifle-carrying men would rob them,'
'The demonstration had no signage that would have alerted anyone to their real purpose, and to our knowledge they did not attempt to contact anyone in the Fort Worth Police Department to advise us prior to the demonstration.'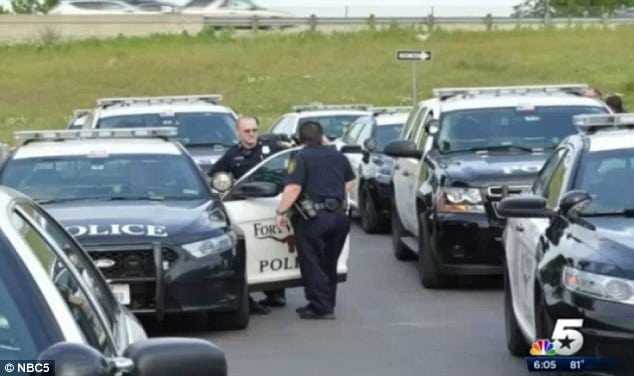 Demurred Haros who told that they were 'not trying to alarm anybody' (never mind the flotilla of heavily armed assault weapons strapped across their backs): 'We're doing this because it's our constitutional right.'
Following the encounter, the members returned for another meal, this time taking photos with employees who by now had retreated from the freezer.
The latest willful display of arms has stirred controversy as to whether gun right advocates should be so blatantly showcasing their weapons and if by proxy although arguing that they simply want to be able to protect themselves are in essence promoting violence.
That said, whilst Texas' constitution allows its citizens to bear arms one is inclined to wonder about the merits of brandishing them in fast food outlets whilst customers are sanely trying to feed themselves, and suddenly having them along with employees fearing for their very own life, which in essence may have been the real aim of the purported protest…?